Bruins
Only thing clear here is the Bruins are running an aimless ship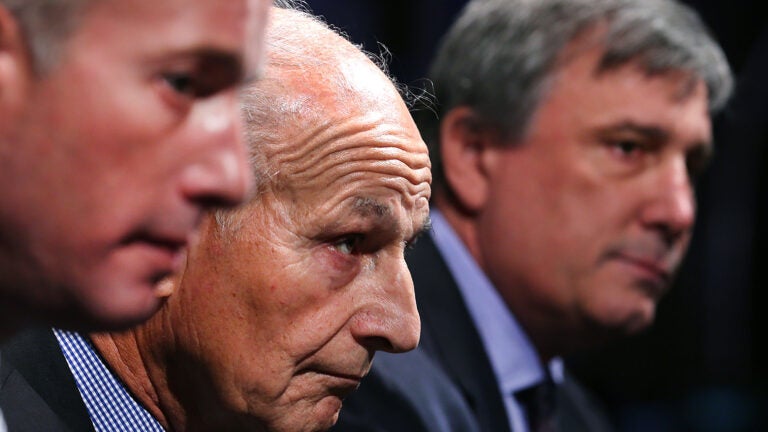 COMMENTARY
If the Boston Bruins ultimately made one thing clear in the midst of their useless pair of season-ending press conferences held at the TD Garden over the last seven days, it would inevitably be the problematic matter that there really doesn't seem to be much of a tangible plan after all.
The Bruins are "disappointed" with how things ended this past season, the team missing the Stanley Cup playoffs at the tail end of a four-week gag session. Team president Cam Neely is "disappointed" that the plan general manager Don Sweeney laid out last spring never really came to fruition, but didn't note whether the postseason's current leading scorer, Reilly Smith, being traded for the lump that was Jimmy Hayes, had anything to do with that. The Jacobs father-son duo is, of course, "disappointed" as well, and making the same sort of sweeping intimations they did last January when the floundering Bruins began their dismal plunge into mediocrity.
"We will always invest in the team," Bruins CEO Charlie Jacobs said Wednesday in between stammering through a number of other answers while on the press conference stage with his father and team owner Jeremy, as well as Neely. "With that, there will be the expectation that we should continue to be playoff contenders as well as Stanley Cup contenders. Cam's aware of that expectation, as is Donnie."
It would have been hard to imagine the Bruins looking more inept than they managed to display only 11 days ago, the culmination of a second-straight, late-season swoon that left them out of the playoffs in the wake of an embarrassing, blowout defeat at the hands of the Ottawa Senators.
Yet, here we are; the Boston Bruins are further proving to be a chaotic conundrum.
You're welcome to your own theories as to why the Bruins even bothered to hold these two press conferences — last week with head-coach-for-life Claude Julien and Sweeney — if the only adamant message to eke out of Causeway Street was that the team was awfully "disappointed." If you took a sip every time Neely or one of the Jacobs uttered the word, "disappointment" on Wednesday, odds are you're reading this come Thursday morning with a hell of a hangover.
"We should have been a playoff team and we should have been playing right now," Neely said about the 42-31-9 Bruins. "That didn't happen and I'm extremely disappointed."
Extremely.
Take what you will of Charlie making it clear that Neely will pay with his job should the Bruins not make the playoffs after the 2016-17 season, but this is also the same guy who called missing the playoffs "absolutely unacceptable" in January of 2015, when the team was in the midst of a defining slump.
"Everybody in the executive offices is fully aware of how I feel," Jacobs said last year. "They feel the same way, which brings us to this evaluation process. It's fluid right now. I can't say that any moment we have a final decision, other than to say it's been an utter disappointment and a failure. A complete failure."
Former general manager Peter Chiarelli ultimately took the fall for last year's finish with his job, not to mention his perceived, complete dismissal of NHL salary cap implications.
A year later, following the same result, nobody was held accountable.
Nobody.
Julien will still be the coach. Sweeney will still be the GM. Neely will still be in charge.
So, in 2015, such a spill was "unacceptable."
In 2016, it's merely "disappointing."
Got it.
"We have leveraged the future to the point where something had to change last summer," Charlie Jacobs said. "And we're righting the ledger by stocking the team back up with prospects and making the proper moves for moving further along."
Neither Jacobs would really address questions as to how the Bruins plan to balance the youth movement it needs to contend for the long term with the core of veteran players they currently employ. Charlie Jacobs seemingly praised Sweeney for the ability to inject younger players into Julien's system, but only in between his breathless proclamations of "disappointment" and making it clear that Neely would be the next responsible head to roll.
Does that mean Cam could be a goner in 2017, should the Bruins miss the playoffs for a third-straight season? Hey, who knows. Depends on the disappointment/unacceptable scale of balance, I suppose.
"We know our goals and we know where we need to improve," Neely said. "We're taking the necessary steps to continue to do that. From my perspective, we were told by Don that it would be a bumpy road and that we should see improvement. For the most part, we had that, but the way we finished was extremely disappointing."
Got that?
The message was made clear that this is Neely's team, which is apparently what the Jacobs duo thinks Bruins fans want to hear if they're more apt to recall the season the man had in 1988 rather than the way he observed Chiarelli put the team in a financial black hole and deem everything to be fine. Everybody thinks the coach did a great job and so did the GM. There's just, you know, a lot of "disappointment."
"It's all of us, really," Neely said. "From myself to Don, coaching staff, players, all of us. But like I said, what Don put in place, it wasn't a one-off season fix."
Assistant coach Doug Houda was the only person relieved. Hand up if you had him as the problem.
"I'm not saying we should have been a Stanley Cup team, but I'm saying we should have been in the playoffs," Neely said.
Sure. Except the same exact thing that happened last year happened this year.
Yet the Bruins remain status quo hoping the wind will shift next April.
What an absolute disappointment.
Photos from the 2016 Boston Marathon
[bdc-gallery id="691677″]