Bruins
The Bruins' offseason to-do list
3 things for general manager Don Sweeney to focus on.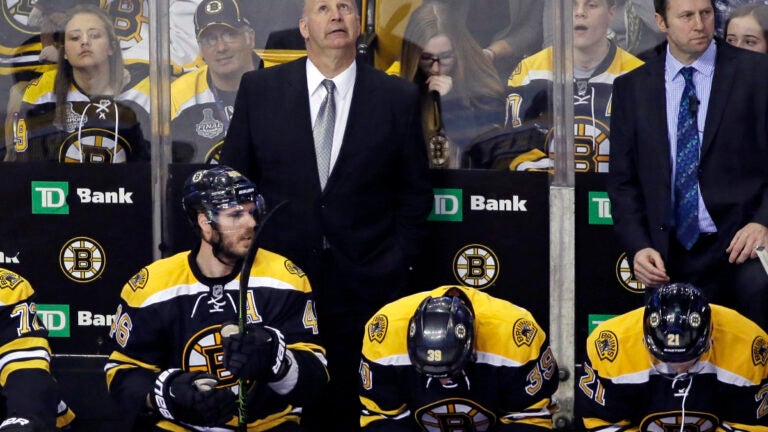 COMMENTARY
Just a few days after the Bruins' fate was sealed with another late regular-season collapse, general manager Don Sweeney addressed the team's first offseason decision. At his season-ending press conference, Sweeney announced that the coach sitting to the left of him, Claude Julien, would return to Boston for a 10th season.
While there was some criticism over keeping Julien after a second straight season without making the playoffs, the move (or lack thereof) was well received. Still, there's a lot of work that Sweeney and company face in trying to get the Black and Gold back on track in hopes of a return to the postseason in 2017.
With more questions than answers facing the Bruins as they watch the Stanley Cup Playoffs from home, here is a to-do list for Sweeney, Bruins president Cam Neely and the rest of the organization this offseason.
Improve the defense
The Bruins' defense — once a staple that led them to two Eastern Conference titles, a Presidents' Trophy and a Stanley Cup — took major steps backwards the last two seasons. This year, in particular, the Bruins' blue-line looked out of place more often than not.
Instead of being built around pieces like Johnny Boychuk and Dougie Hamilton, the Bruins' D in 2015-16 relied more and more on an aging Zdeno Chara to log top minutes while trying to install youth on the back end like Joe Morrow, Colin Miller and Zach Trotman. Guys like Kevan Miller, Dennis Seidenberg and Adam McQuaid were also asked to play beyond their capabilities as bottom three defensemen. Even a strong season from Torey Krug (a restricted free agent this offseason) and John-Michael Liles' solid play after being acquired at the trade deadline couldn't save a Bruins defense that allowed 228 goals – the most during Julien's nine-year tenure.
Julien's system relies on strong, physical play in his team's own end while using the blue-line to transition the puck up ice. Both Sweeney and Neely identified this as one of their most important priorities entering the offseason. Arguably, it's No. 1 on Bruins fans' lists.
Whether its through trade, free agency or bringing a prospect up like Jakub Zboril or Brandon Carlo, last year's respective first- and second-round picks, the Bruins need to improve their back end by any means necessary.
Identify the core players
The one obvious name that will be a part of the core for years to come is Patrice Bergeron. During Sweeney's press conference, the Bruins' GM stated that he is indeed "untouchable."
Along with Bergeron, Brad Marchand and David Pastrnak, at least for the time being, are also considered untouchable by fans and pundits. Identifying the rest of the team's core is a little trickier, however.
Of all the Bruins' free agents this offseason, signing Krug and keeping him as a core player should be on top of the list. Loui Eriksson, while having his best season in Boston since coming over from Dallas in the Tyler Seguin trade, would still be productive if he were to return; but he will likely command a raise from his $4.25 million earned this past season. The Swede will turn 31 in the offseason. Those two factors could entice the Bruins to look in a different direction. And then there's the uncertainties of Chara, Tuukka Rask and David Krejci, all of whom have no-movement clauses.
Chara, at 39, has two years left on his contract and his cap hit will go down to $4 million in the final year. For a team needing to get over the hump, he could provide stability and a second pair defenseman, a role he is more suited for at this point of his career.
Both Krejci and Rask are locked up until 2021. They could net some sort of return in a trade, but their $7.25 million and $7 million in respective salaries could make teams say thanks, but no thanks.
With prospects like Brandon Carlo, Austin Czarnik, Jake DeBrusk and Zach Senyshyn waiting in the wings the next few years, the Bruins are going to need to move some pieces from their current roster to open up space. Whether creating opportunities for the B's prospects or bringing in veterans through trade and free agency to fill needs, Boston is certainly in need for some new blood next season.
Exploring the market
According to General Fanager, the Bruins have more than $48 million in committed salaries for next season. If the salary cap were to go down from $70 million to around $66-67 million, the B's would have roughly $18-19 million in cap space to fill seven roster spots.
After addressing their in-house situation, the Bruins will likely have a little less cap room come July 1. Still, they are in a much better salary cap situation than years past. Whether they can add a veteran defenseman like Keith Yandle or not remains to be seen, but the 29-year-old would help fill the Bruins' biggest priority in the offseason.
This year's free agency class — which also includes the prolific Steven Stamkos — is intriguing, but the Bruins need an all-of-the-above approach. With a list of RFA's that includes Winnipeg's Jacob Trouba, Detroit's Danny DeKeyser and Colorado's Tyson Barrie – all of whom are 25 or younger – Sweeney and Neely might want to kick the tires on these defensemen that would give the B's a young blue-liner that can play top three minutes immediately and stabilize their future on the back end.
From the free agency market to trades and their three picks in last year's draft, Sweeney had a rough go just months into his first offseason with the Bruins. With two picks this year and some cap room, the Bruins have some flexibility compared to past years under Chiarelli.
In an important offseason on Causeway Street, the Bruins need to show that they're ready to move on from the past two seasons. Otherwise, the Jacobs' may move on from Sweeney, Julien and Neely at this point next year.
Read more of Tim Rosenthal's Bruins coverage at BruinsDaily.com. Follow @_TimRosenthal.
The greatest Bruins of all time
[bdc-gallery id="317728″]