Bruins
12 reasons for Bruins fans to be excited about Frankie Vatrano
Undrafted, undaunted.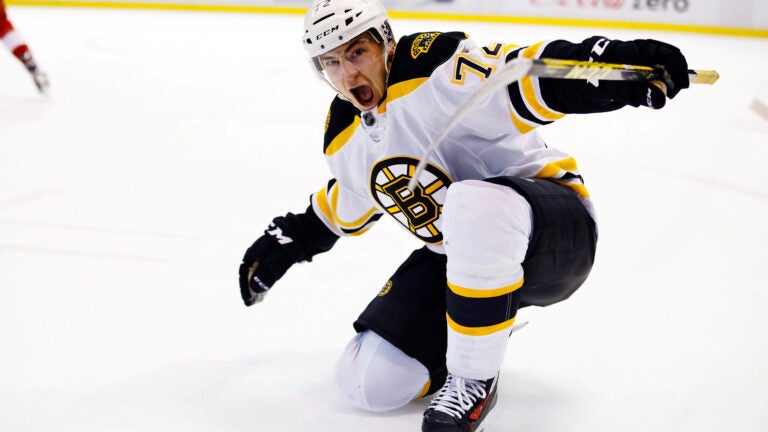 Team USA didn't have the best showing during the IIHF World Championships last weekend; the US squad lost to Team Canada, 4-3, during the semifinals on Saturday, then were thoroughly handled by Team Russia in a 7-2 loss in the bronze medal game.
The Americans may not have walked away with any hardware, but the 10 games in international play did provide an ample stage for young talent to flash their stuff. And one of the stars of the IIHF proved to be Boston's own Frankie Vatrano.
Vatrano continued to show off the talent which allowed him to dominate the AHL last season during the IIHF tournament. His performance with Team USA served as one of a handful of reasons Bruins fans can get excited about Frankie Vatrano's sophomore campaign in 2016-2017.
Vatrano scored eight points (3G, 5A) during the IIHF's, second on the team to projected No. 1 overall pick Auston Matthews, and Detroit's Dylan Larkin, who made the NHL All Star Game as a rookie this season.
Vatrano's 34 shots on goal was the second highest total during the IIHF's
He led team USA in plus/minus (+6) during the IIHF's
He was the co-winner of the Garrett Award, the honor given to the AHL's rookie of the year
He led the AHL with 36 goals, while only skating in 36 games for the Providence Bruins
He led the AHL in points per game (1.528)
His 1.00 goals per game average was the best in the AHL in 20 years
He was the first player in Providence Bruins history to win the AHL's scoring title
He nearly doubled his production from his first call up to the NHL (November-January: 0.23 PPG) to his second (March/April: 0.44 PPG)
He's on the books until the 2017-18 season, and becomes a restricted free agent in 2018-2019
At 22, he's the 2nd youngest player on the Bruins' year-end NHL roster
Although Vatrano didn't get the chance to be unleashed in the NHL playoffs, the Bruins brass can rest easy knowing that No. 72 has progressed nicely since being signed 14 months ago. His success snuck up on him, but he intends to continue to work as hard this offseason as he did in the last, via MassLive
"This has been kind of a whirlwind year for me and something I didn't really expect to happen to me this quick," Vatrano said. "But I'm glad all the work I put in last summer and everything that Boston gave me to take to heart, I took it to heart, and worked hard in the summer, and I'm going to do the same thing this summer."
The all-time greatest Bruins
[bdc-gallery id="317728″]