Bruins
David Backes: 'We don't take a backseat to anyone. It's Boston Bruins hockey'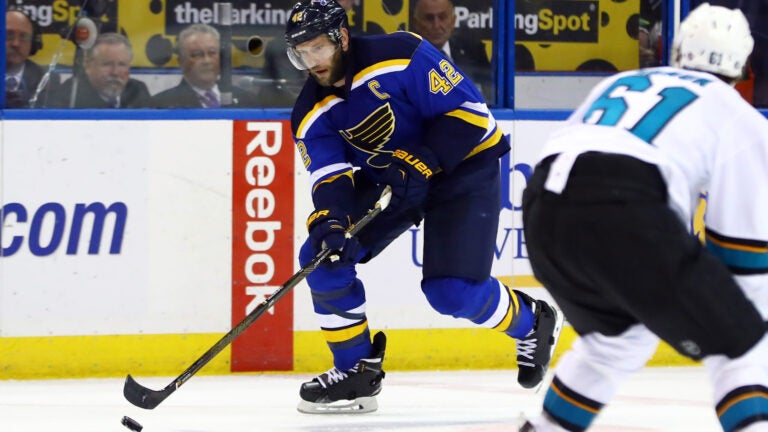 He's been a Bruin for one day, but David Backes is already speaking like a member of the Black and Gold.
"We don't take a backseat to anyone," Backes said during his first conference call with the media on Friday. "It's Boston Bruins hockey, and I'm excited about being up to [the challenge]."
The 32-year-old Backes, whom Boston gave a 5-year, $30 million contract, has already logged a lot of miles during his 10 years with the St. Louis Blues. Backes' point production declined from 58 points in 2014-15 to 42 last season. For a power forward who is entering the back end of his career, the Bruins are going to need more production from Backes, but the 2003 second round pick still thinks that he has a lot to offer.
"I'm 32. I'm not 52," Backes said. "I think there's plenty of legs and plenty of physicality and energy left in me and the term's been something that maybe a few people have questioned, but for me, I expect to still be at the top of my game for that last year and be a contributing member for the Boston Bruins and training differences, being able to really take care of my body, listening to it and just give everything I've got and I think that's the way I'm going about it and I would expect to be really good in that fifth year still. "
At 6-foot-3 and 221 pounds, Backes' presence fits the Bruins' mold. It's one of the reasons why he imaged himself as a good fit during his contract negotiations with the Bruins.
Whether he plays at right wing or center, Backes is intrigued with playing alongside Krejci, Brad Marchand, Patrice Bergeron and the rest of the Black and Gold.
"We've got a lot of options with me on this team. We're going to share a lot of the responsibility," Backes said. "When you can share the load with guys like Bergeron and Krejci, that's the way it was sold [to me]. These guys get it."
Signing Backes filled one of the Bruins' off-season needs, but Sweeney and company still haven't addressed their top priority – upgrading the blue-line.
What the Bruins did get in Backes is added leadership to the ever changing Bruins locker room.
"He knows this was full commitment. We went about our business to identify David as player that our players want to play with and set examples," Sweeney said about Backes, who served as the Blues' captain in the last five years of his tenure in St. Louis."I think it adds balance to our group. David Backes is going to compliment this group in an ideal fashion."
Despite the uncertainty that still hovers around the organization, the outspoken Backes provided insight and confidence during his conference call. But can he help the Bruins overcome back to back late regular season collapses in hopes of returning to the Stanley Cup Playoffs?
"I know a bit about the Bruins' culture and what that team is going to look like and how good it should be," Backes said. "And from playing those other Eastern Conference teams spotted in, I think it's going to be a very competitive team that should be able to get into the playoffs."