Bruins
After year of perseverance, Jake DeBrusk aims to join Bruins
The 2015 first-round pick has turmoiled through an arduous stretch of his career.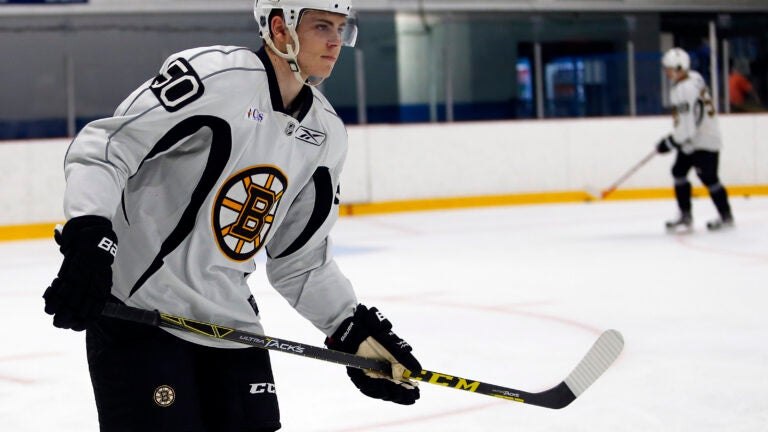 The Bruins' selection of Jake Debrusk –selected 14th overall in the 2015 NHL Draft, the second of Don Sweeney's three first round picks – was thought of by many in the hockey industry to be a head scratcher.
That criticism of the pick grew this year when DeBrusk, a year removed from notching 42 goals and 39 assists in 2014-15, was dealt from Swift Current to Red Deer of the WHL the day after Christmas. Between Swift Current and Red Deer, DeBrusk's production slipped from the year before as he tallied 65 points (21 goals, 44 assists) in 61 games.
Through it all, DeBrusk, while struggling at times, was still reliable and developed into more of a two-way player.
"I think I've become more of a complete player," DeBrusk said this week at the Bruins' development camp. "When I went back in the WHL, I was playing 30 minutes a night for Swift Current and I was playing all situations and all things I want to be as a player. I loved it. It might have been a little too much ice time at certain points, but I loved it. And then I got traded to Red Deer."
The trade wasn't the biggest adversity that DeBrusk faced, however. In midst of a hot start to the season, the Edmonton-born forward suffered an injury to the testicles after blocking a shot against Saskatoon on October 30th . DeBrusk detaied the severity of the injury with DJ Bean of WEEI.
Following surgery, DeBrusk initially struggled to regain consistency and a few months later was dealt to Red Deer, effectively ending his three years at Swift Current. Once he recovered, DeBrusk returned to form and helped Red Deer en route to the Memorial Cup Finals where they fell to powerhouse London of the OHL. During that span – including the WHL Playoffs where Red Deer fell to Brandon in the Conference Finals – DeBrusk tallied 17 points (8 goals, 9 assists) in 17 games.
Battling adversity for the first time in his hockey life, DeBrusk, who returned three weeks ahead of schedule, persevered. This likely won't be the last time he'll have to battle through.
"Last year was a difficult experience. It was my first time getting injured and I didn't like it," DeBrusk said in a moment of reflection. "I remember watching games on WHL live, and I came back a few weeks early for that reason – I can't stand watching hockey. I had to learn to play through it – there's no other injuries that I had to play through – and, you know, that's just hockey and how it goes. You're not going to play every game at 100 percent and I had to learn that, and that's one of the things that I learned, but I think I got better as the season went on."
The Bruins have a decision to make with DeBrusk during training camp whether to keep him in Boston, send him to Providence or return him to Red Deer for his final year of eligibility.
With last year behind him, DeBrusk hopes to soak in the experience and learn a few things during the B's four-day Development Camp.
"I want to learn as much as possible and see what they have to say and I what I have to take in for the summer," DeBrusk said. "I kind of know some of the improvements that I need to work on for sure, but [the coaches] are the eyes that really matter. I'll really take it to heart and I'll go back this summer and get ready for [training] camp."