Bruins
Bruins' week ahead: Thanksgiving week brings chances to continue winning ways at home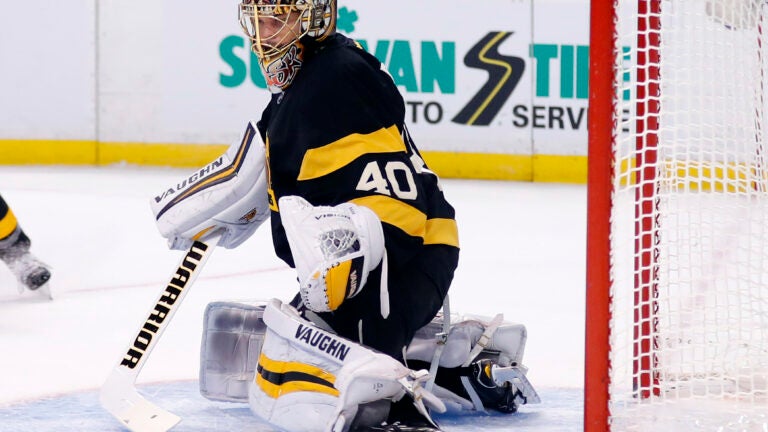 COMMENTARY
After a solid 60-minute effort Saturday night against the Winnipeg Jets at TD Garden, the Bruins will look to continue their winning ways in Boston this week, with three of their next four on home ice.
The Black and Gold enter play Monday third in the Atlantic, three points behind the second-place Lightning, and eight points behind the division-leading Canadiens.
Let's take a closer look at the Bruins' week ahead:
Tuesday vs. St. Louis Blues, 7:00 p.m.
David Backes skates against his former team for the first time since leaving the Blues this past summer. Despite a deep, talented roster that includes one of the league's most exciting players in Vladimir Tarasenko, the Blues have had their fair share of issues. Despite those problems, they're still sitting second in the Central Division. The Blues rank 20th in goals per game with 2.5 and rank 15th in goals against with 2.6. St. Louis does rank second in penalty kill percentage, killing off 89.6 percent of opponents power play opportunities.
As expected, the aforementioned Tarasenko is once again leading the Blues in goals (7), assists (12) and points (19). You may also recognize the name Kevin Shatternkirk on the Blues' roster. The former Boston University Terrier was the center of trade rumors this past summer and Boston was frequently mentioned as one of a few possible destinations. Those rumors were just that and Shattenkirk has gotten off to a hot start with 14 points in 19 games on the Blues' blue line.
Thursday @ Ottawa Senators, 7:30 p.m.
The Bruins will spend Thanksgiving north of the border as they travel to Ottawa to take on the Senators for the first time this season. The Bruins will get to see old friend Chris Kelly Thursday night. Kelly spent parts of his first seven NHL seasons with the Senators before being traded to the Bruins in 2011. The former Bruin returned to Ottawa with a one-year deal this past summer and through 18 games in his second stint with the Senators, the gritty forward has three points.
The Senators will travel to Montreal Tuesday before hosting the Bruins Thursday night, and will enter play Tuesday with just one win in their last four contests. The Sens have had some issues of late keeping the puck out of their net as they've allowed nine goals in their last two contests.
Offensively, the Senators have struggled. Just three of their players have recorded 10 or more points through 18 games. One of those three: defenseman Erik Karlsson.
Friday vs. Calgary Flames,  7:00 p.m.
After a quick trip to Canada's capital city, the Bruins will return home for their annual Black Friday contest, this time they host the Calgary Flames, who will be without former Boston College standout Johnny Gaudreau. He had surgery last week to repair a fractured finger. Gaudreau is second on the Flames in points with 11.
After winning just once through six November games, the Flames have won three of their last four, including impressive wins against the Minnesota Wild and Detroit Red Wings.
Statistically for the Flames, it looks ugly: They rank 25th in goals per game (2.3), 26th in goals against (3.2), 30th in power play percentage (8.7 percent) and 29th in penalty kill percentage (74.6 percent).
Sunday vs. Tampa Bay Lightning, 1:00 p.m.
The Bruins will complete another three-games-in-four-days stretch Sunday afternoon with their first matinee of the season as they host the Tampa Bay Lightning. The Bruins will catch a big break, as the Lightning will be without Steven Stamkos, who is out for four months after knee surgery.  Stamkos is second on the Lightning with 20 points.
Tampa Bay has won its last four contests while outscoring opponents 15-4 in that span. The Bolts have a busy stretch leading up to their contest with the Bruins on Sunday. They travel to Nashville on Monday before returning home for a two-game homestand against the Flyers on Wednesday and the Blue Jackets on Friday.
Despite sitting second in the Atlantic, the Lightning have not gotten much production from some of their young guns. Ondrej Palat, Tyler Johnson and Jonathan Drouin have combined for just 26 points.