Bruins
Rask stops 35 shots in Bruins' 2-1 win over Sabres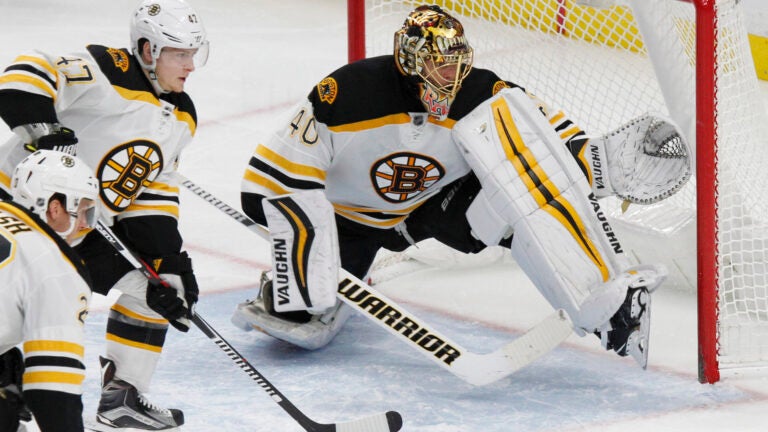 BUFFALO, N.Y. (AP) — Boston goalie Tuuka Rask has been hard to beat this season and was at his best against Buffalo again.
"You start thinking, 'how are we going to get one by this guy,'" Sabres coach Dan Bylsma wondered aloud Saturday.
Rask nearly shut out the Sabres for the second time in a month, keeping them off the scoresheet for 2 1/2 periods and making 17 of his career-high 35 saves in the third to help the Bruins hold on for a 2-1 win.
"Every team likes to have these kind of goaltenders and a lot of teams do," Bruins coach Claude Julien said. "We're just fortunate enough that he's been one of those guys that, whenever you slip a little bit, or lose a little bit of momentum, or you're having a slow start, or a tough night, those guys step up and help you win some hockey games."
Over his last 11 starts, beginning with his 4-0 shutout over Buffalo on Nov. 7, Rask is 7-3-1 with a 1.36 goals-against average and a .947 save percentage.
"I feel good," Rask said. "I'm seeing the puck well. Guys are doing a great job keeping them on the outside and clearing the rebounds for the most part, so that helps out."
David Krejci and Patrice Bergeron scored to give Boston a 2-0 lead and the Bruins improved to 3-0-1 in their last four.
"We're getting better as a team, we're getting points and climbing up the standings," said Krejci, who has 10 points in his last 12 games. "Hopefully we can keep it up."
Evander Kane scored his first goal of the season for Buffalo. Robin Lehner returned after missing one game with a hip injury and made 32 saves.
The Sabres combined for nine goals in their previous two wins but the NHL's lowest-scoring team reverted to form from the first 21 games, when star center Jack Eichel was out of the lineup with a high-ankle sprain.
"First two periods, we had a tough time generating some offensive chances," Sabres defenseman Cody Franson said. "They kind of just stayed on top."
Krejci got the Bruins on the scoreboard with 5:50 left in the first when he deflected Brandon Carlo's slap shot from the point off the right post and into the net.
The Sabres appeared to tie the game late in the second period but replays determined Brian Gionta kicked the puck into the net.
Bergeron made it 2-0 at 7:44 of the third when he knocked in the rebound of David Pastrnak's missed shot. Bergeron initially hit the puck with his forearm on the left edge of the crease and skated around the net to chase down the puck and flip a backhand past Lehner.
The Sabres answered two minutes later, scoring on Rask for the first time in 109:12 this season. Sam Reinhart's feed off the rear wall set up Kane for a wrist shot from the slot that bounced in off Krejci. Reinhart has five points in his last four games.
NOTES: Bruins F Matt Beleskey was escorted to the dressing room in the final minute of the first period with a lower-body injury and did not return. Julien said Beleskey will be evaluated when the team returns to Boston. … Sabres D Josh Gorges did not play after injuring his foot blocking a shot in Thursday's win over the New York Rangers. With Dmitry Kulikov (lower back) and Zach Bogosian (MCL sprain) also out, the Sabres were down three of their top four defenseman and recalled 19-year-old Brendan Guhle from the minors to make his NHL debut. Guhle hustled back to thwart a breakaway by Krejci late in the third period. … F Anton Blidh became the seventh Bruin to make his NHL debut this season after being recalled from the minors on Friday. … The Bruins scratched F Jimmy Hayes. D Zdeno Chara, the Bruins' captain, missed his sixth straight game with a lower-body injury. … Buffalo had just three shots on goal in the first period.
UP NEXT
Bruins: Host Florida on Monday.
Sabres: At Washington on Monday.