Bruins
Bruins fire coach Claude Julien in 10th season; name Bruce Cassidy interim coach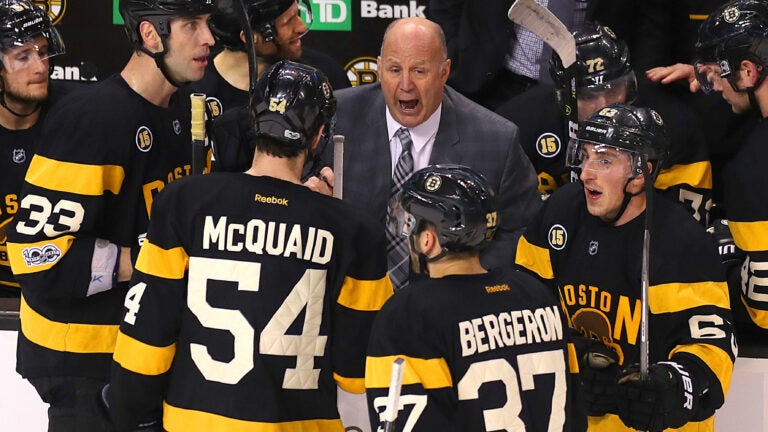 BOSTON (AP) — The Boston Bruins fired Stanley Cup-winning coach Claude Julien on Tuesday as the team was in danger of missing the playoffs for a third straight season.
He was the longest-tenured coach in the NHL.
General manager Don Sweeney announced the change on Tuesday, naming assistant Bruce Cassidy the interim coach.
Julien was 419-246-94 in 10 seasons that included two trips to the NHL finals and a Stanley Cup title in 2011. The Bruins lost in the finals two years later, and the year after that earned 117 points and the Presidents' Trophy before losing in the conference semifinals to archrival Montreal.
But in 2014-15, Boston was eliminated from the playoff race on the final day of the regular season — the first time in Julien's tenure they sat out the playoffs. Again last year, the Bruins had a chance to reach the playoffs heading into the final week, but they lost nine of their last 12 games to finish ninth in the Eastern Conference.
The Bruins hadn't kept a coach who missed the playoffs two straight years since 1965, when Milt Schmidt was given a third year before he was replaced by Harry Sinden.
Julien was spared in 2015 when team president Cam Neely decided to fire general manager Peter Chiarelli instead, replacing him with Sweeney. Sweeney gave Julien another chance, saying "He's the coach of the Boston Bruins as of today, for sure."
Julien said at the time that he had little room for error.
"It just means that I'm probably the next one to fall off the totem pole, right?" the former Canadiens and Devils coach said last summer. "I'm going to try to make it last as long as I can."
Again last summer, the Bruins spared him, with Sweeney saying Julien was the right coach to guide the team through a "bumpy transition."
"We've got work to do; I've got work to do," Sweeney said after the team missed the playoffs last year. "There's no question that we have areas we want to address and collectively we've already started to assess that."
Last season, Julien became the all-time Bruins leader for wins by a coach.