Bruins
Bruce Cassidy wins 2nd as Bruins' coach, 4-3 over Canucks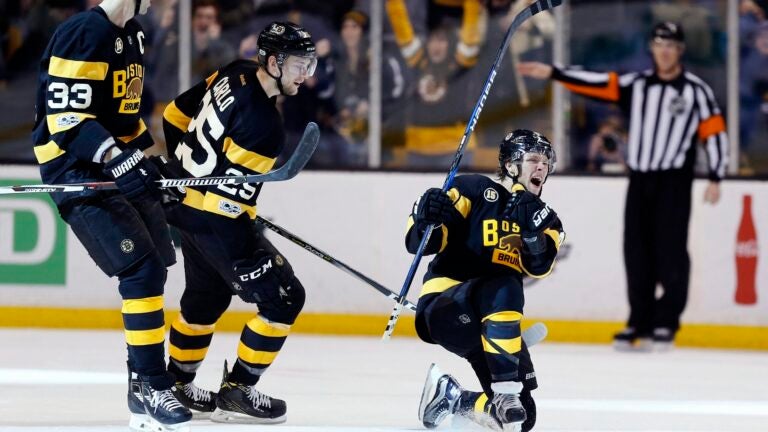 BOSTON (AP) — One thing interim coach Bruce Cassidy emphasized when he took over the Bruins was that he wanted his defensemen to look to do more offensively.
It worked well in his second game.
David Pastrnak scored the tiebreaking goal with two minutes left in the third period, defensemen Colin Miller and Kevan Miller each had a goal and Boston won its second straight under Cassidy with a 4-3 victory over the Vancouver Canucks on Saturday.
"We've asked them to get involved," Cassidy said. "It's a matter of finding them and matter of finishing."
Kevan Miller knows it's a fine line between when to go to the offensive end or stay back.
"You're playing with fire sometimes," he said. "You've got to be careful. I think that's something we're going to learn."
Cassidy took over earlier in the week when the Bruins fired Claude Julien, who was in his 10th season and coached the team to a 2011 Stanley Cup win. Boston also won in Cassidy's debut, 6-3 over San Jose on Thursday.
Frank Vatrano added a goal and two assists for the Bruins, who posted their fifth win in seven games.
"He expects a lot out of his players," said forward Vatrano, who played under Cassidy in Providence of the AHL. "He wants to you to play to your capabilities and expects the guys to compete night in and night out."
Backup goaltender Anton Khudobin made 29 saves for Boston. Ryan Miller had 26 for the Canucks.
"To give it up with two minutes left is hard," Vancouver coach Willie Desjardins said.
The Canucks had tied it at 3-all on Markus Granlund's goal with 5:37 left in the third.
"I thought we battled hard enough to win," said Canucks forward Loui Erikssson, who spent three seasons with the Bruins before signing a $36-million, six-year deal with Vancouver during the offseason.
Pastrnak took a pass along the left wing, slid the puck backward to himself before recollecting it and slipping a wrister past Ryan Miller.
Bo Horvat scored for Vancouver, giving him 100 career points. He's the first Canucks player to reach that mark at 21 years old or younger since Petr Nedved did it at 21 in 1993. Alexandre Burrows had the other goal.
Colin Miller one-timed Jimmy Hayes' drop pass with a rising shot into the net, pushing Boston ahead 3-2 early in the third.
Down 2-1, the Canucks tied it on Borrows' goal out of a scramble with six-tenths of a second left in the second, his first since Dec. 31.
With Boston trailing 1-0, Kevan Miller took a cross-ice pass from Ryan Spooner and fired a wrister that beat Ryan Miller.
Vatrano one-timed a shot into the net from the bottom of the right circle with 38 seconds left in the opening period to make it 2-1. It's the seventh straight game in which Boston scored on a power play.
With the fans barely settled into their seats after the Bruins honored the Super Bowl champion Patriots during an on-ice pregame ceremony, Vancouver moved ahead 1-0 when Horvat scored on a rebound 4:56 into the game.
NOTES: Fourteen members of the Patriots were on hand, wearing Bruins jerseys with their names and numbers on the back. Running back James White dropped the ceremonial first puck. … Bruins D Zdeno Chara was back after missing the last game and three days due to an illness. … There was a moment of silence before the game for Detroit Red Wings and Tigers owner Mike Illitch, who died Friday at the age of 87. … LW Peter Cehlarik made his NHL debut for the Bruins when Matt Beleskey was a healthy scratch. .. The teams meet in Vancouver on March 13.
UP NEXT
Canucks: At Buffalo on Sunday in the fourth of a six-game road trip.
Bruins: Host longtime rival Montreal on Sunday night in the finale of a four-game homestand.