Bruins
'Cassidy Magic' can be a catalyst or a mirage for Bruins team that had seemingly already quit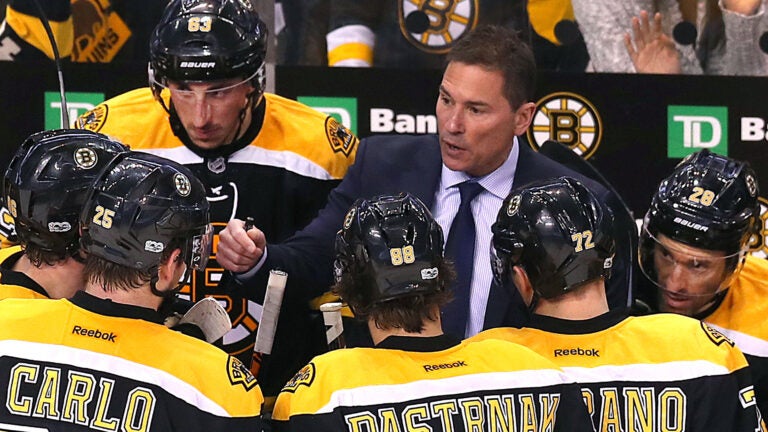 COMMENTARY
If you've already jumped to the conclusion that interim Bruins head coach Bruce Cassidy is bound to become the present-day version of what Joe Morgan meant to the 1988 Red Sox, let us play the glass half-empty contrarian for a spell.
In whipping off three straight wins after the team fired longtime head coach Claude Julien a week ago, the Bruins beat the San Jose Sharks, Vancouver Canucks, and Montreal Canadiens, all at TD Garden, before heading out on the NHL's new, bizarre spring break.
It happened to be the third loss in a row for the Sharks, who only broke their four-game losing streak on Sunday in New Jersey. The Canucks, a long way from the team that faced the Bruins in the Stanley Cup final six years ago, are only 8-17-3 on the road this season. Dallas (7-16-4) is the only team that has a worse record away from home in the Western Conference.
As for those division-leading Habs, Montreal is only 3-6-1 over its last 10 games, and can be classified as a struggling team that happened to come at just the right time for Tuukka Rask and company. The ensuing 4-0 shutout helped place the Bruins only six points back of the Atlantic lead.
So, is it fair to consider these Bruins to be a rejuvenated group of players under Cassidy, or has the change been a matter of watching an inevitable surge take place while there happens to be a fresh voice behind the bench?
Somewhere in the middle — perhaps — lies the true character of the 2016-17 Boston Bruins. This is a team experiencing a high enough level of transition to consider itself rebuilding, but also containing a strong enough mix of veterans and youth to believe it should be a playoff team.
Under Julien, the Bruins could no longer recognize a collective identity, even if it stood at center ice in an outfit provided by Don Cherry. But with Cassidy in charge, their shared characteristics are at least more apparent, preparing to become something tangible, or fade away into the spring, where Julien led Boston each of the last two seasons.
"It's a level of intensity that has gone up," David Backes told the Globe. "A level of commitment that's gone up, a level of excitement that's gone up, and a level of belief. It seems like a different team when we're out there, even when we get scored on."
Translation: We quit on Claude.
Julien might rightfully ask where the level of "commitment" was for the $30 million Backes and friends over the last two months, all as his job swayed in the breeze that finally moved the front office toward the decision to make a change.
It's also only a three-game stretch.
Change in leadership can certainly go the other way. For every Joe Morgan there's a Mike O'Connell (or…shiver…Joe Kerrigan) who fails to shake a team out of whatever funk it finds itself in. In that case, Cassidy has seemingly leapt the first hurdle in establishing some semblance of credibility in his new role.
The Bruins quickly went from a point out of the playoff picture to tied for second in the Atlantic Division with Ottawa, albeit with the Senators holding five games in-hand, while the Toronto Maple Leafs are also still nipping at their heels, three points behind with four games in-hand.
All this while the Bruins are on their newly-instituted five-game, mid-season break. Which means, by the time Boston gets back to the ice Saturday night in San Jose, the standings might look a lot different, with both Toronto and Ottawa scheduled for three games apiece before the Bruins and Sharks face off.
Who returns this weekend? The Bruins who emerged over the last week, or the team that seemed destined to coast into another late-season collapse?
"I said before this started, that if we were winning we wouldn't want the break," Cassidy said. "And if not, then it would be good. But it is what it is."
It also might not be what it wasn't.
Under Cassidy, the Bruins have been a more aggressive offensive team, netting 14 goals over the three games, more than any other stretch under Julien this season. Rask's shutout of the Canadiens was his first career regular-season home win over Montreal, and Boston's first win over the Habs in Boston since 2012.
Cassidy Magic, indeed.
"Obviously when you score a lot of goals, it's easy to be energized," Rask said, "but I think everybody is skating hard and we're playing as a five-man unit and being creative in the offensive zone."
Yeah, but…
The true test begins this weekend, when the Bruins embark on a four-game West Coast swing with stops in San Jose, Anaheim, Los Angeles, and Dallas. The Bruins return home on Feb. 28 to face the Coyotes at the Garden, a place they're once again over .500 (15-13-0) this season, thanks to a three-game surge that might soon be seen as the beginning of something.
At least, so hopes Cassidy, despite how one could translate the performances against recent competition.
"If you look back over our recent [wins] . . . San Jose is a first-place team, a good hockey club. Montreal is a first-place team. Vancouver is a good team," he said. "There are no easy games in this league . . . I hope they are confident.
"They should be. They've played well."
But is the recent stretch more of what they're made of?
It's too soon to answer that question under the new guy in charge, who might finally have the Bruins playing for something.
Until, that is, they quit on him too.