Bruins
Jack Edwards on calling the Bruins, the NHL playoffs and why he doesn't just stick to sports
"I've had a lot of really interesting political discussions with Bruins fans who differ with me, but they have been phenomenally enlightening discussions."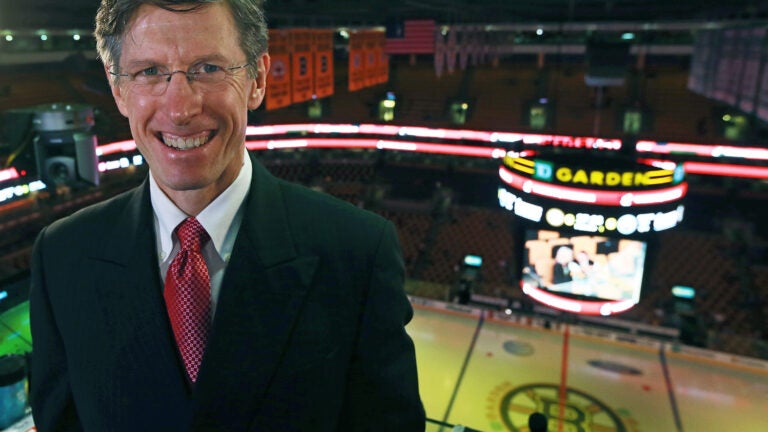 Jack Edwards reacted to the Bruins' first playoff appearance in three years in the same way as most of New England. He welcomes it as a breath of fresh air. And the NESN play-by-play announcer sees it as having both short- and long-term importance.
"I'm delighted the Bruins have made the playoffs, partly because this is an equity investment in the careers of David Pastrnak and Brandon Carlo, to get these guys exposed to the Stanley Cup playoffs," Edwards said Thursday. "It's really exciting to have young talent come in while players like Bergeron and Marchand are still in their primes."
For Edwards, it also ends what was the longest playoff drought since he started doing play-by-play full-time for the Bruins in 2007. The inevitable drama of an NHL postseason offers the New Hampshire native another chance to add to his list of memorable playoff calls. Over the years, Edwards has attracted both positive and negative national attention for his distinctive style.
Never shy about sharing his thoughts on a myriad of subjects — hockey, politics or anything else — he recently sat down for an interview to discuss all of the above.
This interview has been lightly edited and condensed for length and clarity.
Now that a playoff spot is officially clinched, do you think the Bruins can make a run comparable to some of the recent Claude Julien teams?
Jack Edwards: My ability to predict results of Stanley Cup playoff series is notoriously terrible. For instance, I picked Vancouver to win the final in 2011. But I think this team is capable of a lot more than some people may think, just because they're looking at seedings and the regular-season record. Really, I think the determinate is going to be the matchup that they get. If you look at what the Bruins have done since Cassidy has taken over, they're in the top five in the league in virtually every category, especially first-period goal difference and third-period goal difference. Most of the time, teams that get out in front tend to win, and teams that are able to close out games also tend to win. And the Bruins have shown that they can do that under Cassidy. It's been a pleasant surprise that they've been able to do that.
And what do the playoffs mean for you as a broadcaster? Are you going to be calling games as in years past?
JE: Yes. For us, it changed a little bit a few years ago when we got knocked out after the first round [of coverage], but as has been the case for several years now, we'll have all the games in the first round. NBC will probably take one game, but we'll be there covering every single game of play-by-play in the first round. And then if the Bruins should advance past the first round, NBC and its various properties take exclusive coverage, we'll have the usual post- and pre-game coverage we've been having since 2010, maybe 2011? The approach for the playoffs is that research gets a lot easier for a play-by-play guy. You're seeing the same opponent time after time. And really what you're concentrating on is how they're playing the game. The adjustments that the coaches are making and the individual are making, and how they change, how they adapt, how they rise to an occasion or how they're unable to rise. That, to me, is what makes the Stanley Cup playoffs the best of all competitions. You really find out who the best team is over a best-of-seven series.
You've been calling the Bruins longer than you've been in any other broadcasting job. How would you say you've evolved over the last decade as the Bruins themselves have?
JE: Absolutely, I've had the Bruins play-by-play job longer than any job I've ever had. And it feels like home. It feels like the most natural fit for me. And I try not to think about a style. I just try to stay in the moment as much as I can. I still get emotional — and sometimes overly emotional — during a telecast and sometimes I look at the air-check and think, 'wow, I was kind of over the top there.' I hesitate to rein myself in, because it's when I'm feeling the emotions in the arena and feeling the emotions of the players in my own excitement for the game — both positively and negatively — that I really feel most a part of the broadcast. It feels most organic to me that way.
And, frankly, that has been something that's been liberating since I've come to a regional network as opposed to a national network. When you're on a national network, you've got the brakes on from the very beginning. And even the broadcasters who get very excited do so through very narrow channels. To me that's not what hockey is. Hockey is a sport that's beyond full speed. It's borderline chaos at times. You've got the best athletes in the world trying to make organized beauty out of chaos, and when they do and when they don't or when the whole thing blows up and they drop the gloves and go, that was when as a viewer I'd be jumping up on the coffee table and I hope people are dancing on their couches when Bruins games are on NESN. That's what we do. That's the task to make people forget for a minute or two that they're actually in their living rooms and they think they're at the game.
Your style is certainly a unique one. How do you respond to those who say you're biased towards the Bruins?
JE: I don't. I don't respond to them. If you're going to be yourself and not be white bread, vanilla, water with no ice for dinner, you're going to get criticized. The easiest way to not get criticized is to be as bland and narrow and generic as possibly can. I have to be who I am. And I am who I am. I'm extraordinarily thankful that my managers and my colleagues at NESN allow me to do that within our broadcast team structure. That, to me, is the marvelous happenstance of a kid who grew up in New England and loved the Bruins his whole life and landed in the Bruins' play-by-play job and has been forgiven for making mistakes by his neighbors and friends who've known him his whole life. To me, it's a pretty good fit from my perspective and I hope it is from NESN's too.
I know you're very active on Twitter, talking about the Bruins, but also about other issues including politics. Is that something that, as you said, is just built into your nature?
JE: Yes. Just because someone makes his living as a sports announcer doesn't mean that he can't participate in social discourse. That's as if someone is going at me and I go back to him and say, 'Hey, you're a plumber. Instead of talking about politics, you're limited to talking about nuts and bolts and pipes.' I mean, how silly is that?
That people follow me because I'm involved in sports broadcasting is great, but they have the ability to unfollow me if they so choose. And that's OK with me. I'm a person who has strong opinions. If that's what people want, then I'm all in. And if people want to point fingers and call names and let the thing go into the sewer instead of trying to raise the bar in an open exchange of ideas, then I'd rather spend my time doing something more useful. But I'll tell you something: I've had a lot of really interesting political discussions with Bruins fans who differ with me, but they have been phenomenally enlightening discussions for me. And even people who are diametrically opposed to me in some political positions, I've had fantastic discussions with them. So if the Bruins allowed us to do that, then that's great because it's certainly something our entire nation could use more of. I mean people are going to disagree about all kinds of things, especially hockey games, but as long as we can keep the discussion on a reasonable level and not make people so defensive and angry by degenerating the thing into a crawl through the sewer pipe like Andy Dufresne, then we're getting somewhere. Frankly, that's what makes sports great.
That's part of what sports and our nation lost when we started going to the luxury boxes in stadiums. It was really cool when a guy who was a laborer and really hard working blue-collar guy could sit in a seat in a baseball stadium and find himself next to a CEO. And they're cheering for the same team. They're about as demographically separated as you can get, but they've got something in common and they're sitting right next to each other. And maybe they're ordering a beer out of the same rack from the same vendor. We lost that when we started getting luxury boxes and separated seating and that kind of thing. And I miss it.
Well, one place where you might still get people mixing together is on the ski slopes. Were you able to get out and ski at all this season?
JE: The bye week lined up perfectly for me. I skied in a foot of new [powder] at Killington on a Monday, then I got 16 inches of fresh at Stowe on that Thursday and then I went skiing at Pico the next day. I hiked to some trails that were open underneath a closed lift. It was like having a private ski area for half a day. It was like a five-minute climb off the lift, but nobody was going there. I didn't cross any ropes because I don't do that. I respect the ski patrol, but obviously the trails were open. It was just the lift wasn't running, so it was an unbelievable foot of preserved freshies underneath a bluebird sky. I thought I was in a ski movie. Either that or I was dead and was having an out of body experience.
Before you were a Bruins broadcaster, you were involved in calling a number of other sports. Is there something from that earlier part of your career that still stands out in your mind?
JE: Well, I grew up playing soccer and played for a dynasty at Oyster River High School in Durham, New Hampshire, and then I played at UNH. I was a middling college player at best, but I loved the sport and getting to call MLS games near the infancy of the league as well as national team qualifiers and the World Cup in 2002 was an absolute blast. That was great. And also getting to work for CBS Sports when I was at Channel 7 — back when Channel 7 was a CBS affiliate — and also for ESPN covering alpine skiing. It doesn't get much better than that when you get to Val d'Isère and you're supposed to cover three races in four days and it snows seven feet and they don't race a single gate and you get some of the best powder skiing of your life. That was pretty good.
Your call of the 2002 World Cup is still memorable partly because of the run the team made as underdogs. Do you still think back to that time?
JE: I watched the Portugal (vs. USA) game on the plane on the way back from Edmonton. It was like an all-night flight, and I had the game on a thumb drive and I was still nervous. I mean the game happened 15 flipping years ago and I was there, but I was still nervous they were going to blow the 3-0 lead.
And how wild is it that things have come full circle and Bruce Arena is the coach again? Bruce is a genius. Don't sell this team short. We used to joke that you could wake Bruce up out of a dead sleep at 3 a.m. and he could tell you how to beat Argentina. The guy is always thinking of something. And that (against Portugal) was a stroke of coaching genius.