Bruins
5 things on the Bruins' offseason to-do list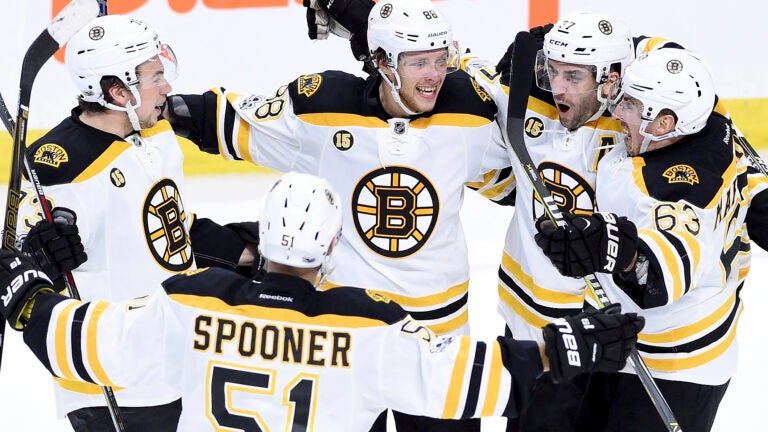 COMMENTARY
Removing the "Interim" tag from Bruce Cassidy's title was the first big move by Bruins general manger Don Sweeney after his team was eliminated from the Stanley Cup playoffs. Last week, he officially — and appropriately — named Cassidy as the 28th head coach in the storied franchise's history.
The Bruins' brass — owner Jeremy Jacobs, CEO Charlie Jacobs and President Cam Neely – then held its end-of-season press conference on Tuesday to officially end the 2016-17 season and to kick off the offseason. The latter brings considerations and decisions on how to improve the team's standing from playoff bubble to legitimate contender for a June parade. After two seasons of missing the playoffs — and the recent dismissal in six games by Ottawa in the first round — Sweeney has some important things to do.
Here are five areas, in no certain order, for consideration:
Get quick sticks in the mix
Cassidy and the coaches need to huddle together to view some tape of the key reasons for losing the playoff series. There was no better show of quick sticks in the six playoff games than that displayed by the Ottawa Senators. Beginning with Erik Karlsson and throughout the Sens' lineup, Guy Boucher's boys put on a clinic in how to use sticks, especially along the boards, in the corners, and behind either net. They didn't need to out muscle the Bruins. They just consistently kept the puck from getting beyond a first-touch by anybody dressed in Black and Gold in one-on-one battles. They took away Boston's forecheck and denied goals from the walls and corners. Quick feet are the No. 1 skill in the NHL. Right behind? Quick sticks. While Boston showed much improvement in the former, Sweeney and Cassidy need to add the latter as a priority in scouting reports and future signings — and then keep improving with daily drills in 2017-18.
Lock up Pasta for the next five years
One of Sweeney's first priorities is to sign David Pastrnak to a five-year contract extension. A restricted free agent without arbitration rights, he could sign the one-year "bridge" contract or take a big payday now. He has publicly stated his desire to be in Boston for the long haul. His 34-36-70 stat line is second only to Brad Marchand's 85 total. The former first-round pick is the Bruins only one since the 2010 Draft to live up to expectations as a first-rounder. (Yes, Charlie McAvoy is likely next). Pastrnak and Marchand each had 24 power-play tallies. His six game-winning goals and two OT goals in the regular season trail only Marchand's eight and one. Sweeney needs to pony up the $25-30 million for the next five years as a first order of formal business.
No more rolls of the "D" dice
Management rolled the dice twice — last summer and then before the trade deadline — that Zdeno Chara, Torey Krug, Adam McQuaid, Kevan Miller, Colin Miller, John-Michael Liles, and Joe Morrow could get the team to the postseason. They didn't make the free-agent splash for a No. 2 or 3 defenseman last summer. Then along came Brandon Carlo in training camp to give a season-long boost to an aging and questionable defense. The March 1 trade deadline came and went with no move to bolster the blue line. That proved catastrophic when Krug, McQuaid, and Carlo went down with late-season injuries. Yep, Charlie McAvoy was a stud in his six NHL games against Ottawa and is likely a star for years to come. But Chara turns 41 in the last year of his contract, while the Expansion Draft will likely have the Vegas team taking one of the Millers. Liles will not be re-signed. The B's need another bona fide blueliner – preferably on the left side — signed and sealed by training camp.  
Make the long-term decision about Ryan Spooner
Boston's second-round pick way back in 2010 has been on a roller-coaster ride in Beantown. His clear flashes of potential have been interrupted by shifting roles from center to wing with a myriad of linemates. Last year, he played 80 games with 49 points; this year 78 with 39. Spooner is a restricted free agent who played for basically $1 million each of the past two seasons. He's likely looking for a three-year deal in the $8-10 million range. Given his upsides — youth, pivot play, speed and power-play departments — that may be a good deal for Boston if Sweeney and Cassidy give him one position and some consistent help. Sweeney will also need to decide whether he wants to protect him from the Expansion Draft or roll the dice that he won't be taken by the Vegas Golden Knights if left unprotected.  
Live with Backes and Krejci; move Beleskey and Hayes; retain Moore and Khudobin
The Bruins need more overall production in the middle of the lineup, especially at left wing. That was supposed to be delivered by Matt Beleskey. The team also needs more points from David Backes and David Krejci. The Davids are set to earn $13 million combined for the next four years. Those two contracts are looking like potential long-term albatrosses with no likely solutions beyond playing them — and hoping for more production. Beleskey and Jimmy Hayes have disappointed, but are set to earn a combined $6-plus million next year. They have to be replaced by younger faster players drafted to play on Causeway Street. That starts with combos of Sean Kuraly, Austin Czarnik, Jakob Forsbacka-Karlsson and Danton Heinen.
If Sweeney can't move Beleskey and/or Hayes, buyouts will be eased by new kids with entry-level deals. At the other end, if Dom Moore and/or Anton Khudobin can be had for anther year at their current price tag of approximately $1 million, Sweeney needs to lock up both. Moore provided major value in a variety of roles. Khudobin, after a rough first half, found his game and provided a major lift during the run to the playoffs, winning five of his last six backup starts late in the regular season.