Bruins
Shawn Thornton admits he 'never really enjoyed' being an enforcer
"I'm just enjoying the thought that I'm never going to have to get punched in the face ever again for the rest of my life."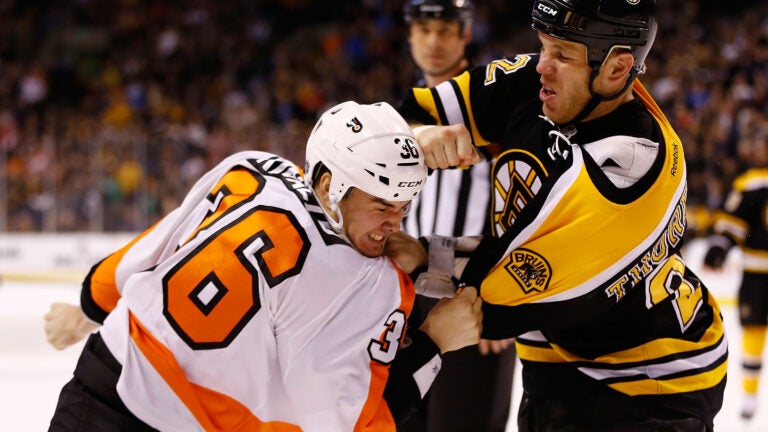 As Shawn Thornton turns the page on his 14-year NHL career, he has a few confessions to make first.
In a profile for Sports Illustrated, the former Bruins enforcer (who is moving from the rink to the front office with the Florida Panthers) admitted that he wasn't a big fan of the role he occupied for the entirety of his days as a player.
"I've never really enjoyed [the enforcement] part of it," Thornton told Sports Illustrated's Kate Cimini. "I'd rather score goals, but I was never good at that. But a job's a job. It was a means to an end. The fact that it put me in a position to start a charity and helped me give back because I had a bit of a stage from playing a sport, that's great."
Thornton's charity work has been extensive. He auctioned off his final pair of skates for $2,500, with the proceeds going to Thornton's foundation. And accorting to Cimini, Thornton's efforts lead to an annual $200,000 to several organizations. One of them, the American Parkinson's Disease Association (APDA), named an award for excellence after him.
For Thornton, he's simply looking forward to one major distinction in his post-playing days.
"I'm just enjoying the thought that I'm never going to have to get punched in the face ever again for the rest of my life."