Bruins
Bruins avoid arbitration with Ryan Spooner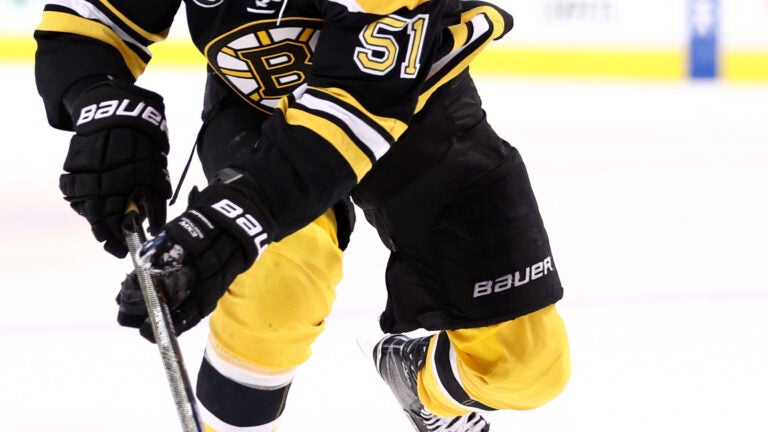 The Bruins made it clear to Ryan Spooner in May and June that they'd like him back for 2017-18, but on their narrow terms, specifically a one-year deal. In management's eyes, he remains more a project than a finished product.
"I think the next step for me,'' said the 25-year-old pivot, "is when the offense kind of dries up, is to be able to be more of a dependable, defensive guy. If that is strength or the mental side of the game, that's kind of for me to figure out, and that's what I've been trying to do.''
With that mind-set, Spooner opted Wednesday not to follow through on his scheduled salary arbitration hearing and agreed to a one-year contract for $2.825 million. It was the midpoint between Boston's offer of $2 million and the $3.825 request Spooner planned to make formal at the bargaining table.
"I don't think a player wants to sit through that,'' noted Spooner, whose production slipped 10 points, to 11-28—39, last season. "It's not pleasant.''
Spooner, the 45th pick in the 2010 draft, will report to camp in September still pegged as a center, though in a somewhat crowded workplace with a number of pivots hoping to grab third-line duty behind Patrice Bergeron and David Krejci. Riley Nash, Noel Acciari and raw rookie Jakob Forsbacka Karlsson, the former BU standout, will be vying for the same standing.
Spooner has a slight edge on the pack, given his history on the power play, mainly his ability to distribute the puck off the right half-wall.
"We know Ryan has the offensive skills to be an impactful player,'' GM Don Sweeney said in a team release, "especially while on the power play. We expect Ryan to continue to take the necessary steps with his development to be an even more complete, two-way player.''
At his best, Spooner is a fast and elusive skater with a smooth, accurate passing touch. Legs and hands are his top assets. On the downside, he is frustratingly weak on faceoffs (a lowly 38.9 percent win rate last season), and offers little resistance along the boards or in the sandpaper areas in the offensive or defensive zones.
He is well aware he has to improve his grit factor.
"Just competing on pucks,'' he said. "Just battling for pucks, being hard to play against, I think that is the main thing I took away from the season. Looking back on it, if I was playing against myself, I'd ask, 'Would I find that hard or would I find that easy?' I think the answer to that is, at times when I am on my game, skating and making plays, it would be hard. At times when I am not doing that, I think it would be easy. I need to work on that part of my game.''
With Spooner signed and delivered, the Boston payroll is now just under $65 million, some $10 million south of the CBA-imposed cap of $75 million for next season — a bump of $2 million over 2016-17. Sweeney still must come to contract terms with No. 1 right winger David Pastrnak, who stands to be the GM's costliest negotiation of the summer.
About to enter his fourth season, after a breakout campaign of 34-36—70 last season, Pastrnak is believed to be seeking a long-term deal of some $6 million per season, ranking him among veterans Brad Marchand and David Backes on the payscale. A reasonable bridge contract, not likely something Pastrnak would accept, would be for two years in the $4.5 to $4.8 million range.
Spooner was expected to show more offensive pop when the Bruins in February ditched long-time coach Claude Julien and put Bruce Cassidy in charge. Other than a flash or two, however, Spooner's output remained tepid. A new season and a fresh start, he thinks, could make a difference.
"The thing that kind of hurt me at the end of the year was my offense kind of took a hit because I wasn't really attacking with the puck,'' he said. "I think I wasn't playing the game I could. I think at the start of the year here, a fresh start, we have a new assistant coach [Kevin Dean]. It's a fresh start. I'm excited for it.''