Bruins
David Backes has something to prove in his second year as a Bruin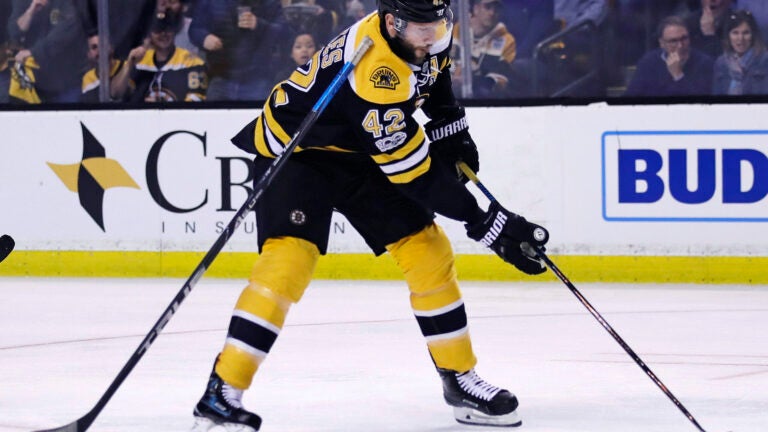 David Backes is in a good place, not just because he feels especially sprightly during summer skating sessions. Off the ice, after experiencing perhaps his most turbulent year, Backes has settled into a rhythm ahead of his second Black-and-Gold season. 
Backes, back in Brighton for Thursday's unveiling of Warrior Hockey's Alpha QX stick, is more familiar with the streets that shuttle him between his suburban home and his workplaces at Warrior Ice Arena and TD Garden. Wife Kelly, pregnant with their second child, feels better about in-season life in Boston after spending parts of 10 years in St. Louis. The anxiety of yanking up Blues roots and transitioning to the Bruins is over.
"I feel I've grown in a lot of different ways, having the challenges of change,'' Backes said. "Different personnel, different area, different streets, and a way of life — everything that's gone into change from St. Louis to here. Looking forward to having a year where I can just play hockey, come to a house that's set up, just move my family and dogs and cats in, start living life, and really be able to focus on playing the game and helping our team win. That's what I'm most optimistic about.''
In retrospect, Backes underestimated the degree to which changing teams would flip his family's life upside down. At this time last year, Backes was at his offseason home in Minnesota and initiating a house hunt outside Boston that took longer than expected. 
It would have been like Patrice Bergeron, a fellow member of the famed 2003 draft, saying goodbye to the Bruins and landing in the Western Conference. Such moves are not easy, even if the rinks have the same dimensions and the rules between East and West do not differ. The NHL demands full focus for its members to succeed. Backes was distracted. 
A longer-than-expected break-in period may be one reason Backes flickered as a first-year Bruin. He played just a handful of games at center. At right wing, he didn't click with David Krejci. By the end, Backes settled into a top-line spot next to Bergeron and Brad Marchand, finishing with 17 goals and 21 assists in 74 games. Backes's 0.51 points-per-game average was his lowest since 2007-08 (0.43), his first full season in the NHL. 
There may be another explanation: time. The 6-foot-3-inch, 221-pound Backes is 33 years old, not always a kind age to power forwards. Legs that once propelled Backes through puck carriers did not fire with their previous velocity. By the time he closed on opponents, the puck was long gone.
The feedback started midseason from the bosses: president Cam Neely, GM Don Sweeney, and then-coach Claude Julien. It was not the kind that makes players comfortable.
"Just honest evaluation of, 'Hey, this is where my game's lagging perhaps, the way the game's trending, and how we need to keep up,' '' Backes said. "We need to be honest in order to improve ourselves. That was a recognition, probably in January in conversations with Cam, Don Sweeney, and a little bit with Claude. This was the way I needed to improve myself. I've really taken that to heart and put the time in this summer.''
Backes has been training to emphasize agility, quickness, and explosiveness over bulk and power. He wants to accelerate to cruising speed quicker to help him keep pace with linemates and be more a bother to other teams.
Backes has something to prove: that he is not an overpayment. A $6 million annual price tag is a premium to pay for 38 points. The Bruins, however, aren't the only club feeling buyer's remorse on 2016 purchases. 
Consider the deals signed by Kyle Okposo (seven years, $42 million), Milan Lucic (seven years, $42 million), Andrew Ladd (seven years, $38.5 million), Loui Eriksson (six years, $36 million), and Frans Nielsen (six years, $31.25 million). So far, they look inflationary.
This summer, with pickings slimmer than a year ago, the market corrected. The only UFA forward to hit it big was Alex Radulov. The ex-Canadien signed a five-year, $31.25 million contract with Dallas, or $250,000 more annually than Backes. 
Last season, Radulov was a no-questions-asked first-liner in both presence and production (18-36—54). Such a threshold would be a good one for Backes to reach.
LONG OVERDUE
Dunham is hired to develop goalies

For three straight seasons, the Bruins have had a consistent shortcoming at the same position: No. 2 goalie. 
In 2014-15, the team lost confidence in Niklas Svedberg and burned out Tuukka Rask. In 2015-16, the Bruins signed middling journeyman Jonas Gustavsson when Jeremy Smith might have been a better option. Had Anton Khudobin delivered more than one win in his first eight appearances last season, Claude Julien might still be employed in Boston.
By hiring Mike Dunham as goaltender development coach, the Bruins took a critical step in reinforcing the backup position.
Rask and Khudobin, the most likely varsity tandem, will not be Dunham's responsibility. Dunham's duties will be to monitor the progress of goalies lower on the food chain, such as Zane McIntyre and Malcolm Subban. 
This will leave goalie coach Bob Essensa with more time to work with Rask and Khudobin, his principal charges. Last year, Essensa was spread too thin. He was responsible for every goalie in the system, including Dan Vladar in the ECHL. So when McIntyre, who was not ready for the NHL, had to back up Rask, the Bruins leaned on Essensa to optimize the transition for the rookie.
"[Last] year was unique in that we had a young goaltender here for an extended period of time,'' GM Don Sweeney said in a conference call last Monday. "It took a lot of Bob's time to be here and make sure he's working with them as they're going through things unique to the NHL level.''
Dunham should be a good fit. The ex-University of Maine puck-stopper was the Islanders' goalie coach for 10 years, working alongside fellow ex-Black Bears Garth Snow, Jack Capuano, and Bob Corkum. Dunham coached Thomas Greiss, Jaroslav Halak, and Jean-Francois Berube.
The question is, what took so long? Other organizations have had the two-coach system (one for the NHLers, the other for development) for multiple seasons.
"We probably could have done this at an earlier time,'' Sweeney said. "I feel very good that Mike Dunham was one of the coaches available. It was unique, the situation he was in. We felt fortunate in that regard that we found a highly experienced guy we can drop ship in there and feel very comfortable about. I do believe the organization could have been served better had we done this years ago.''
Pittsburgh, for example, hired Mike Bales as goaltender development coach in 2011 to serve under Gilles Meloche. Two years later, Bales replaced Meloche. As Bales assumed the lead role in 2013-14, the Penguins hired Mike Buckley, a Haverhill native and former UMass Amherst goalie, to fill the development position. 
One of Buckley's responsibilities was to work with Matt Murray, drafted in the third round of 2012. Their relationship would serve both well.
Under Buckley's watch, Murray breezed through his final season of junior (32-11-6, 2.57 GAA, .921 save percentage with Sault Ste. Marie), then joined Wilkes-Barre/Scranton (one regular-season win, one postseason appearance) to finish 2013-14.
The following season, Murray showed he was the real thing by going 25-10-3 with a 1.58 GAA and .941 save percentage in his first pro season. By the time Murray arrived in Pittsburgh, he was ready for back-to-back Stanley Cup runs. Murray became the first goalie in NHL history to win the Cup in each of his first two seasons.
Shortly after winning the last championship, the Penguins knew Marc-Andre Fleury would leave via expansion and Murray would be the full-time ace.
They fired Bales and promoted Buckley. Brendan Sullivan, who is from Fall River, will be the goaltender development coach.
Buckley is an instructor at Mike Buckley's GDS, the coach's private business operating out of Attleboro's New England Sports Village. 
Dunham will spend part of this year at his alma mater. Jeremy Swayman, the Bruins' 2017 third-round pick, will be a Maine freshman. 
Dunham will also conduct amateur viewings of draft-eligible goalies. He will be an important resource as the Bruins try to catch up.
ETC.
Somerby keeping his options open

Doyle Somerby, drafted by the Islanders in the fifth round in 2012, concluded his college career on March 25 in Boston University's 3-2 overtime loss to Minnesota-Duluth. While former teammates Charlie McAvoy, Clayton Keller, and Jakob Forsbacka Karlsson signed their pro deals and made their NHL debuts, Somerby deferred. The Marblehead native knew his market and opportunities would increase by keeping his pen off paper.
Although his draft club remains in the mix, Somerby intends to reach the Aug. 15 threshold, thereby freeing himself of his Islanders' obligations. Five other teams could be interested, estimated agent Brett Peterson.
"It almost doesn't make sense not to talk to everybody,'' Peterson said. "You're drafted when you're 17½ with no say who picks you. If you choose to complete your college career, you have that right. That's just the way the market is. They have a lot of defensive prospects in New York. So that's how we landed at this.''
The 23-year-old Somerby is a stay-at-home defenseman. The 6-5, 225-pound left-shot Somerby set career highs as a junior with five goals and eight assists in 39 games. That year, while Somerby assumed defense-first responsibilities, McAvoy and Matt Grzelcyk went on the attack. The Islanders wanted him to leave a year early, but BU's captaincy was one of the carrots that Somerby could not ignore.
"He is who he is,'' Peterson said. "His biggest attributes are that he can push the pace, take up a lot of space on the ice, be reliable, and have good leadership qualities. He's never going to be one of those point-getting D-men. He's more of a stay-at-home, depth defenseman. I've seen a lot of guys make a lot of money in that role.''
Workload contributed to decision
Somerby stayed in school for four seasons. Cal Petersen, another of Peterson's clients, opted to leave after three. Petersen signed his two-year, entry-level contract with Los Angeles on July 1 instead of returning to Notre Dame for his senior season. Part of Petersen's decision was his college workload: 110 appearances over three years, including 33 as a freshman. In comparison, Harvard's Merrick Madsen, who will be a senior in 2017-18, has 66 appearances over three years. "Goalies don't typically play that many games,'' Peterson said of his client's pace at Notre Dame. "It's like he was a four-year starter when he was a three-year guy. From the standpoint of baseball, the wear and tear was there.''
Hurricanes extend another D-man
The Hurricanes mean business. They first signed Jaccob Slavin, their second-best defenseman after Justin Faulk, to a seven-year, $37.1 million second contract. Last Tuesday, GM Ron Francis followed up Slavin's extension by getting a head start on Brett Pesce. The right-shot Pesce, who has one season left on his entry-level contract, signed a six-year, $24.15 million deal. The former University of New Hampshire defenseman enters 2017-18 as Carolina's No. 3 defenseman behind Faulk and Slavin. Assuming Norwood's Noah Hanifin continues his development curve, Carolina coach Bill Peters should have a mobile, pace-pushing, and versatile top four. None of the four is considered a traditional shutdown defenseman. They defend and go on the attack with good positioning, aggressive skating, and active sticks. Starting in 2018-19, Carolina will be spending less than $10 million annually on Slavin and Pesce, who could be top-pairing defensemen by then. The players have their security. The organization has good defensemen under long-term cost control.
Wild decide to pay up

The Wild completed their offseason heavy lifting by signing Mikael Granlund and Nino Niederreiter to extensions instead of going to arbitration. Granlund, Minnesota's leading scorer last season (26-43—69), signed a three-year, $17.25 million contract. Niederreiter, swiped from the Islanders for Cal Clutterbuck and a third-round pick in 2013, earned a five-year, $26.25 million deal. Both contracts cover what should be sweet spots for Granlund (25 years old) and Niederreiter (24). According to CapFriendly.com, GM Chuck Fletcher has approximately $3 million of cap space while needing to re-sign Marcus Foligno. It would have been hard for Fletcher to extend Granlund and Niederreiter without his salary-shedding deal with Buffalo to unload Marco Scandella and Jason Pominville. It also helped that Fletcher had the foresight to sign East Weymouth's Charlie Coyle to a five-year, $16 million second contract. The former BU Terrier is locked up through 2020 at $3.2 million annually, a reasonable number for a still-developing top-six forward.
Fisher says goodbye
Mike Fisher announced his retirement last Thursday, completing a hard-nosed career that saw the center score 276 goals and 309 assists in 1,088 games for Nashville and Ottawa. The 37-year-old was consistent to the end, recording 18 goals and 24 assists in 72 games last season while averaging 16:37 of ice time. Many players coming off such seasons keep their hands raised in search of employment and often get it. Fisher came up just short of the Cup twice, first with the Senators in 2006-07 against the Ducks, and a second time last season against Pittsburgh. Fisher's retirement leaves Jason Spezza (Dallas), Antoine Vermette (Anaheim), and Patrick Eaves (Anaheim) as the only 2006-07 Senators with NHL jobs for the upcoming season. Chris Kelly and Chris Neil are out of contract. 
Loose pucks

Fisher's retirement will mean more shifts for Ryan Johansen, who will be paid accordingly for his increased workload, having signed an eight-year, $64 million blockbuster on July 28. That's a lot of scratch for a center coming off a 14-47—61 season. In comparison, fellow 25-year-old Tyler Seguin (26-46—72) is pulling down $5.75 million annually for the next two seasons . . . Shawn Thornton will be back in town mid-August to host his annual Putts & Punches for Parkinson's Golf Tournament at Ferncroft Country Club in Middleton. The tournament, entering its seventh year, is sold out. The Shawn Thornton Foundation is also accepting online donations, through a pre-tournament helicopter golf ball drop, and by signing up for the foundation's Falmouth Road Race team. For more information, visit the foundation's website here . . . USA Hockey announced on Friday that Tony Granato, currently employed by the University of Wisconsin, will be its coach for the 2018 Winter Games. Because the NHL will not participate in the Olympics, Canada will not be the usual overwhelming favorite. "Canada is no problem,'' Granato told USA Hockey colleagues, according to a transcript obtained by the Washington Post. "Do not worry about Canada, do not even think about them.''
The Hurricanes are continuing their progressive off-ice approach by hiring Kevin Kan as a data engineer. Kan will be working with manager of analytics Eric Tulsky, one of the league's most respected statistics-minded thinkers. Kan holds a master's of applied science in industrial engineering from the University of Toronto.
All grown up

Sid the Kid turns 30 on Monday. There's little that Sidney Crosby hasn't accomplished in the NHL, and his résumé reflects his greatness. He's one of just 13 players in NHL history to record more than 1,000 points through his age-29 season (per hockey-reference.com), and among that group Crosby is one of five to have won a Stanley Cup, Hart Memorial Trophy (league MVP), Art Ross Trophy (scoring title), and Conn Smythe Trophy (playoff MVP) by that point in their career.
[fragment number=0]