Bruins
4 things we learned from the Bruins' 3-0 win over the Sabres
Anton Khudobin notches his sixth career shutout.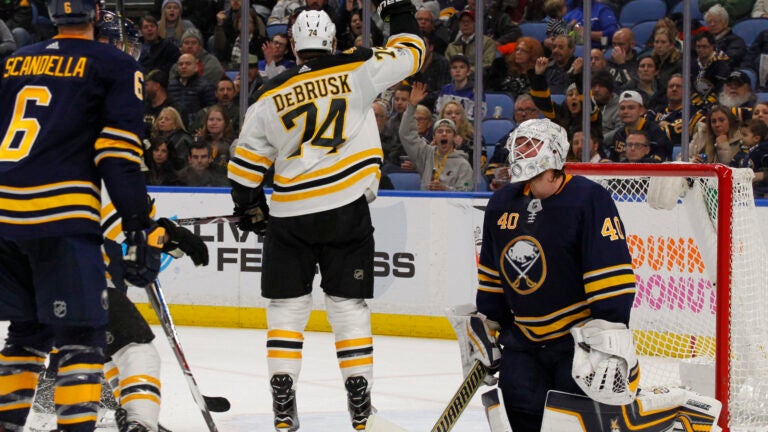 COMMENTARY
BUFFALO — Even against cellar dwellers, the second game of a back to back is never easy.
In the Bruins' case, Tuesday's contest with the lowly Sabres marked the second straight week of a back to back, and their fifth game in seven nights.
No one expected the Bruins to look as sharp as they did in their 7-2 romping of the Columbus Blue Jackets. They weren't. But they fought through the fatigue and travel carried over from the night before and avoided a letdown in their 3-0 win.
Here is what we learned from KeyBank Center as the Bruins avenged the Sabres' come-from-behind win at TD Garden – from three goals down – back in October.
Miller drops the gloves with Bogosian following clean hit
Kevan Miller is developing quite the history with the Sabres.
Last year, he ruffled Evander Kane's feathers so much that the former Winnipeg Jet took to Twitter to vent about Miller. Like a true pro, Miller shrugged off Kane's accusations.
Tuesday night he answered to Zach Bogosian after delivering a clean first period hit. Bogosian held his own, but Miller earned the decision.
"[It was] a reaction to the hit, and I obliged," Miller said about the fight.
Khudobin settling back into his role
Life of a backup goaltender is quite lonely. At times, backups will go several games – and even weeks – without a start.
With Tuukka Rask back to form, Anton Khudobin settled back into his backup role. Still, the Bruins might be on the outside looking in of a playoff spot if it weren't for Khudobin's four-game November stretch against the Kings, Sharks, Devils and Penguins.
Khudboin only appeared in three games since the Bruins' 4-3 win over the Penguins on Black Friday. But on Tuesday, he notched his most impressive performance of the year.
Knowing they needed a quality performance, Khudobin gave the Bruins just that. Calm, cool and collected, Khudobin stopped all 36 shots en route to his sixth career shutout.
Khudobin had plenty of help in front of him. Whenever he was caught leaving an open net, the Bruins D was there to help the cause.
"It feels good as a core," Khudobin said after improving to 8-2-2. "I think it's great the way we battled, the way we battled and the way we played in the third period, knowing that we're winning this game and we didn't sit back. We didn't play to lose, we played to win."
DeBrusk continues progression
They had some heavy legs, but one young Bruin got an extra pep in his step resulting in a timely goal.
With the game still scoreless, Jake DeBrusk sniped his eighth of the year at 10:14 of the second period to put the Bruins ahead for good.
"I just came across the blue [line] and tried to make a quick move and a get a shot through the d-man," DeBrusk said about his short-side snipe past Lehner. "It went where I wanted to go. I didn't know if it went in until I heard the bar and as soon as I heard that, I knew I had good wood on it, so I was very happy on how it went in and it gave us the 1-0 lead."
DeBrusk doesn't get the same accolades as McAvoy in terms of Calder Trophy consideration. But there's no question he's come a long way since the start of the season.
The 2015 first-round selection is averaging nearly a point per game in his last 13 games. Not bad for a player who was a healthy scratch against the Maple Leafs over one month ago.
Fourth line seals the deal
Aside from hits, blocked shots and time on ice, NHL fourth lines often have little to show in terms of stats. Instead, the bottom trio is judged by intangibles, energy, physicality and other attributes that don't show up on the score sheet.
Sean Kuraly, Tim Schaller and Noel Acciari checked off all those fourth line characteristics, and they came through in crunch time.
With Lehner pulled for the extra attacker late in the third period, Cassidy sent the fourth line out for an attacking zone faceoff. After the Sabres retained possession, Acciari positioned himself perfectly to make a couple of shot blocks and Schaller sealed the deal with a nearly 200-foot empty netter.