Bruins
Ryan Spooner made the most of his return to Ottawa
Spooner's move to right wing paid off.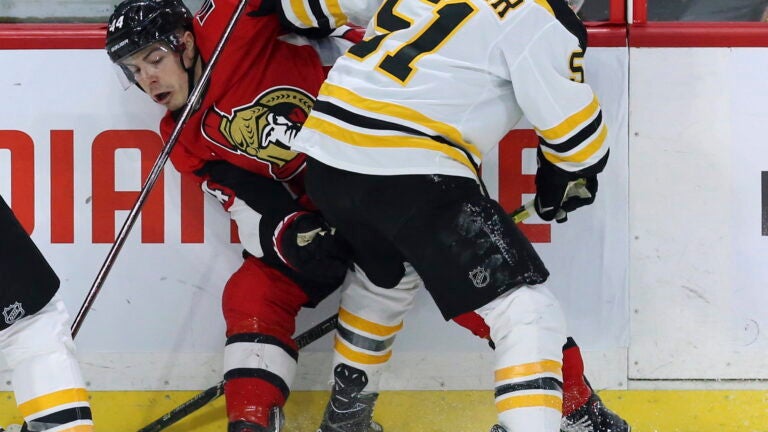 Leave it to Ottawa's own to get the best of his hometown team.
With David Krejci returning to the Bruins lineup, Ryan Spooner moved from center to wing with Krejci and Jake DeBrusk on the second line. The move paid off.
Instead of focusing on two-way responsibilities as a centerman, Spooner got to showcase his two strengths – his speed and skill set – in Boston's second matchup of the year with the Senators. The Ottawa-born forward scored twice as the Bruins took down the Sens for the second time in four days with a 5-0 victory Saturday night at the Canadian Tire Centre.
Spooner's first goal was one of three power play tallies for the Bruins, but his second goal was a thing of beauty. After blocking Ben Harpur's shot from the point, the 2010 second-round selection picked up speed and battled through a slash from the Sens defenseman before delivering a backhander past Mike Condon to give the Bruins a 3-0 second period lead.
The hometown kid is having a night. #NHLBruins pic.twitter.com/rUW4XknhlA

— Boston Bruins (@NHLBruins) December 31, 2017
"As a centerman, I don't think I would've been [up high blocking a shot]; I think I would've been down low," Spooner told the media about his second goal of the night. "I think my stick broke actually, or he slashed me on that, but yeah, I just tried to get to the net with it."
Spooner, who now has three goals in the 2017-18 season, snapped a 13-game goal drought. The veteran forward tallied his first of the year on December 2 in a 3-0 win over the Philadelphia Flyers.