Bruins
The Bruins are back, in case you haven't noticed
The Bruins have made a resurgence worthy of relevancy in a crowded Boston sports market.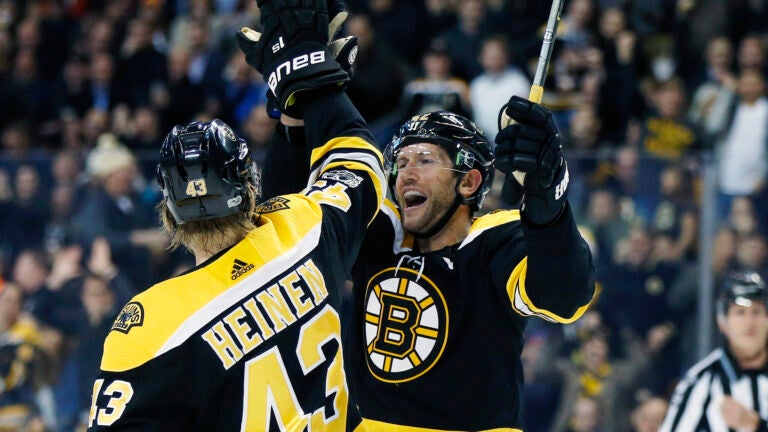 The roster features an enviable mix of cornerstone veterans and appealing youngsters. Those players are guided by a charismatic young coach who followed an accomplished predecessor and quickly found his own way to success.
Even while fending off significant injuries, they have exceeded the expectations of most preseason prognosticators and are trending the right way in the standings. Should they keep this up – and there is no reason to believe they will not – they are poised to cause a ruckus in the postseason.
The Celtics? Well, sure. The description fits, though they have been in that good place in the standings virtually all season.
But we're talking about their fellow winter resident of TD Garden. We're talking about the Bruins.
Everyone else should be too.
I'll listen to those children of the big, bad early '70s who proclaim Boston a hockey town first and foremost. But there's a necessary addendum to that: It's a hockey town when the hockey team is actually compelling. More than anything else, Boston's favorite team is the one most successful in that particular moment.
I can't say I've ever enjoyed a day in the city more than June 18, 2011, when the Bruins, Stanley Cup champions for the first time in 39 seasons, took their victory lap around the city aboard the duck boats.
Perfect weather. Perfect mood. It wasn't just the Boston sports scene at its best. It was Boston at its best.
But in the seasons when the Bruins are slogging somewhere near the NHL's mediocre middle, it's easy to lose track of them, especially if you are a generalist as a fan (or, ahem, as a sportswriter).
The current sports riches around here are more abundant than massive snowbanks on the street corners. The Celtics are on a 63-win pace despite losing $128 million free agent Gordon Hayward to injury before the first quarter of the season's first game was complete. The Patriots are deep into their second decade of annual, legitimate Super Bowl contention. That's not just unheard of in the modern NFL. The league is designed for it to be impossible.
When this Bruins season began, it seemed inevitable they would slip to a second-class citizen in our winter sports universe. For a time they did. But have they ever reestablished their relevance.
They've hit this midseason hiatus (their next game isn't until Saturday) with a 23-10-7 record through 40 games, good for 53 points and a second-place standing behind the Lightning in the Atlantic Division.
Even with their 6-5 overtime loss to the Penguins Sunday, the Bruins entered the break on an ice-melting hot streak, having gone 8-0-2 in their past 10 games. Better, what was perceived as one of the team's flaws coming into the season – a roster featuring some long-relied-upon older players that might have skated past their peak and several young players yet to establish themselves as trustworthy NHLers – has turned out to be one of the team's true strengths.
Turns out general manager Don Sweeney has not constructed an uneven roster with too many players on the opposite ends of the age spectrum. He's constructed a roster that has an appealing balance of reliable veterans and tantalizing youth, with a couple of prime-of-career stars holding it all together.
Twenty-year old Charlie McAvoy, born the year after 40-year-old Zdeno Chara made his NHL debut, are the cornerstones of the defense in much different ways. Brad Marchand and likely future Hall of Famer Patrice Bergeron are the prime-of-career stars, and David Pastrnak, just 21, is right there with them atop the stat sheet.
Youngsters Danton Heinen (22), Jake DeBrusk (21) and Brandon Carlo (21) have invigorated the aging lineup – but veterans such as David Backus (33) and David Krejci (31) add veteran savvy when at full strength.
Tuukka Rask at one point looked like the second-best goalie on the roster this season, but the challenge (real or perceived) by backup Anton Khudobin appears to have reinvigorated him.
Rask might be playing his best since the 2012-13 season, when the Bruins fell two wins short of a second Stanley Cup title in three years. The Bruins looked set up for a long run of championship contention then, but it didn't happen. Tyler Seguin was traded for relative short-timer Loui Eriksson and a couple of roster fillers who had less value than a new skate sharpener. Dennis Seidenberg, such a stalwart then alongside Chara, proved difficult to replace. Claude Julien's defensive-minded system got stale. The long run of contention never happened.
It's hard to believe that was just five years ago. Sure, some of the mainstays remain – Chara, Bergeron, Marchand, and Rask, most notably. But that feels like a different time and a much different team than what we're witnessing now. Beyond the influx of young talent – McAvoy appears to be next to join the iconic ranks of Bruins defensemen – I believe that is due to one factor: The coaching change.
Bruce Cassidy might be the most pleasant surprise in all of this. The 52-year-old got the most out of the Bruins after taking over for Julien last February, guiding the Bruins to an 18-8-1 record the rest of the way and a first-round loss in the playoffs. But it was easy to wonder whether the relative success was a mirage.
After all, he had been an NHL coach before, from 2002-04 with the Washington Capitals, and it did not end well. The Capitals went 8-18-1 to start the 2003-04 season before he was fired among gripes from the players that he was overwhelmed and misleading in his interactions with them. It was natural to wonder why it took so long to get a second chance.
In that long interim between opportunities, something in his approach must have been refined. Either that, or the Capitals were a pack of finger-pointing toddlers. On the ice, Cassidy has brought an offensive-minded style to the Bruins that is far more aesthetically appealing than Julien's defensive-minded system. Off the ice, Cassidy is candid, even blunt, but not in an abrasive way.
As the Bruins have found their way back, so has their new coach. Cassidy is making the most of his second big chance, and his team, thought to be a mediocrity, is thriving.
I can think of another situation like that around here, one that began nearly 20 years ago now. All these years later, this remains Bill Belichick and the Patriots' time of year, and the Celtics are stealing a few moments themselves. But don't forget about the Bruins. They never became that dynasty. But the good times are back again.