Bruins
Watch the video tribute the Bruins gave Claude Julien
Julien returned for first time since last February.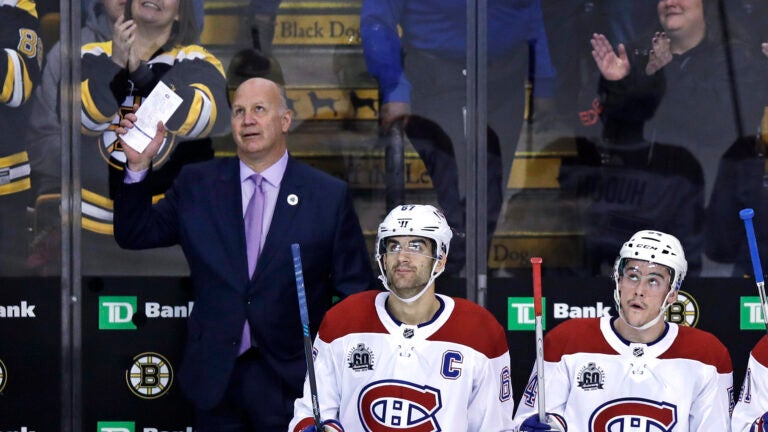 As foreshadowed by Tuukka Rask following Bruins practice Tuesday at Warrior Ice Arena, Canadiens coach Claude Julien got his tribute upon returning to Boston.
"Well I'll tell you what's going to happen," the Bruins goaltender stated, "we're going to start the game, and after that, there will be a video montage. And we'll all tap our sticks and the crowd is going to clap their hands and give them a warm welcome and then the game is going to continue."
That's exactly what happened during the second TV timeout at TD Garden Wednesday night. The all-time winningest coach in Bruins history, who guided his team to the Stanley Cup after a 39-year drought in 2011, got a montage and reception that was only fitting.
The Bruins honored Claude Julien during the break. #NHLBruins pic.twitter.com/XnvnMtopLi

— Colin Beswick (@CBeswick) January 18, 2018
Julien was fired on Feb. 7 by Don Sweeney. He called Montreal home one week later as general manager Marc Bergevin hired him for his second tenure behind the Habs bench.
Boston still holds a special place in Julien's heart. And though he might be on the other side of the Bruins-Habs rivalry, the 17,565 in attendance was more than happy to see him return for the first time in 11 months.
"I've said it before, it's a great city," Julien said prior to the second Bruins-Habs matchup on Wednesday. "As a family, this is where our roots really grew with a young family and stuff like that…I'm not ashamed to say that this is a great sports town that supports its teams and the fans are great, so there's nothing to dislike about this city."