Bruins
Charlie McAvoy discussed the 'relief' he felt after his heart diagnosis
"To find out it's not major, not life-threatening, something I can continue to play with — that was a good takeaway right away."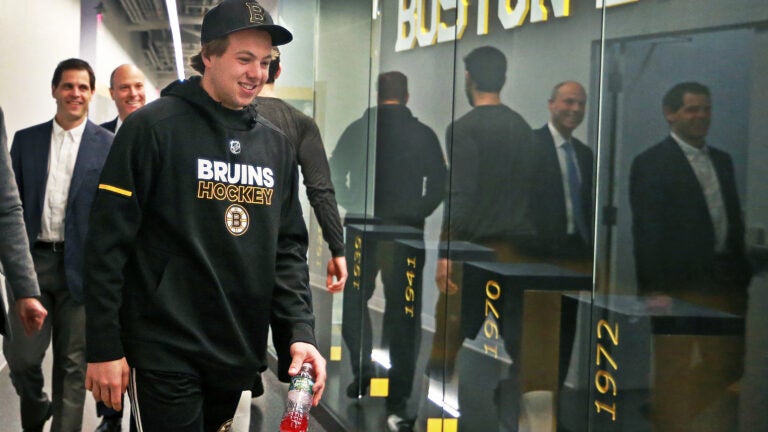 One week after undergoing a successful procedure to treat an abnormal heart rhythm, Bruins defenseman Charlie McAvoy has been cleared to return to the ice.
McAvoy appeared with general manager Don Sweeney and team doctor David Finn before practice Monday at Warrior Ice Arena. The 19-year-old defenseman spent the past week recovering from the procedure before returning to the ice for some light skating after his press conference.
? Charlie McAvoy, team internist Dr. David Finn, and #NHLBruins GM Don Sweeney addressed the media earlier today to provide an update on McAvoy's recovery from an ablation: pic.twitter.com/nNfmvXTkLz

— Boston Bruins (@NHLBruins) January 29, 2018
"It was relief, first off, to find out it was not life-threatening and not dangerous to my overall health," McAvoy said Monday. "That was my best takeaway from that.
"I'm obviously kind of nervous that this is something really bad. To find out it's not major, not life-threatening, something I can continue to play with — that was a good takeaway right away."
McAvoy had experienced abnormal rhythms earlier in his career, but felt his heartbeat disrupted for an extended stretch during the Bruin's 4-2 loss to Edmonton on Nov. 26. After the game, he met with Finn and trainer Don DelNegro and they decided to see the doctors at Mass General.
"Right from the start, we were on top of it, able to diagnose it, and take care of it," McAvoy said.
The medical staff determined that he could continue to play without risking his health, but that a procedure would prevent the abnormal rhytym from happening again. There is no timetable for when he will return to game action, but McAvoy is due for a followup appointment later this week.
Sweeney said that he has twin sons the same age as McAvoy and "that's the first thing that goes through your mind." But he was reassured by the medical staff's definite diagnosis and said it was amazing how well McAvoy played knowing that surgery was on deck.
"Says a lot about him," Sweeney said.
Following his presser, @CMcAvoy44 is out on the ice for some light skating. #NHLBruins pic.twitter.com/wTGqyYn2ah

— Boston Bruins (@NHLBruins) January 29, 2018