Bruins
Zdeno Chara's new plant-based diet is paying off on the ice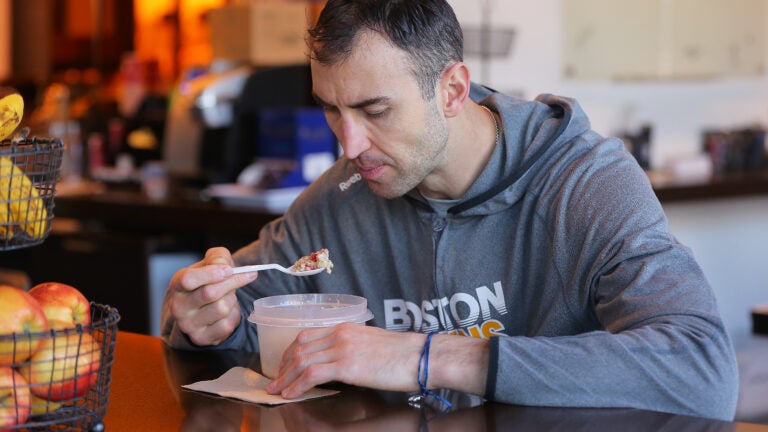 Zdeno Chara is 40 years old. He weighs 250 pounds, his preferred playing weight. The Bruins captain is averaging a team-high 23:15 of ice time per game. Chara's bosses count on him for extended shifts, like the 4:18 monster he submitted in a 4-1 win over Montreal Jan. 18 to help kill off a five-on-three Canadiens power play.
He feels fast, strong, and fit — and that is partly because of what he's eating.
In September, shortly upon his return from Slovakia, Chara adopted a plant-based diet. He no longer eats beef, chicken, pork, or dairy, the usual go-to sources of fat and protein for an NHLer. He sometimes eats salmon and eggs, but has otherwise gone vegetarian: fruit, quinoa, brown rice, beans, chickpeas, lentils, salad, avocados, nuts, and seeds. Chara likes Sweetgreen. He is a regular Whole Foods shopper.
The morning after a recent game, Chara ate oatmeal, fruit, and a smoothie for breakfast. After road games, he sometimes tucks into tofu on the plane. The travel crew adapted a recipe from Tatiana, Chara's wife, for the entire team to enjoy postgame: rice pie with egg whites and dried fruit. Chara's performance proves that even a 6-foot-9-inch colossus does not need porterhouses to fuel or rebuild his bulging muscles.
"I can tell I'm feeling better,'' Chara said. "I know for a fact I'm playing with a lot more energy and I'm recovering faster.''
The tallest player in NHL history knows few ceilings in his quest for personal growth. A formerly awkward behemoth has shaped himself into his generation's premier shutdown defenseman.
The power-play duties he cherished have gone to Torey Krug, Charlie McAvoy, and Matt Grzelcyk. But coach Bruce Cassidy still calls Chara's number for every critical defense-first situation: even strength against the opposing top line, the first shift of every penalty kill, and the last minute when protecting a lead.
Away from hockey, Chara has a similar appetite for knowledge. When he played in Ottawa, he earned a degree in financial planning. In 2015, he was issued a license to sell real estate. His teammates do not need Google Translate when the multilingual Chara is in the room.
Nutrition is Chara's latest pursuit.
"I thought it was going to be very hard for me as a hockey player to get into something like this,'' Chara said. "But then, over the course of time, you start reading more and gathering more information — more books, more stuff you can search on different websites. You watch documentaries. Then it slowly starts making sense that this is not just strictly for people to lose weight.''
Proactive approach
The NHL cannot wait to kick out older and inefficient players. Three of Chara's former teammates know this well.
Ex-Senator Chris Neil, now 38, concluded his career last year after logging 1,026 games, all in Ottawa. Chris Kelly, Chara's teammate in Boston and Ottawa, is on Team Canada's Olympic roster but out of the NHL, which declared the 37-year-old done. Jaromir Jagr, 45, is possibly out of the league for good following his transfer from Calgary to Kladno in Czech Republic.
Chara, who is in the last year of his contract, is not ready for the league to declare him finished.
"I felt as you get older, you're trying to find ways to improve your well-being, functioning, and energy level,'' Chara said. "Everything you hear that people are losing as you get older, I want to be a step ahead of that.
"I want to be more proactive than being on the other side — waiting and waiting, then when it hits you, it's too late. I'm more aware that I want to make some change before they come to me. I want to come to them.''
Cycling, another of Chara's interests, piqued his nutritional awareness. Some cyclists, Chara noticed, rarely eat meat. They eat oatmeal before races and refuel with grains and beans.
Chara was initially wary about ditching steaks and chicken breasts. Hockey players train for anaerobic performance — all-out effort during a 45-second shift.
For Chara, the trick was to develop a diet that would give him the fuel he requires. Because of his size and workload, Chara burns more energy than most of his NHL counterparts.
"Somebody Z's size, for example, can eat a lot more carbohydrates than somebody of a smaller stature,'' said Bruins nutritionist Julie Nicoletti, founder of Kinetic Fuel, a performance-based nutrition company in Westwood. "So it has to be tailored to the person.
"All these guys need protein, carbohydrates, and fat. It's which combinations and ratios works best for them.''
This summer, Chara's nutritional studies led him to conclude that bowls full of fruit, vegetables, and whole grains could reset his performance threshold. Research, curiosity, and a chance overlap convinced him to make the jump.
Building a brand
Chara recently signed a business agreement with Michal Matejovic, a 33-year-old personal brand manager, to launch and curate profiles on Facebook and Instagram. Matejovic represents athletes and artists such as Majk Spirit, a popular Slovakian rapper.
Until now, Chara had seen no benefit to social media. He once swore by his old-school BlackBerry, which he used for calls and texts. His life and interests were his own, not for others to consume.
But perhaps because of his current career placement, with more than 1,500 regular-season and playoff games in his pocket, Chara recognizes he has stories to share by opening a curtain he once kept cinched shut: being a father to a daughter and twin boys, a captain, a real estate professional, a traveler, and an intellectual.
In turn, by building his brand, Chara can define himself in ways that could pay off when he hangs up his skates. He is late to social media, but intent on catching up to his younger teammates.
On Jan. 11, Chara's first Instagram post went live. McAvoy, his 20-year-old partner, first posted to the platform on Jan. 25, 2013.
It was by circumstance that as they discussed their business venture, Chara learned that Matejovic, a marathon runner, had gone vegetarian. At the 2017 Valencia Marathon in November, Matejovic said he ran a personal record of 3:04 without eating animal products.
Chara aced fitness testing at the start of training camp. At the time, he was just beginning to switch to a plant-based diet. He believes his testing results were based on the traditional diet he was eating in Slovakia.
By his recollection, it took Chara approximately three weeks of eating a plant-based diet until he experienced results. General inflammation was lower. He woke up feeling fresh. He noticed improvements in the quality of his hair and skin.
"I think I'm stronger than I was in September,'' Chara said. "When I'm lifting now during the season, I know these are weights at levels I do in the summer. All of us do more heavier weights in the summer because we have more quality time.
"I don't do as many sets or reps, but I still get up there. That's a positive. I'm able to get the volume I do in the summer during the season.
"I don't go crazy like I do in the summer. I have to think about the game tonight. But there's no problem to lift before the game in the morning, then play the game at night.''
Not done yet
Krug and Grzelcyk are quick, mobile, and offensively creative defensemen. The Bruins are developing Jakub Zboril, Jeremy Lauzon, and Urho Vaakanainen, fellow left-shot blue liners. But they do not have other NHL-ready 6-9 defensemen who can turn the area they patrol into a black hole for opposing attackers.
If salary and term are right for both sides, Chara's stay in Boston will extend beyond this season.
"We have plenty of time,'' said Matt Keator, Chara's agent. "There's no rush. We've had preliminary discussions. Those are ongoing. We'll see where it goes.
"They've indicated they want him here. He's indicated he wants to be here. Now it's about finding common ground that makes sense for both sides. Going forward, there's no rush, because he's still under contract until June 30.''
Another 40-year-old local athlete is operating at peak performance while watching his diet. So far, the ZC33 Method is working well for its proprietor.
"Tom is obviously one of those guys with very specific things for specific goals,'' Chara said of Tom Brady. "I look up to that. I see a guy who's committed, disciplined, focused, and devoted to be at his best all the time.
"That's my goal: to be the best at whatever I do and the best I can be. I'm looking and searching for ways to improve. If that's one thing that can make me better and improve, I will be dedicated and committed to it, just like Tom.''