Bruins
5 reasons why the Bruins should stand pat at the NHL trade deadline
Don Sweeney should leave the Bruins' chemistry alone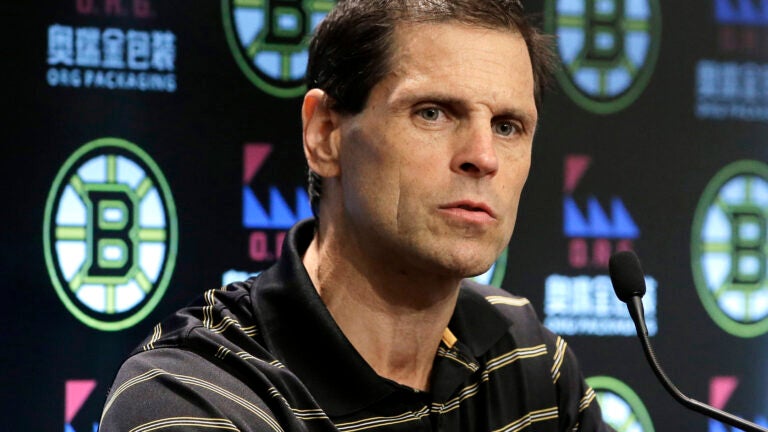 COMMENTARY
Very few Bruins fans likely circled the third week in February when the NHL schedule came out last June. The Bruins brass, however, probably did.
With the Bruins are as far away from TD Garden as possible for most of this period, they avoid the brunt of the trade distractions circling all 31 NHL teams ahead of the league's trade deadline Feb. 26 at 3 p.m.
The Bruins finish their Western Canada swing with matchups on back-to-back nights in Calgary (Monday) and Edmonton (Tuesday). They'll conclude the pre-deadline trip with another set of back-to-backs at Toronto (Saturday) and Buffalo (Sunday). Their next home game comes Feb. 27 — the day following the trade deadline — against Carolina.
Some teams that are likely out of the playoff picture will be in selling mode to shed payroll and begin their rebuilding efforts for next season. Others who are in the hunt hope to improve their postseason possibilities by buying – or renting as it is – to upgrade their roster.
The Bruins are neither buyers nor sellers. Here are five reasons we think general manager Don Sweeney stays pat with no changes leading to the Feb. 26 deadline.
Addition means subtraction
 The NHL salary cap is set at $75 million. Sweeney began the season about $3 million under the cap. His only avenue to increasing that number was shedding Matt Beleskey's albatross contract — with its $3.9 million salary for the next two and a half years — but there's not even close to any interest there. That sticks Sweeney with only about $550K to work, with according to CapFriendly.
Given that about a fifth of the season remains come Feb. 26, that means Sweeney could trade for a player who has a full-year contract five times that – or a current contract in the $3 million range. Not many teams will trade that type of player. The Bruins would have to trade a bigger-salaried player from the current roster to afford a bigger-salaried rental for this season only. Most of those Bruins have no-trade clauses or specific teams to which they can be moved.
The numbers speak for themselves
To begin the three-game Western Canada swing, the B's were 22-3-4 in their last 29 games after Saturday's loss in Vancouver, the NHL's best record the last two months. Their plus-47 goal differential is second behind Tampa Bay (plus-52) while allowing the fewest goals in the NHL (137).
Tuukka Rask has been unstoppable in goal with just two regulation losses since Nov. 26 and a 2.20 GAA; backup Anton Khudobin is 12-3-4 in 19 appearances.
It all adds up to a stunning team stat of ALL roster players on the plus side of the all-important plus-minus statistic. Four are a whopping plus-20 or better: Zdeno Chara, Brad Marchand, Patrice Bergeron and Charlie McAvoy.
The chemistry is there
Spend a few minutes in the locker room and then listen to Cam Neely or Bruce Cassidy or Chara or Bergeron talk about the 2017-18 Bruins. The themes of leadership and chemistry are woven within each sentence and conversation. That the players openly talk about actually liking each other is not the norm in much of professional sports. The Bruins captain and assistant captain, veterans Chara and Bergeron, are the glue in this formula; David Backes was quiet leadership piece added despite having no formal jersey designation.
Cassidy has been perfecting the balance
 The Bruins have $40 million tied up in seven players. That leaves $35 million across 16 others to produce dividends.
While Bergeron, Marchand, Chara, Backes, David Pastrnak, David Krejci, and Torey Krug represent that complement, it's the rookies, two low-payroll guys and a rejuvenated Ryan Spooner who have delivered to allow Cassidy to tinker successfully with all four lines when injuries or messages necessitate such.
Rookies Jake DeBrusk and Danton Heinen, along with Riley Nash and Tim Schaller make a combined $3.3 million. The four have played integral roles night in and out for Cassidy, while Spooner has found a home on the right side of the second line.
Charlie McAvoy is Calder Trophy candidate, and combined with Matt Grzelcyk's emergence the duo has given Cassidy seven top-six defensemen with Chara, Krug, Brandon Carlo, Adam McQuaid and Kevan Miller.
If a new face is needed, Austin Czarnik should get the nod over an outsider.
There are playoff implications
Raise your hand if you were certain the Bruins were a playoff team in October. OK, now raise your hand if you think they advance to the second round in April.
For the previous three years, the Black and Gold kept fans in nail-biting mode until April about their playoff status. The Bruins were eliminated twice on the last day of the regular season.
It's late February and barring a catastrophic collapse, the Bruins will be in contention for home ice throughout the playoffs and on track for an appearance in the conference final.
Trade deadline moves are usually made to improve postseason opportunities. Neely, Sweeney and Cassidy had a game plan in September. It's worked way beyond their expectations.