Bruins
Which team is most likely to win the next Boston sports championship?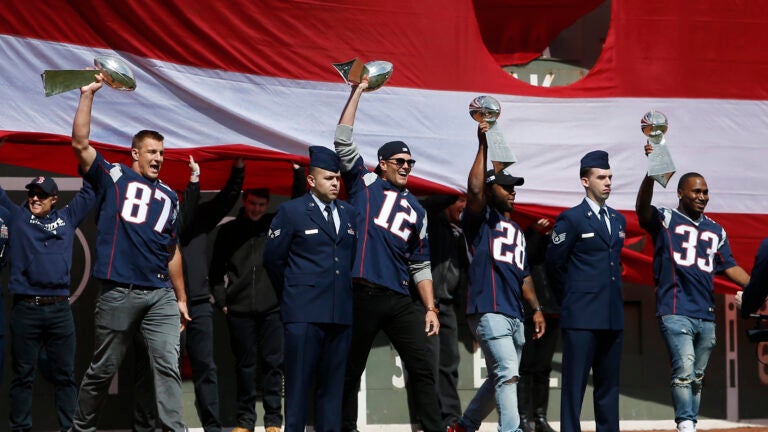 As you may be aware, Boston's four long-established professional sports teams – the Red Sox, Patriots, Bruins and Celtics – have combined for 10 championships since 2001, with each of the franchises winning at least one. You probably knew that, right? I knew you did.
This long-term and wide-ranging success is a source of annoyance and envy to virtually every other sports city in the country. That's understandable. We have had a lot of opportunities to be gracious winners around here, but when you win as often as Boston has, attempts at humility can come across as humblebragging. That last sentence is confirmation.
Unfortunately for those waiting for Boston's collective sports collapse, the good times remain in the present tense around here – and not for just one of the franchises, but for all of them. Remarkably, all four teams are built to be championship contenders now or in the very near future.
That, naturally, leads to a question devoid of all pretense of humility: Which Boston team will be the next to win one? Here's how I rank 'em, most likely to least, with the least still having a realistic shot of being feted with a parade.
Bruins
Who in the name of Robert Gordon Orr could have expected this? Did you? Did anyone?
Entering the 2017-18 season, I thought the Bruins were a fringe playoff team, one playing a more exciting brand of hockey under Bruce Cassidy but still liable to waste away in mediocreville.
I thought there were too old and slow on one side of the roster (Zdeno Chara, David Backes), too young and inexperienced on the other (Charlie McAvoy is the lone rookie from whom I expected big contributions), with a thin prime-of-career core (Patrice Bergeron, Brad Marchand) that deserved better.
Instead, whether by luck, Don Sweeney's design, or a little of both, they approach March with a 37-15-8 record and the third-most points in the Eastern Conference – and they've played fewer games than the Lightning and Maple Leafs, the two teams they trail.
That supposed mismatched roster that began the season has instead turned out to feature an ideal blend of experience and youth, with the older players rejuvenated and the younger ones developing rapidly. And the fulcrum of it all is Bergeron, a truly brilliant all-around hockey player whose offensive skills have been unleashed under Cassidy.
The Bruins may not be the Cup favorite, but they are on the short list, and it was fun to watch them acknowledge as much with Sunday's we're-going-for-it deal for five-time All-Star Rick Nash, the kind of bold move that has been has rare around here as a goalie scoring a goal.
It was little more than a year ago that Sweeney fired coach Claude Julien and brought in Cassidy on an interim basis. That occurred the same day as the Patriots parade after winning Super Bowl LI, and the juxtaposition couldn't have been more obvious. The Patriots were at the pinnacle, and the Bruins were starting over. Now? The Bruins might just beat them back to the duck boats.
Patriots
I'll keep this one briefer than the others since we've had nearly three weeks now to rehash the Super Bowl LII loss to the Eagles. A day hasn't passed without us pondering some aspect of the game and its aftermath, whether it's the benching of Malcolm Butler, Rob Gronkowski's future, or when we'll ever get that final episode of Tom vs. Time.
So let's say this: There seemed to be a rush by some in the media to declare the loss to the Eagles as the famous final scene of the Patriots' near two-decade dynasty. It was jarring to see the Patriots defeated in the way that they so often won. But the end of the road? That seems more wishful thinking by those tired of the Patriots' prominence than anything based in reality.
Sure, there was more public drama that we've ever seen before, culminating with the still bizarre Butler decision. And the defense could use an injection of competent youth, especially at linebacker. But Bill Belichick is coming back. Tom Brady, coming off a 505-yard performance in the Super Bowl, is also returning. Julian Edelman and Dont'a Hightower – essential performers who habitually are at their best in big moments – return from injury.
The Patriots were beaten by a better team this year – the only team that was better than them. With a few repairs, that sixth Lombardi Trophy remains within reach. And no one does repairs better than Belichick.
Celtics
It appears as though the February hiatus served them well, especially young Jaylen Brown and Jayson Tatum, the latter of whom ran headlong into the rookie wall before the break. Tatum has played 62 games this year, Brown 57. Combined they played 63 games in their entire college careers. Long season, eh, fellas?
The Celtics need them to be refreshed if they're going to seize the top spot in the Eastern Conference from the underestimated and legitimate Raptors, who at 42-17 are a half-game up on the Celtics (43-19) and 7 up on the remodeled Cavaliers.
They need a couple of other things to happen too if they're going to win the East, which remains a perfectly reasonable goal: the defense needs tightening, Al Horford needs to be as aggressive offensively as he was earlier in the season, Kyrie Irving needs to be Kyrie Irving, and Marcus Smart needs to refrain from sucker-punching hotel-room art. All reasonable requests.
But to win it all this year? Tell me Steph Curry and Kevin Durant will suffer a Celtics-fortuitous collision similar to Vinnie Johnson and Adrian Dantley in the 1987 Eastern Conference finals, and I'll tell you they have a shot. Hey, stranger things have happened.
Which leads to my longer-term question: Does Danny Ainge believe there's one more major move necessary before this team can hang another banner? (The Anthony Davis rumors will never cease, even if the Pelicans would be fools to trade him.)
Or, with Irving fronting a talented young core that will eventually be joined by Gordon Hayward and another potentially intriguing draft choice or two, are the fundamental pieces of the group that will raise Banner 18 to the rafters already here?
Hunch: The dealing is never done for Danny.
Red Sox
Well, as far as I can recall, the Red Sox always win the World Series following an offseason in which they sign an outfielder named J.D. who has some minor medical drama that temporarily holds up the formalizing of the deal. So there's that.
Yes, I have the Red Sox has the least likely of the four teams. That's a tribute to how good we have it around here rather than any kind of gripe about their current situation. The J.D. Martinez signing puts the Red Sox anywhere from the second- to fourth-best team in the American League, behind only the champion Astros for certain.
I'm not sure they're quite on the Indians' level, either, but I do believe they are better than the Yankees, who have the Maris/Mantle wannabes Aaron Judge and Giancarlo Stanton in the heart of the order but lack the Red Sox' overall quality lineup and roster depth.
Kudos, then, to Dave Dombrowski for waiting out Scott Boras and getting Martinez at a very reasonable price. Maybe there's some nuance to his roster-building yet. On paper, this is a well-constructed team, presuming good health and 60 starts combined from Chris Sale and David Price.
They won 93 games and their second straight AL East title last year with Price missing several months, a void in the middle of the order that Martinez is equipped to fill, and a manager in John Farrell who apparently had only slightly more appeal to his young players than he did to sports radio callers.
Alex Cora has a roster capable of winning it all. That's sweet news for Boston sports fans. Even better, it hardly makes him unique among managers and coaches in this market.