Bruins
4 takeaways from the Bruins' playoff-clinching night in St. Louis
The Bruins become the third team to stamp their ticket to the Stanley Cup Playoffs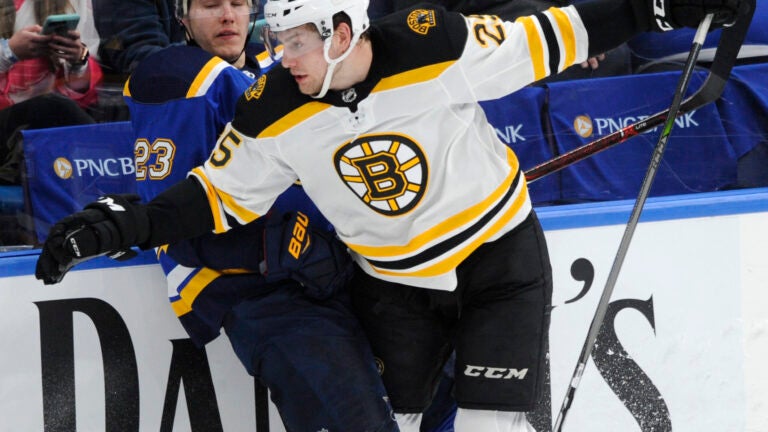 COMMENTARY
At this point, with these Bruins, it has become redundant to rattle off the list of players who have succumbed to the latest injury bug. You get it.
But after the Bruins earned a point in Wednesday's overtime loss to the Blues, it feels different.
David Backes. Patrice Bergeron. Anders Bjork. Jake DeBrusk. Rick Nash. Torey Krug. Charlie McAvoy. Zdeno Chara.
When Krug was ruled out minutes before the game, that did it — this team was officially the most injured it had been all season.
There's no highlight reel for doing exactly what you're supposed to do, but sometimes a team dragging itself by its sprained limbs is a highlight in itself. The Boston Bruins were the second Eastern Conference team to clinch a postseason berth with Wednesday's hard-fought regulation point.
Here is what we learned:
Depth gets it done
Again, no highlight reelers came out of it, but when playoffs roll around, remember the lineup that made it happen:
Brad Marchand-Riley Nash-David Pastrnak
Ryan Donato-David Krejci-Danton Heinen
Tommy Wingels-Jordan Szwarz-Brian Gionta
Tim Schaller-Sean Kuraly-Noel Acciari
Nick Holden-Brandon Carlo
Matt Grzelcyk-Kevan Miller
Paul Postma-Adam McQuaid
Anton Khodobin
Don Sweeney's trade deadline moves have aged well. I don't think anyone can seriously blame the Bruins for the overtime loss Wednesday night and all of the above is why. "Depth" is a tricky concept — you never really know how much a team has until it's forced to find out. Boston's depth has proved hearty, and now here's a team that can head into the playoffs not panicking if it's temporarily without one — or seven — of its stars.
Ryan Donato's debut was no fluke 
Young @DonatoRyan has only played two NHL games.

He's scored in both. #BOSvsSTL pic.twitter.com/YO5ZYlUlNC

— NHL (@NHL) March 22, 2018
This kind of feels like we're all witnessing Haley's Comet. Donato pounced on a loose puck for his second goal in two games, effectively silencing any opinion that his three-point debut Monday night was even remotely a fluke.
Surely, Donato's experience — and dominance — at the Olympics prepped him for the NHL. But this soon? He plays like he's a few years deep in this league, and it's not just his two goals and four points. The kid just isn't fazed, and he'll earn a Harvard degree in his spare time if he wants to.
Khudobin seals the deal
Even though Khudobin said himself postgame that he is "not happy with both of those goals" that found the back of his net in the loss, one puck he stopped wound up being the playoff clincher.
Khudobin's sprawling save on Dmitrij Jaskin came with 1.5 seconds left in regulation and sent the game into overtime:
This sprawling blocker stop by Doby at the end of regulation got us the point we needed. #NHLBruins pic.twitter.com/vNS4vTH5sO

— Boston Bruins (@NHLBruins) March 22, 2018
What's suspension-worthy?
Pretty much every other night there's another controversy on either a goaltender interference call or what should be a penalty vs. what should be a suspension. The league could use more consistency, but Brayden Schenn clear headshot of a hit on Krejci that got only a two-minute penalty for charging looks like it should be a suspension:
Brayden Schenn catches David Krejci with a hit to the head pic.twitter.com/GtCEtQm29t

— Pete Blackburn (@PeteBlackburn) March 22, 2018
Even though Schenn didn't leave his feet until the hit was finished, Krejci's head was clearly the principal point of contact. That is something the Department of Player Safety should take into consideration when they review this hit. Whether or not Schenn gets a deserved hearing is an entirely different question.