Bruins
5 takeaways from the Bruins' 4-2 win over the Lightning
The Bruins sit alone atop the Eastern Conference.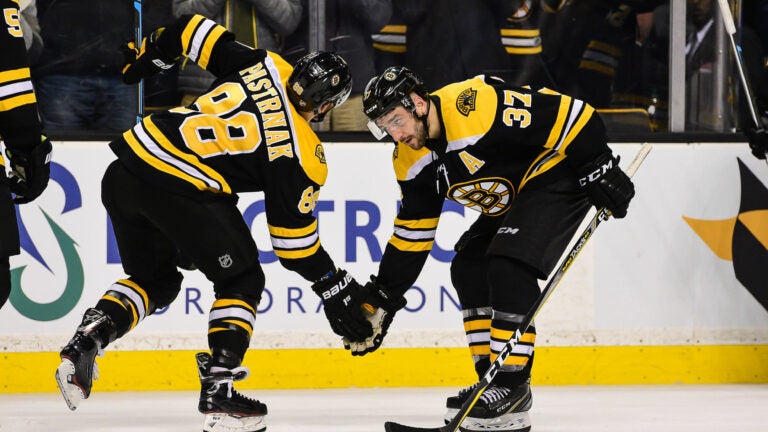 COMMENTARY
Simply put, Game 76 at TD Garden Thursday night was the biggest of the season thus far, with first place in the Eastern Conference on the line against the Tampa Bay Lightning.
While recent seasons had the Black and Gold scratching for desperate playoff points down the stretch, the 2017-18 campaign has been the polar opposite, with the Bruins knocking on the door for not only the best team in the East but also a shot at the Presidents' Trophy as the league's top points-getter.
A point behind Tampa Bay and four back of Nashville with a game in hand on each, a Bruins-Lightning rematch is also in store next Tuesday at Tampa, not to mention a possible seven-game playoff series in the quest for Lord Stanley's Cup.
First things first, the Bruins were 6-1-0 in their last seven games vs. the Lightning, 18-4-1 overall in the last 23. The Bruins broke out to a quick 2-0 lead Thursday en route to a nail-biting 4-2 win — moving into first place in the Eastern Conference.
"It's a nice honor to be in first place," Bruce Cassidy said about overtaking the Lightning, who held that perch since Oct. 19, "but it could change Saturday. For us, I think we haven't talked about the standings much this year, and we won't going forward."
Here's what we learned as a chippy playoff-type atmosphere pervaded TD Garden Thursday night.
Tale of opposite periods in first 40
.@pastrnak96 gets the credit for the #NHLBruins second goal. pic.twitter.com/EJPBgP8Dk5

— Boston Bruins (@NHLBruins) March 29, 2018
With a minute to go in the first period, the fourth line played crash the net and Tim Schaller ended up with his 12th of the year assisted by Tommy Wingels. Thirty seconds later on the power play, David Pastrnak sent a shot on net that appeared to be deflected by either Patrice Bergeron or Ryan Donato (It was actually Tampa's Ryan McDonagh).  Pastrnak was credited with his 32nd, with Torey Krug and Bergeron assisting. The Bruins outshot their opponent, 16-6, in the first.
The Lightning turned the tables in the second period, holding the Bruins to three shots and climbing to within one when their NHL second-best power play converted with Nikita Kucherov, the NHL's leading scorer at 96 points, whistling a bottom-dot pass across to J.T. Miller for a deflection past Rask.
"Lot of urgency in the first period," Cassidy said about the first 40 minutes. "We got ourselves into a bit of trouble in the second, so we lost some of that. That's where they picked it up."
Bergeron line gets the better of Bolts' top trio
63 ➡️ 47 ➡️ 37 ? pic.twitter.com/L9Jh5TD5xa

— Boston Bruins (@NHLBruins) March 30, 2018
In two of the last three Bruins losses against Winnipeg and Florida, the Bruins' high-flying first line of Brad Marchand, Bergeron and Pastrnak were significantly outplayed and outscored by their counterparts. They came to Thursday's matchup with 212 combined points, lining up against the NHL's very best trio with 235 points in J.T. Miller, Steven Stamkos and Kucherov.
With the game on the line and both teams shorthanded, Bergeron took a pass from Marchand at 11:59 of the final period, snapping a 15 footer past Vasilevskiy.
Victor Hedman closed the gap to 3-2 at 13:54 on a seeing-eye shot under the arm past Rask. But with 55 ticks to go, the threesome went stick practice down the ice until Marchand got the open-net clincher with Bergeron and Pastrnak on the assists.
"We would rather Bergy play against one of their skill lines," Cassidy said. "I think they're equally dangerous."
It wasn't even close Thursday.
The top Lightning trio finished with two points and a minus-7; Boston's top three guns netted seven points and a plus-7.
Rask outduels, out-battles and outlasts Vasilevskiy
Tuukka Rask entered the game as the franchise's first goaltender with five 30-win seasons. Against the Lightning, Rask was 15-6-1 in his career; Vasilevskiy 0-3-1.
He got the win — with a few asterisks.
"It's not something you want every night because it doesn't happen every night," Cassidy said about Rask's physicality Thursday nigh. "For obvious reasons, but yeah you want to see some fire, some urgency. He's defending his territory without being reckless, I didn't think. He just did what he had to do in that situation, calmed down and played."
At 11:16 of the second period, a donnybrook broke out with Cory Conacher falling in the Boston crease and Rask immediately unloading right-handers while both teams paired off. Brandon Carlo — who took Conacher into the crease — smothered him. Even Vasilevskiy went the 175 feet to join the festivities.
It all ended with 10 penalty minutes and a Boston power play.
Then an Alex Killorn goal was disallowed at 6:02 of the third period for goaltender interference on Rask.
"In the first period someone fell on my knee there, there was no penalty called (there was a penalty called actually),  and that one it felt like to me that I don't think our own D's were jumping on me, " said Rask. "I felt like they were pushing or something, so I just had to let them know I was there, because it happened twice. So I jumped in there and threw a couple punches and that was it."
Blocked shots stat an underlying key to win
Boston blocked 17 shots, none better than two during a Lightning power play in the third period by Noel Acciari, and a key block by Adam McQuaid with four minutes left.
"He does it every night," Cassidy said about the important aspects of players like Acciari. "Every night. Every game I've coached this kid, probably from Providence on. I mean, I've seen him block a shot with his face, a one-timer, and it broke his jaw. "He put himself in harm's way. It's what Noel does, and it's why his teammates love him."
Pastrnak "hat trick" a first?
"Pasta [David Pastrnak] getting the Gordie Howe or Cam Neely hat trick – he's not the guy I would have picked before the game," Cassidy said about the rare feat. "But good for him. It looked like he handled himself well."
Bruins – maybe NHL history — might have been made when Pastrnak engaged in his first NHL bout at 7:16 of the final period. That was preceded with a goal and followed with an assist for a Gordie Howe "hat trick" — one goal, one assist and one fight. I'm still combing the records for a first career fight by a Bruin with the other two components.
"I don't think I've fought ever…like, ever," Pastrnak said. "I'm a pretty calmed down guy so it was fun."