Bruins
4 things we learned from the Bruins' 3-2 loss to the Panthers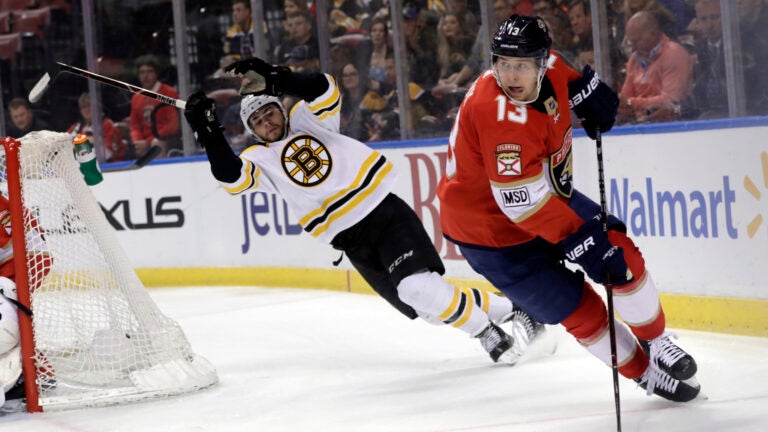 COMMENTARY
"Tonight's game has purpose to Florida – and the Bruins," NESN analyst Billy Jaffe said pregame about Thursday's final road game against the Florida Panthers at the BB&T Center. The Panthers, 12-2-0 in their last 14 at home, were four points behind Philadelphia and facing playoff elimination.
For Boston, Thursday marked Game No. 80. The Bruins entered the night even with Tampa Bay after Tuesday's 4-0 loss. A win would put the B's back above the Lightning and in total control for the best record in the Eastern Conference.
But it was not meant to be.
Here's what we learned as Bruce Cassidy's team extended their losing streak to three for the first time since mid-November in a 3-2 loss to the Panthers.
Bruins respond to Florida's 2-0 start
The last time Boston visited Florida on March 15, the Panthers handed the Bruins their second shutout of the season, 3-0. One major reason was the play of the Panthers' first line.
"Tic, tac, goal," NESN's Jack Edwards bellowed 7:36 into the game on a perfect tip-in by the Panther's leading scorer, Aleksander Barkov. Former Bruin Frank Vatrano scored his 6th of season and 4th with Florida 1:52 later to put his team up, 2-0.
The Bruins' power play, with six goals in their last five, games made that seven in six when Ryan Donato jumped on a loose puck at 15:19 for his 5th, with both Brad Marchand and Torey Krug assisting for career highs of 51 and 44, respectively. It was Marchand's 600th NHL game.
Then the Bruins picked up the intensity.
At 2:11, Danton Heinen fired a short-side wrister past Roberto Luongo, with Jake DeBrusk and David Krejci assisting for the only goal of the period.
"He seems to have broken through that rookie wall," NESN's Jack Edwards said after Heinen's 15thof the season.
Florida wanted it more in a must-win situation
"It's an elimination game for Florida," Edwards said midway in the final 20 after announcing a Flyers' win over Carolina. " Florida must get two points."
Jared McCann tipped his ninth goal of the season home at 14:23 for a 3-2 Panthers lead. In a frantic finish, Rask held serve on a Nick Bjugstad clean breakaway with five minutes left; ditto on Vincent Trocheck 30 seconds later. And Luongo survived the Bruins' 6-on-5 with Rask out in the final two minutes.
"I thought they were better on the puck," Cassidy told NESN's Edwards and Brickley after. "We had our moments to get back in the game; we always do. But it's about formula. When you get behind as we have in all three games this road trip, we got one point. It's a bad formula in this league to expect to play from behind and get points."
History in each net – and on Florida D
Roberto Luongo started his 1,000th regular-season game Thursday for Florida, the third goaltender in NHL history to reach that mark. Only Martin Brodeur and Patrick Roy started more. Luongo was in goal for seven more in the post season for Vancouver in 2011 when the B's bested him and the Canucks, 4 games to 3, for the Stanley Cup.
At the other end was Tuukka Rask, who has a 1.46 GAA and a 21-3-1 career record against Florida – his best against any team in the NHL. Thursday marked Rask's 52nd start, which will hopefully keep him ready for a hopeful long playoff run. His 4-1-0 record and 2.00 GAA in his last five starts blemished with that Tuesday loss.
"Tuukka gave us a chance to win," Cassidy told NESN about his goaltender's 32 stops on 35 shots.
A side note to some informal NHL history is Massachusetts native and Florida defenseman Keith Yandle, who played his 714th consecutive game – longest in the NHL. That's the equivalent of some 8 1/2 consecutive seasons without missing a game.
Playoff scenarios
Each team has two games left. For Florida, it means two must-wins and a Philadelphia loss in regulation of their final game to take the final Wild Card spot.
Tampa regains the top spot in the conference with games remaining against the Sabres and Hurricanes. If they win both of their remaining games in regulation or overtime, they end with more "ROW's" – regulation and overtime wins being the first playoff tiebreaker — than Boston, regardless of the Bruins' outcomes against Ottawa and Florida
"We're playing against hungry teams every night," Cassidy said postgame. "Their will to win is tremendous right now. We need to match that."