Bruins
4 takeaways from the Bruins' 5-2 win over the Senators
Boston's win sets up Game 82 for the Eastern Conference title.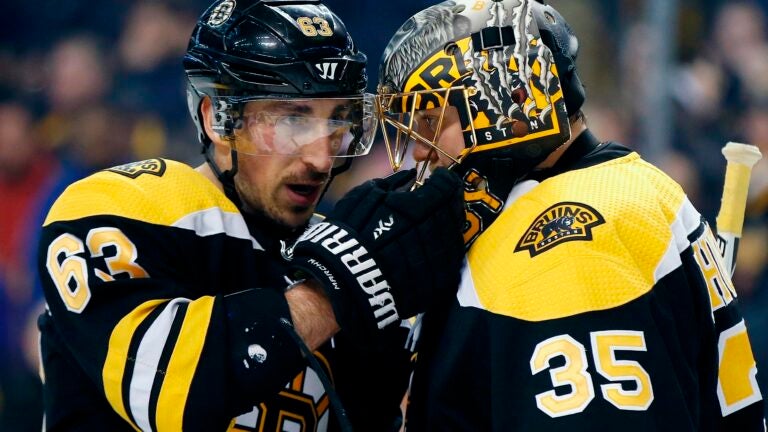 COMMENTARY
The last three seasons for the Boston Bruins were nail-biting affairs into the first week of April – must-wins to make the playoffs. While there's no doubt about their playoff status this season, Saturday's game against Ottawa (No. 81 on the season) took on a unique nail-nibbling mode – a must-win and a must-lose scenario — with scoreboard watching from fans.
Still within striking distance for best record in the Eastern Conference, a Bruins win in regulation or overtime combined with a Tampa Bay loss in regulation or overtime at Carolina set up a Sunday showdown with the Florida Panthers for two points and top dog in the conference.
Here's what we learned as Tampa Bay lost in OT and Boston exploded for three goals in the second period and a 5-2 win to set up Sunday's opportunity to win the Eastern Conference with a victory of any sort.
"We're in a position to take it," Bruce Cassidy said about the stakes Sunday night, "and that's a credit to the guys."
Second-period outburst keys win
Ryan Dzingel zinged a wrist shot past Anton Khudobin at 12:31 of the fist period to move the scoreboard watchers closer to the edge of their seats.
"Just about playing the right way and getting out there and getting it done," Cassidy said about the team's conversation after the first period. "We generally find our legs. That's the good news. I didn't like our start."
A Bruins power play at 8:07 of second period, however, opened the floodgates to a 3-1 lead. Just five seconds later, David Pastrnak launched a left-dot bullet past Taylor – with Patrice Bergeron and Torey Krug assisting. Fifty-one seconds later, Tommy Wingels coerced a rolling puck over the line, unassisted. Then Danton Heinen, on a 2-on-1 with Ryan Donato, fired a left-wing laser to twine at 17:44, assisted by Brian Gionta and Adam McQuaid.
"First period was too many breakdowns for our liking,"  Bergeron said. "We weren't really taking care of the puck offensively."
It would be Dzingel again taking the puck from the blue line to the Khudobin's doorstep before backhanding it home at 7:07 of the final frame. Noel Acciari, however would go in alone from center ice at 18:09 and deke Taylor five-hole for the insurance goal, with Zdeno Chara and Tim Schaller assisting. David Backes would add an open-netter at 19:17 with Heinen assisting.
"I thought that Acciari line did a real good job," Cassidy said. "It was a good game for them. Right type of hockey for them to excel, and they did.
"Guys feel like, well, the goalie just picked me up," he said about Khudobin shutting the door. "I'm going to go out there and score some goals for him, and that's just how it works."
Unique goaltending tandem
Cassidy's goaltending plan into the last two games was simple: play Russian born Anton Khudobin Saturday to rest Tuukka Rask for the playoffs. If Tampa Bay loses, come back with Rask Sunday. Khudobin was 5-0-1 with a 1.81 GAA in six career games against the Senators.
"You're pretty much battling the whole year to make the playoffs," Khudobin said about the importance of keeping his undefeated streak intact against Ottawa, "and game 82 matters and it's really interesting."
In Ottawa's 24 square feet was Daniel Taylor, a Plymouth, England, native, making his NHL debut after three years in Russia's KHL. The Brit held serve for the first 20 minutes.
Sunday

 night's scenario
"Tuukka goes tomorrow," Cassidy said about playing for all the regular-season marbles.
 A win Sunday brings New Jersey in the first round; a loss draws Toronto. Simple as that.
"It's definitely all about tomorrow playing the right way and feeling good about our game," Bergeron said.
"Well, there's pressure, obviously, to win," Cassidy said about what comes in 24 hours. "You want that No. 1 seed, but when you have pressure, and you have expectation, what does that tell you? It means you're good, so you've got to be able to handle it."
Saturday

 night's awards
The Bruins announced their regular-season award winners before the game.
Kevan Miller was named the recipient of the Eddie Shore Award (exceptional hustle and determination, chosen by the "Gallery Gods"); Brad Marchand was named the winner of the Elizabeth Dufresne Trophy (outstanding performance during home games, determined by the Boston Chapter of the Professional Hockey Writers Association); Tim Schaller was selected for the John P. Bucyk Award (greatest off-ice charitable contributions, chosen by Bucyk); and Tuukka Rask (First Star), Brad Marchand (Second Star) and Patrice Bergeron (Third Star) were named the Bruins' Three Stars (top performers at home games over the course of the season, chosen by 98.5 The Sports Hub). Steve Babineau was also recognized for finishing his 40th year as Bruins team photographer.