Bruins
4 takeaways from the Bruins' 4-2 loss to the Florida Panthers
The B's missed out on a chance to secure the No. 1 seed in the Eastern Conference.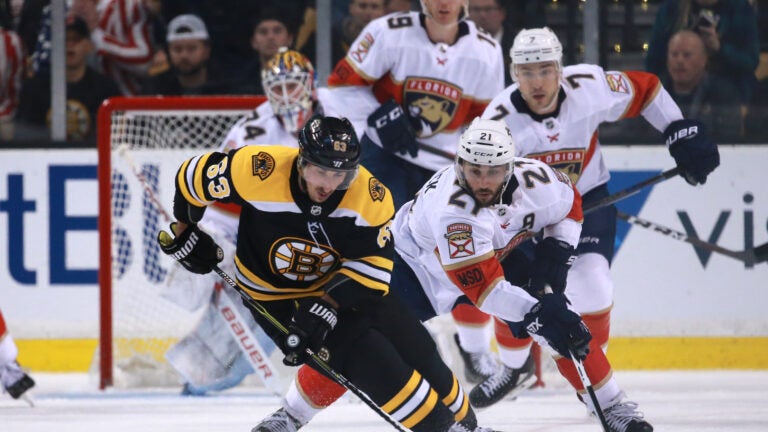 COMMENTARY
When the final horn sounded Saturday night for the Bruins' 5-2 win over Ottawa, the Tampa Bay Lightning were just entering overtime at Carolina with Bruce Cassidy and his coaching staff huddled backstage watching.
"Opportunity for us," Cassidy said minutes later in his opening postgame comment about Sunday's mega opportunity to win the Eastern Conference after Carolina prevailed, "hopefully we're up to the task."
His team was not.
"We just needed to be better for 60 minutes," Zdeno Chara said Sunday night followingn the Bruins' 4-2 loss to the Florida Panthers.
The loss deep-sixed Boston's hopes for the best record in the East. And it means the Bruins will face the Toronto Maple Leafs in the first round of the playoffs starting Thursday, with Games 1 and 2 at TD Garden.
"I believe will be the 50-win team that we saw all year," a dejected Cassidy said after. "We're not going to allow one game to define us. We let one get away, an opportunity lost to have home-ice advantage, and we'll see if that haunts us down the road."
Here's what we learned as the Bruins handed the conference crown to the Tampa Bay Lightning.
B's fall behind, and a frantic third period comes up short
 For the fifth consecutive game, the Bruins fell behind out of the gates and once again chased the game to the final horn.
A Kevin Miller right-point blast came back out to David Backes, who backhanded the James Reimer rebound home for his 14th goal to tie the game at 8:18 of the first period.
That aside, the Bruins squandered two power-play opportunities, and a Jake DeBrusk clean break-in on Reimer with two and change left in the second went for naught. Boston was outshot, 20-17.
If the conference crown rested on one key stretch, it was at 8:22 of the third period when Jonathan Huberdeau took four minutes for high-sticking. Just 28 seconds later, Patrice Bergeron fed David Pastrnak for a left-dot laser to pull Boston within one, with Ryan Donato also assisting. With a second left Reimer was injured in a scrum and Roberto Luongo took over in Florida's net for the final eight minutes.
"In the third we started playing together," Cassidy offered, "but then it's too late; we're chasing the game."
Rask held serve on a Vincent Trocheck breakaway with under five minutes to go. Pastrnak  was in alone on Luongo seconds later, but the equalizer was not to be.
The Panthers came to win. At 18:11 Evgeni Dadenov swiped a backhander past Rask and it was game, set, match on the regular season
The Bruins outshot Florida, 26-6, in the third period.
"We've got to find a way to not continually chase the hockey game," Cassidy reiterated, "whether that's getting a big save, whether that's managing the puck better, whether it's tracking back better because I think all three of those came into play for the most part, and why we fell behind."
Former Bruin comes back to haunt
Florida's highly touted first-round draftee and 2018 Hobey Baker finalist Henrik Borgstrom whistled a mid-slot shot past Rask with former Bruin Frank Vatrano assisting at 1:22. It was Borgstrom's first NHL goal in his fourth NHL game since leaving the University of Denver two weeks ago.
At 16:46, Vatrano scored a look-alike tally to Borgstrom's, his seventh of season and fifth for the Panthers.
"Every team has difficult parts of it," Cassidy said, "and at the end of the year, you're a little heavy-legged, but mentally, looked like we were losing some of our passion, and that showed in the first period."
Rask not up to par
Tuukka Rask entered the game with a 21-4-1 record in 26 career games against the Panthers — the best against any team in his career.
"We didn't deserve to win and that's the reality," Rask said. "Regular season is over, moving on. Taking a breather tomorrow and then back to work getting ready for Toronto. We reached 50 wins or something, which doesn't happen every year. We got to be happy with that and now we'll focus on being the team we know we can be."
Rask allowed four goals on 26 shots from the Panthers.
Iron men 
Tim Schaller and David Pastrnak ended the season as the only two Bruins to play in all 82 games. Pastrnak established career highs in scoring with 35 goals and 45 assists for 80 points. Schaller also established career highs in all offensive categories this year with 12 goals and 10 assists for 22 points.
Au revoir Rene 
For 41 years, the now 79-year-old Rene Raincourt belted out the Canadian and American national anthems before nearly every Bruins game. Sunday was his last regular-season hurrah, and the Garden crowd bid him adieu with several standing ovations after delivering his pre-game performance and during interviews and career montages in the first period. He will sing through the last home playoff game this season.