Bruins
4 takeaways from the Bruins' Game 1 victory over the Maple Leafs
The Bruins set the tone to start the series.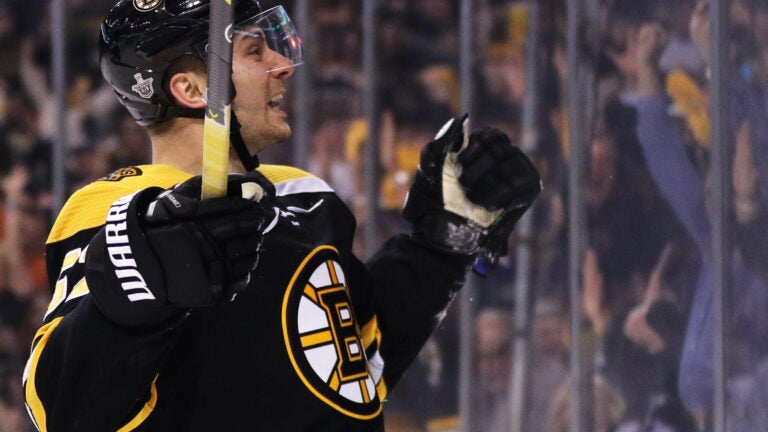 COMMENTARY
Months of anticipation for a Bruins-Maple Leafs first-round series ended Thursday with Game 1. The drama, however, is only beginning.
The Bruins fired the first shot in what should be an enticing and lengthy matchup between two Original Six squads. Here's what we learned as the Black and Gold earned their first home playoff win since May 10, 2014, with their 5-1 triumph.
The Bruins 'bought in' from the start.
.@bmarch63 was ready to roll right from the hop. #NHLBruins pic.twitter.com/DiHE0OqtcL

— Boston Bruins (@NHLBruins) April 13, 2018
Getting ahead and playing with the lead is something the Bruins rarely did during the last week of the regular season. In Game 1, the Bruins 'bought in' to establishing and building off a strong start.
Though the Leafs established a good counter-attack afterward, the Bruins set the tone with good puck management and a timely power play goal from Brad Marchand at 5:28 of the first for that all-important first goal.
"We were ready, we were on time and we were energized. That's what it looked like to me," head coach Bruce Cassidy said about his team's hot start. "The way you want to play early on — force them to break on pucks and get them in an uncomfortable position and try to tilt the ice. And I thought we did a real[ly] good job with that early on. Everyone bought in, we managed [the puck] well and off we went."
The Bruins needed a spark after Zach Hyman tied the game at 1-1 with a highlight reel goal. But their early groove helped them settle in.
Special were teams a difference maker.
Sweet feet @dbackes42. #NHLBruins pic.twitter.com/zJsvArfyKB

— Boston Bruins (@NHLBruins) April 13, 2018
Every playoff series will list special teams as a key to determining who moves on and who goes home. The Bruins got the special teams edge in Game 1 all thanks to timely power-play goals and productive penalty kills.
Tuukka Rask backstopped the penalty kill to a perfect 3-for-3 night with some key stops. The Bruins power play was just as impressive with a 3-for-5 showing on goals from Marchand, David Backes (the go-ahead goal at 15:43 of the second period) and David Krejci (at 11:29 of the third on Nazem Kadri's five-minute major for charging Tommy Wingels).
"Overall, special teams was huge for us tonight," said David Pastrnak, who gave the Bruins a 3-1 lead with an even-strength goal at 19:22 of the second period. "That had a big part for us to win Game 1."
Kadri gets ejected while Marchand stays calm
Nazem Kadri back to the penalty box for this hit on Tommy Wingels. This one is definitely bad, possibly even supplemental bad. pic.twitter.com/tZ3HI1SBNY

— Jeff Veillette (@JeffVeillette) April 13, 2018
Marchand and Nazem Kadri both provide entertaining moments, but their edgy on-ice reputation sometimes comes back to haunt them. The former kept his emotions in check and benefited the Bruins. The latter, however, may be putting his team further behind the proverbial 8-ball.
The Leafs' talented but enigmatic forward had himself a third period to forget and put his team in a precarious spot after boarding Tommy Wingels at 4:44. His night was capped off for good after another unnecessary shot to Wingels's head area that earned him a five-minute major for charging and a 10-minute misconduct.
Kadri, who is coming off his second straight 32-goal regular season, has a hearing set for Friday. Wingels did not return following the hit.
"I don't think I can wrap myself up too much," Kadri said about potentially being handed supplemental discipline from the NHL Player Safety Department. "I haven't really watched [the replay] yet, but I don't think I stuck my leg out or my arm out, or whatever the case is. But it's in the hands of the NHL at this point."
Kadri's teammates were trying to get under Marchand's skin. That strategy will likely carry over throughout the series. If Thursday was anything to go by then the Bruins and Marchand will be in good shape.
"I thought it was excellent," Cassidy said about Marchand's composure. "He's going to be a guy that teams are going to circle because he's an elite player. In the past, you've been able to get him off his game at times. That's, a lot of times – the good players that play with passion, you see with a lot of them – how quickly can you get it back, and where do you keep your discipline not to hurt your team. I thought he did a real[ly] good job with that tonight."
Bergeron line outduels Matthews trio
63 ➡️ 88 ? pic.twitter.com/JPNVV75QVw

— Boston Bruins (@NHLBruins) April 13, 2018
Leafs superstar Auston Matthews only faced the Bruins once during the regular season. The Bruins' formidable trio of Marchand, Patrice Bergeron and David Pastrnak held the 2016 top overall pick to just one shot on goal during that Feb. 3 meeting; sparking them to their only regular-season win against Toronto.
Aside from Hyman's goal where he split David Krejci and Charlie McAvoy, the Bergeron line kept the Matthews trio in check thanks to their two-way prowess. Hyman, Matthews and William Nylander combined for six shots on goal, while Marchand, Bergeron and Pastrnak tallied two goals and four assists to go along with 13 shots on goal.
Matthews, Hyman and Nylander are three standout youngsters, but Bergeron, Pastrnak and Marchand have their number. That can only bode well for the Bruins as the series progresses.