Bruins
What Nazem Kadri had to say about his ejection after hit on Tommy Wingels
The Maple Leafs center has a history of drawing suspensions for hits to the head.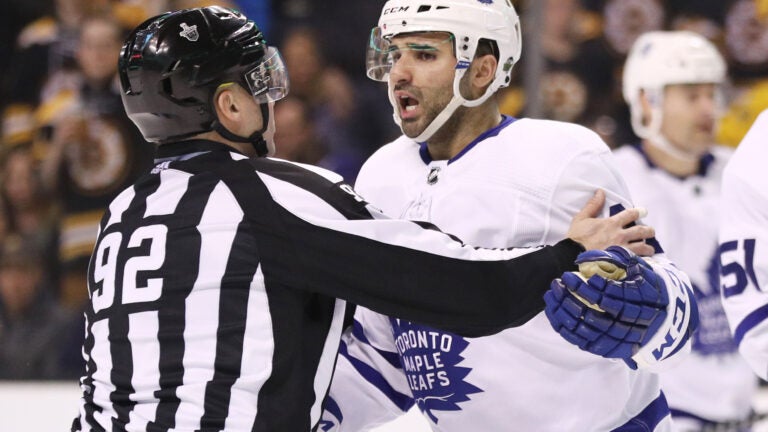 With Game 1 of the Bruins-Maple Leafs Stanley Cup Playoff series moving decisively in the Bruins' favor midway through the third period, Boston's Tommy Wingels suddenly found himself the victim of an illegal hit from Toronto's Nazem Kadri.
Wingels' head was smashed against the boards by a full speed hip check from Kadri, who was ejected from Thursday's Stanley Cup Playoffs opener in Boston. The Bruins won, 5-1. Afterward, Kadri offered a quote on his take about what happened with Wingels:
Nazem Kadri's take on his hit on Tommy Wingels that earned the #Leafs centre a five-minute major and a game misconduct. #Leafs #Bruins pic.twitter.com/mXQPNmolCh

— Joshua Clipperton (@JClipperton_CP) April 13, 2018
Kadri's hit may warrant a suspension from the league. Here's the hit on Wingels, which happened at the 8:18 mark in the third period:
Nazem Kadri is thrown out of the game after this hit on Tommy Wingels. https://t.co/nDY772TrFr pic.twitter.com/r4A7LmJ0TT

— Sportsnet (@Sportsnet) April 13, 2018
Patrice Bergeron weighed in on the hit during the postgame:
BERGY ON NAZEM KADRI: Hits on Tommy Wingels "speak for themselves" hopes league "takes care of it." pic.twitter.com/OIXeVJCi8p

— Mike Petraglia (@Trags) April 13, 2018
This isn't Kadri's first head-hunting infraction. He was suspended three games in 2013 for a hit to the head of goaltender Niklas Bäckström:
In 2015, he was suspended four games for another head hit on Matt Fraser of the Oilers:
And in 2016, Kadri was suspended once again for a hit to the head on Red Wings center Luke Glendening.