Bruins
4 takeaways from the Bruins' Game 2 win over the Maple Leafs
There's a lot to like about a 7-3 win.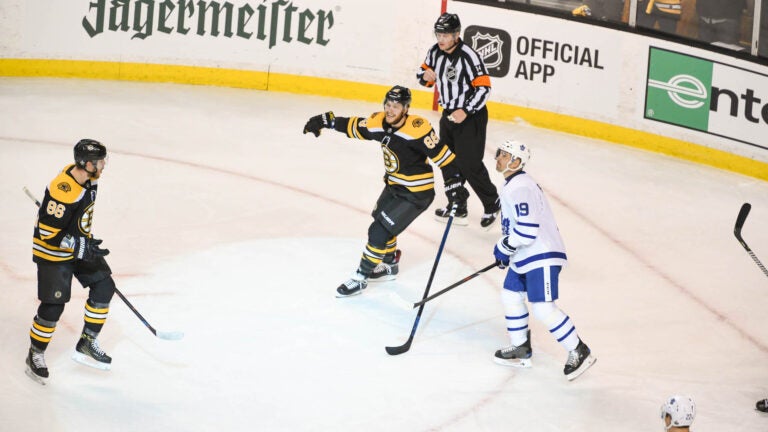 COMMENTARY
Of all eight first-round series in the National Hockey League, pundits and fans alike thought the Bruins-Maple Leafs matchup was the most likely to go seven games. Well, here we are after Game 2 and one Original Six organization is already halfway to clinching the series, while the other leaves Boston with more questions than answers.
From setting the physical tone early and getting pucks deep to getting quality goaltending when needed, the Bruins find themselves with a 2-0 series lead after a 12-4 aggregate against the Leafs. Here is what we learned following their 7-3 victory Saturday night.
The Leafs have no answer for the Bruins' top line.
Auston Matthews may have found some time and space with six shots on goal — the most in the three games he's played against the Bruins — but he's been on the wrong end of a historic run for Patrice Bergeron, Brad Marchand, and David Pastrnak.
Through two games, the Bruins top line has accounted for 20 points, 13 of which came Saturday night.
All while holding the Matthews line to just one goal through the first two games. That came in Game 1 with Zach Hyman's highlight-reel goal. With Nazem Kadri's suspension, Hyman was moved down the Leafs lineup in an attempt to create more balance.
It just doesn't matter who skates with Matthews because at this rate there's no stopping Marchand, Bergeron and Pastrnak.
"Yeah, I mean I think they're the best line in hockey for a reason," Torey Krug said after his three-assist night. "They do things 200 feet in the d-zone and translate it into offense for them, and then they hound the puck like no other team. They're great forecheckers and everyone brings something to the table, so it's definitely tough to defend them and then they're your best defensive players as well."
One player on that top line, in particular, brought something special to the table.
Pastrnak's historic night is a sign of postseason maturity.
Don't go to bed just yet.

All three of @pastrnak96's goals are right here for you to enjoy. pic.twitter.com/BKznZOjZAO

— Boston Bruins (@NHLBruins) April 15, 2018
Thanks to injuries and inexperience, David Pastrnak was thrust into a top-heavy lineup with Marchand and Bergeron during last year's first-round loss to the Ottawa Senators. Pastrnak didn't play poorly with four points in those six games, but it was a rather frustrating series for the 2014 first-round pick.
Now a year older, the first two games against Toronto have been anything but frustrating for the 21-year-old. Game 2, in particular, showcased how far Pastrnak has come in his development as a well-rounded player with a historic six-point night that included his first career playoff hat trick.
"For sure, I mean, he's got that confidence grow so he wants to be the guy, he wants to make those plays and if we don't have the puck he hunts it back. That's what amazes me with him," Bergeron said about Pastrnak.
"I think there's a lot of skilled players that are skilled when they have the puck; when they don't have it they don't necessarily want it as much as this guy right here. So, I think he's taken a tremendous step this year by the way that he plays away from the puck and you mention that – that we talk a lot about it but that being said, like you said, it's vice versa – we learn just as much playing with him than he's learning from us."
The talented Pastrnak is doing it with the same two linemates he skated with last postseason — and for most of the 2017-18 regular season. To say that he hasn't learned anything from the dynamic Bergeron-Marchand duo is an understatement.
Pastrnak, who tied Phil Esposito with the most points through two playoff games in league history (nine), can attest to that theory.
"Coaches talk to me every day through the whole season and especially playing with Bergy and Marchy – these guys know what it takes," Pastrnak said about learning from Bergeron and Marchand. "To be honest I wish every young guy in the league – obviously in the league there are a lot of good players – I wish every young guy got to play with these two players. Take the lessons, what they have for you. For me, it's just about listening to them and I learned a lot especially this year."
Bruins get off to another hot start
The last thing the Leafs needed was to leave Boston without a victory before returning to Toronto. Having a good 20 minutes would've helped at least establish momentum.
The Leafs came out with a few good shifts in the opening five minutes. But then Pastrnak opened the floodgates at 5:26 of the first.
Pastrnak's first highlight-reel goal was one of four for the Black and Gold in the opening 20 minutes. Rookie Jake DeBrusk, Kevan Miller and trade deadline acquisition Rick Nash also found the back of the net to give the Black and Gold a 4-0 lead after 20 minutes.
The Bruins, who struggled with getting off to a good start during the regular season, showed their muscle, exploited the Leafs D and showcased their depth in the opening 20 minutes. The Leafs had a goalie change — from Frederik Andersen to Curtis McElhinney — to show for their slow start.
Rask bears down as desperate Leafs make a push
The Bruins' top line got all the headlines and deservingly so. But they still needed to clean some things up even with a comfortable lead.
That's where Tuukka Rask came into play. At a time where the Bruins were playing a little more loosely, Rask made sure his team sat in the proverbial driver's seat with some timely stops as the Leafs were making a push.
"Yeah, I mean you look at a game like this, sometimes that gets overlooked, but for sure. It was a game where – sometimes you're in the regular season, those games happen and teams want to build good habits so they're not going to – they're going to tighten up and accept that they might lose," head coach Bruce Cassidy said about Rask's timely saves. "Most of the time, in the playoffs, it's one game. So, you lose 5-2, 5-4, 10-2, it doesn't matter; it's a loss. So, you get into trading chances, and we had to guard against that."
The Bruins will have to guard against another Maple Leafs push as the series shifts to Toronto for Game 3 Monday night.