Bruins
Meghan Duggan on her playoff TV role, the Bruins, and what's next for USA hockey
"I definitely have them winning the whole thing in my bracket."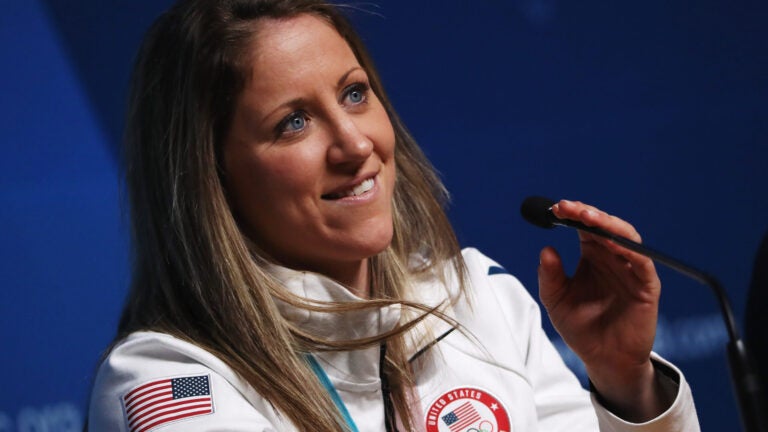 On Feb. 22, Meghan Duggan captained the USA women's hockey team in the gold medal game against their traditional rivals, Canada. In a dramatic shootout, the U.S. team won its first gold in twenty years.
Almost two months later, Duggan is back in her native Massachusetts, enjoying some rest while still involving herself in the game. This time, she's working as an analyst for NBC Sports Boston during the Stanley Cup Playoffs. Duggan features on a 30-minute postgame show with Michael Felger and Tony Amonte.
She recently spoke with Boston.com about her new TV role, as well as a few other subjects.
This interview has been lightly edited and condensed for length and clarity.
Is this your first time working as a hockey analyst on television?
Meghan Duggan: It is, believe it or not. So hopefully the fans go easy on me, but I'm really excited. Obviously it's a huge opportunity I think just for our sport to promote women's hockey. I'm excited to have this opportunity. I think I'll learn a lot and hopefully have fun doing it.
How did this role come about?
MD: NBC Sports Boston just approached me about it a couple of weeks ago and wanted to see if it was something I'd be interested in. And I was, so I went in last week to just kind of see the rundown. I did a quick stint on one of the shows, and it was exciting. I learned a lot even in that one show. I think the people I'm working with are great and it'll be a great chance for me but also women's hockey and just promoting our team in general.
I know you grew up in the area. Have you always been a Bruins fan?
MD: Oh yeah, 100 percent. I've always been a big Bruins fan, and Boston sports fan through and through. And that means I've caught some heat in other parts of the country for sure with that, but I'm so proud to be a Bostonian and Boston sports fans. I grew watching the Bruins my whole life. I was a big Ray Bourque fan growing up, I remember he lived in the North Shore area and he was my youth baseball coach when I was younger and I loved watching him play and all the past great Bruins as well.
You've had a busy past couple of months, but what have you seen from the Bruins this year and did the amount of success they've had surprise you at all?
MD: I wouldn't say surprised. Like I said, I've always been a Bruins fan so I'm always pushing for them to be great, but I'm just excited for them. They've had some injuries this year and things like that, but they've proven that they can come through that. They have some young, new guys playing really well and I think they've been a team to watch all year. It seems like Boston sports fans and everyone else just want to see what they can do [in the playoffs]. I definitely have them winning the whole thing in my bracket.
With the Maple Leafs, obviously they haven't won since 1967. As a player, does something like that weigh on you at all, or are the players only focused on what's happening in the present?
MD: As a player, those are the things that we call distractions, and you try to keep them out of your mind as much as possible. Just coming off the Olympics and playing on the world stage, we as Team USA had come up short of our ultimate goal of a gold medal 20 years in a row, so those are the things as players we chose to eliminate out of our minds. Yeah maybe sometimes those things can give you energy and momentum, but I think for the most part it'll just be a distraction.
Speaking of Team USA, do you still wake up and just think back on the fact that your team was able to break through and get the gold medal?
MD: Yeah, pretty much every day. I've had that question a few times, and I don't know if it's really hit our team all the way yet. Everyone's been pretty busy doing fantastic things around the country and spreading the word about our team and sharing that experience with everyone. I do think though that every single day we wake up and think about how we did something that we're really proud of.
When will Team USA next get together?
MD: In the next couple months we have some team events and team trips that we're doing. We're going to D.C. with the rest of Team USA for a couple of days in a few weeks, and then our team's going to be a part of an NBC event in early May. So they're are a lot of different things going on that I'm sure people will see our team together for. We've had a few weeks to just kind of rest and share the experience with their hometowns, and I know that was a big thing for everyone was to share it with their community and the young kids in those communities.
In regards to the Boston Pride, the season is now over. What's your status in regards to them and the future?
MD: So I know a lot of us are trying to figure that out now in regards to the NWHL, the team's that we played on in the past. It's certainly a little different on the women's side than the men's side, but there's a lot of talk right now amongst players trying to figure out what the next step is, what the next plan is. But like I said, we haven't had a ton of down time or rest, so we're just kind of enjoying that now. I imagine late into the spring, there will be a lot more decisions made on that front.
One person who has figured out her immediate next step is your USA teammate Hilary Knight. Have you given her a hard time at all for being in a traditional rival city like Montreal?
MD: There will probably be some friendly banter. I mean when you think about Bruins fans and Montreal fans, there's obviously no love lost there. It a big move for her she's certainly excited to play a couple of games up there with them. I'm sure she's excited to do that, or she wouldn't have made that decision. I would've given her a hard time if the Habs were in the playoffs, but maybe next year.