Bruins
3 takeaways from the Bruins' Game 4 win over the Maple Leafs
Without Patrice Bergeron, Tuukka Rask and the Bruins were up to the task.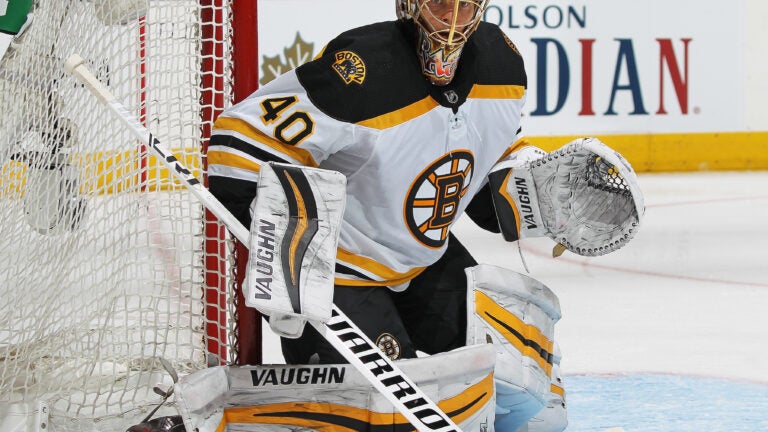 COMMENTARY
No sooner had Patrice Bergeron been nominated for a fifth Selke Award Wednesday than the heart-and-soul of the Bruins was ruled out of Game 4 with an upper-body injury just minutes before the opening faceoff Thursday.
So much for Bruce Cassidy having his forward lines intact; it was back to his juggling act with Riley Nash moving up once again to center the first line. The Bruins were 9-2-2 in 13 games this season with Nash between Brad Marchand and David Pastrnak. That moved Sean Kuraly up to Nash's third-line role with Tommy Wingels dressed for fourth-line duty.
Make that 10-2-2 following Thursday's 3-1 victory in Toronto.
"Obviously you have to make some adjustments," Cassidy said postgame and with season-long repetition, "but we lived this for a month. Riley Nash has played that position. He's done a good job and you gotta give him a lot of credit. It was the easiest plug-and-replace because he's been there."
Here's what we learned as the Bruins — sputtering in Game 3 after cruising in Games 1 and 2 — return Saturday night for Game 5 at TD Garden with the opportunity to close out the series.
Key 2-on-1 conversions lead to clutch goals
When you need a lead, who you gonna call: @pastrnak96 ➡️ @Bmarch63 pic.twitter.com/ENXfYtHx3j

— Boston Bruins (@NHLBruins) April 20, 2018
Just 28 seconds in, Nash screened Frederik Andersen as Torey Krug launched a floater from the left point that found twine, with Kevan Miller and Pastrnak assisting. Ex-Canadien Tomas Plekanec fired a one-timer from the slot to tie things at 1-1 7:15 later.
The first period ended with the Bruins going four consecutive periods without a goal from the forwards. That streak ended late in the middle 20 when Pastrnak and Marchand broke in 2-on-1 on Andersen with Marchand having more daylight than high noon at 16:55 for his 50th career playoff point and the 2-1 lead.
Another 2-on-1 factored into the 3-1 advantage when Jake DeBrusk finished off David Krejci's feed for the insurance goal at 4:17 of the third.
Tuukka Rask was up to the task.
No. 4️⃣0️⃣was lights out ? pic.twitter.com/F67DN8EU7t

— Boston Bruins (@NHLBruins) April 20, 2018
"Win two at home and have Tuukka steal one in Toronto," NESN's Jack Edwards said midway in Game 4 about the key to the Bruins winning the series.
Rask was the difference-maker Thursday. Three split-second saves midway in the first period were followed in the second period, first denying Dominic Moore's 2-on-1 attempt and then a Mitch Marner breakaway halfway with the Leafs outshooting the Bruins, 22-16, after two.
The 2005 first-round pick of the Maple Leafs sealed the victory with nine third-period saves.
"You need that on the road," Cassidy said about his goaltender. "We saw that last night with games [in other series]. Once we found our legs it was very important we not lose the second period in this building. Tuukka was very big and I thought our guys bared down in the third."
Bruins' D dominates talented Leafs forwards
"We clogged some lanes," Cassidy said, "and didn't give up a lot of chances as the game went along."
For simple reasons.
In Game 3, Miller laid an egg with a minus-3. He made his presence known in Game 4, atoning for one assist to go along with a trio of blocked shots and three big hits.
Boston's defense had a huge disparity in that blocked-shot category, 27-9, led by Krug's four blocks.
Zdeno Chara and Charlie McAvoy played at a combined plus-4.
"We're gonna break through at some point," McAvoy said Thursday morning.
The Bruins will need more of the same steady play against Auston Matthews and the desperate Leafs on Saturday.