Bruins
How Ryan Donato balances being a Harvard student and a Boston Bruins forward
First, final exams. Then, Stanley Cup Finals?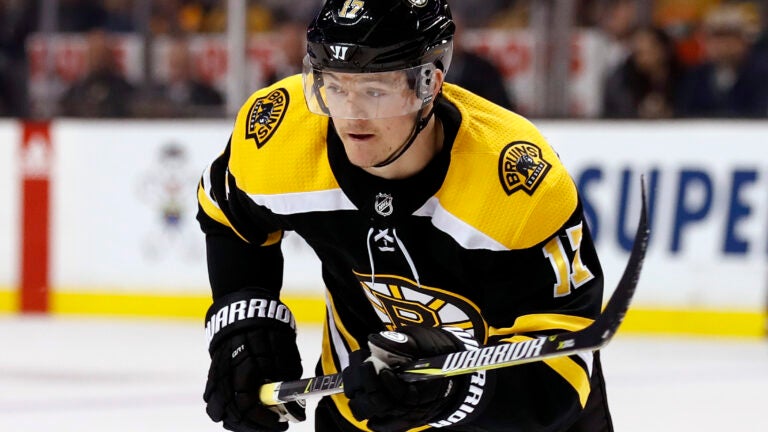 BOSTON — Ryan Donato played his first Stanley Cup playoff game for the Boston Bruins last Saturday night, 29 days after his Harvard season ended with an overtime loss to Clarkson in their conference tournament semifinals.
Although he left college hockey, he remains one of Harvard's 6,700 undergraduate students trying to finish class work at the end of the spring semester and get through final exams in May.
The Bruins have allowed Donato to miss occasional practices that conflict with his classes, and he stays in contact with his professors to keep up on class assignments while on the road with the NHL team.
"He's wired a special way to deal with everything that's been going on in the last couple of months," said Donato's brother Jack, his teammate this year at Harvard. "He's a driven kid, and he always has been, whether it's hockey or academics."
With family, teammates and friends in attendance, Donato played his first game with the Bruins, at home against the Columbus Blue Jackets, on March 19, having signed a two-year, entry-level contract the night before. He scored on a blistering one-timer in the second period and finished with 3 points in Boston's 5-4 overtime loss.
His father, Ted, the hockey coach at Harvard since 2004, described the night as "kind of surreal."
The next day, while his new teammates were practicing in St. Louis, Donato attended classes in Cambridge and met with his professors to work out the logistics for him to complete the semester. He later flew to meet up with the Bruins for the start of a four-game trip.
Since then, Donato, 22, has been living in two worlds, with two residences: a hotel near TD Garden arranged by the Bruins and a four-person room at Winthrop House, his Harvard home for the last two years.
"I just want to be ready for the games, so if it's close to a game, I'm staying at the hotel so I'll stay focused," he said, "and maybe if we get back from a road trip at 3 a.m., I get a ride from one of the guys and get dropped off at the dorm."
Brian Gionta, Donato's teammate on the Bruins and on the U.S. team at the Pyeongchang Olympics in February, played for four years at Boston College, winning a national title in 2001, before embarking on a long NHL career.
Asked about the difficulty of Donato's chosen path, Gionta, 39, said, "It's a challenge when you're going through it as a student, but it's a much different animal when you're in this schedule we have, especially at playoff time."
In anticipation of possibly leaving Harvard for the NHL after his junior season, Donato took five classes each semester, instead of the usual four, during this academic year. To complete his sociology degree, he plans to take classes this summer and next, along with online courses.
The key to managing his workload this year, he said, has been making sure he maintains good relationships with all of his teachers and communicates regularly.
The university's willingness to accommodate his schedule "is a credit to Harvard," said Michael Floodstrand, Donato's Winthrop housemate and hockey teammate. "They appreciate all sorts of talent, and Ryan's a perfect example of that."
Drafted No. 56 overall by Boston in 2014, Donato played a prep year at the Dexter School in Brookline, Massachusetts, and then one year in the USHL before matriculating to Harvard to play for his father.
Despite missing four games because of the Olympics, where he shared the lead in goals, Donato still led the Crimson in points with 43. His 26 goals was fourth in Division I. The Ivy League player of the year as a sophomore, Donato was one of the three finalists for this year's Hobey Baker Award, given to the best player in men's college hockey.
At Harvard, he said, he regularly arrived for practice two hours early, to tape sticks, shoot pucks or work on his core. "I could live at the rink, honestly," he said.
With the Bruins, there have been more games but there has been less practice time. As Gionta put it: "Basically, you play, recover, then do it again. It's just as much a mental grind as it is a physical one. You've got to be prepared day in and day out."
Donato joined the Bruins at an opportune time, when the team was without a couple of its top forwards. He played in the Bruins' final 12 regular-season games and finished with five goals (two on the power play) and four assists.
With Boston close to full strength in the playoffs, his ice time has been more limited, but Coach Bruce Cassidy expects him to contribute when called upon. "He's a guy that has shown he's not going to shy away from the moments," he said.
The Bruins lead their first-round series against the Toronto Maple Leafs, three games to one, and can advance to the next round with a victory at home on Saturday.
Since being drafted, Donato had been to four summer development camps with Boston, so he was familiar with the Bruins and them with him.
Floodstrand, one of next season's Harvard captains, said he thought Donato might stick around for his senior season, "but when the Olympics happened, that changed everyone's mind."
When the Harvard season ended and Bruins general manager Don Sweeney, who played defense at Harvard from 1984 to 1988, offered Donato a contract, his father guided him toward a decision.
"I wanted to impress on him all the things he'd expressed to me about what he loved about Harvard — not just the hockey and academics, but the friendships and the people he associated with," said Ted Donato, who played four years at Harvard and was the most valuable player of the NCAA tournament when the Crimson won their only national championship, in 1989.
"He was well aware of how different it would be," he added. "It was business he was going into. He was fully appreciative of what he was putting aside in the short term."
For Ryan Donato, the choice accomplished two goals at once: playing in the NHL and playing for the Bruins, the first of seven teams his father played for in his 796-game NHL career.
So as Donato the Bruin chases the Stanley Cup, Donato the student will split time between Harvard Yard and TD Garden, between Winthrop House and a downtown hotel. And he couldn't be happier.
"That's where his passions are," his father said.