Bruins
What went wrong for the Bruins in their Game 5 loss against the Maple Leafs
With a 4-3 win, Toronto kept their postseason hopes alive.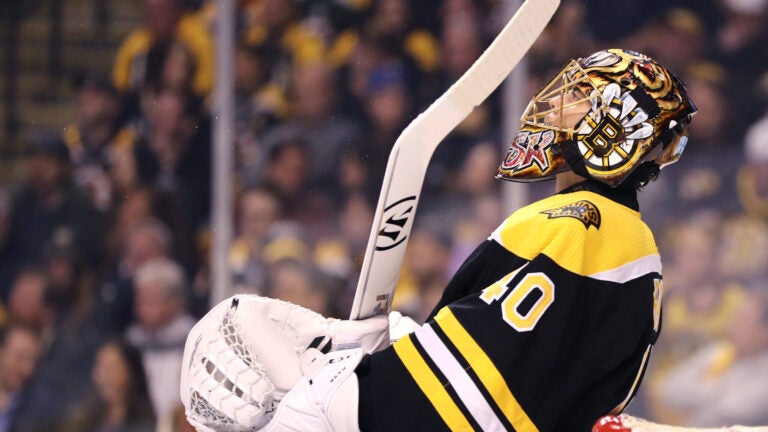 COMMENTARY
The Bruins failed to clinch their spot in the Eastern Conference semifinals Saturday night — falling to the Maple Leafs, 4-3, in Game 5 at the TD Garden.
"We could've done a better job, for sure," captain Zdeno Chara told reporters after the loss. "We had a chance. But tomorrow's another day. We have to get ready for the next game and how we're going to approach it."
The two teams will return to Toronto for Monday night's Game 6, as the Maple Leafs hope to defend home ice and force a winner-take-all elimination contest. It'll be no easy task, however, as Boston is certainly not ready to start waving the white flag.
"We still have a lot of confidence," Bruins forward Tim Schaller said of the series. "I think the momentum is still on our side right now even though they won."
Here's what went wrong Boston's 4-3 loss:
Toronto got off to a fast start.
The Maple Leafs scored a pair of goals in the first half of the opening period to jump out to a 2-0 lead and never trailed for the remainder of the game.
"We let them get to the top of the paint for a couple of goals that we're generally solid on," coach Bruce Cassidy told reporters in his postgame press conference. "We had a couple of two-on-twos that turned into two very good chances . . . Those plays are just basic two-on-twos that we need to communicate better, square up better, and defend better."
The Bruins would get on the board with a score from David Backes midway through the second period — and had multiple chances to tie it up or close the gap — but the early deficit proved to be difficult to overcome. Despite taking over double the number of Toronto's shots, Boston seemingly never gained control of the game — even with six power-play opportunities.
As Cassidy pointed out, "it's always easier to play with the lead."
Defenseman Matt Grzelcyk told reporters the Maple Leafs' hot start wasn't unexpected, for "they're obviously a desperate team." Playing on the verge of elimination will more than likely inspire any team to kick it into high gear.
"When they got that first score, we were back on our heels a little bit, obviously," he said. "They really took advantage and made it, 2-0. It's not a hole you want to have to dig yourself out of. We just got to start on time next game."
Tuukka Rask became the first Bruins goalie pulled from a playoff game in over 20 years.
Once the Maple Leafs extended their lead to 4-1 with a little under half of the second period remaining, Cassidy made the decision to pull starting goaltender Tuukka Rask from the net. He was replaced by Anton Khudobin, who stopped all eight shots he faced to close out the game.
Cassidy said the switch was not only a response to Rask's performance, but also an effort to "get the rest of the team's attention." He wouldn't quantify how much each factor weighed into the move, but it was clear the former was a large component.
"I didn't think he had it tonight," Cassidy said of Rask's night. "Clearly if I thought he was on, then he wouldn't have got pulled. I guess I'll put it that way.
Rask allowed four goals on 13 shots — though three of the scores arguably would have been difficult saves — following an unbelievable 31-save outing in Game 4.
"I probably could have stopped more pucks with my eyes closed," he said after Saturday's loss. "That's about it. It's on me."
But Grzelcyk and fellow defenseman Charlie McAvoy naturally defended their goalie and identified things they each could have done better on Toronto's scoring plays. Grzelcyk said his two-minute tripping penalty ahead of Maple Leafs' fourth goal was unacceptable — especially when the Bruins are already down 3-1 — while McAvoy said he needed to have better stick positioning to try and stop Andreas Johnsson.
Both players suggested the blame is shared and by no means falls on Rask.
"Whenever he gets pulled we know we didn't do our job," McAvoy told reporters. "But we're fine, he's got our back and we've got his. We'll go back to the drawing board and we're going to play a lot better in front of him next game."
The Bruins couldn't convert on their power-play opportunities.
Boston had multiple scoring opportunities of their own, but weren't able to connect on several great looks. Maple Leafs goaltender Frederik Andersen had 42 saves on 45 shots, and, despite racking up 16 penalty infraction minutes, Toronto was able to kill five power plays for the Bruins.
"I thought we had numerous chances to score," Cassidy said. "Some of the other power plays early on I thought were good. We hit a post, maybe two. Obviously, when you look at the numbers, one for six, the immediate reaction is it's not good enough, but I thought we generated on the majority of them offense to get goals."
Right winger David Pastrnak echoed Cassidy's sentiment, expressing disappointment in team's inability to convert while taking solace in the fact that promising scoring windows existed.
"We had chances. That's a good thing, right?" Pastrnak told reporters. "We could have scored many times. We didn't today, but our second power play came up good for us and they [David Backes, assisted by Jake DeBrusk and Torey Krug] got a goal, so it was huge. I think we still had chances, they just didn't go in, so we will hopefully be better next game."