Bruins
What the Bruins had to say about Tuukka Rask getting pulled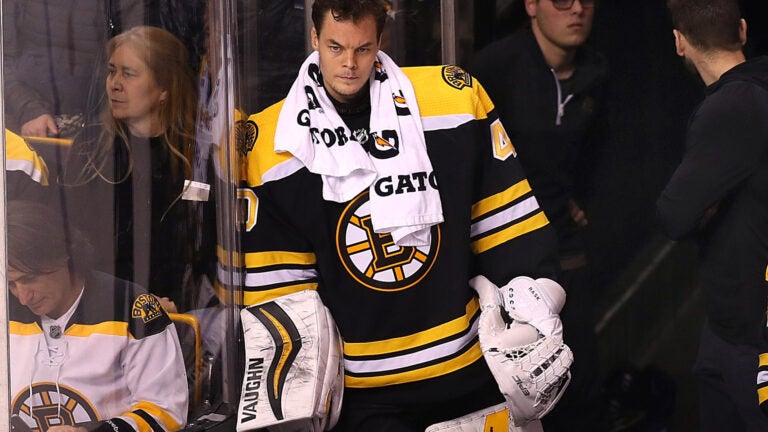 As Tuukka Rask skated off the ice, the TD Garden scoreboard showed 8:05 to play in the second period and read 4-1 in favor of the Maple Leafs. Bruins head coach Bruce Cassidy made the decision to insert Anton Khudobin in place of Rask after Toronto's James van Riemsdyk's wristed a puck past the goaltender and into the roof of the net. As soon as Rask reached the boards, he headed for the locker room before returning to the end of the bench.
"I have to burn the energy somehow," Rask said after the loss. "You know, I just run in here and grab a bottle of water and that's it."
Rask, who made 31 saves in Boston's Game 4 victory, is the first Bruins goalie pulled from a playoff game in over 20 years.
Tuukka Rask is the first Bruins goalie pulled from a playoff game since Blaine Lacher was pulled for Craig Billington in Game 1 against the Devils in 1995.

— Ty Anderson (@_TyAnderson) April 22, 2018
Cassidy's decision, which came after Boston's starter allowed four goals on 13 shots, seemed to spark the team. In his playoff debut, Khudobin stopped all eight shots he faced as Sean Kuraly and Noel Acciari pulled the team within one, but the comeback fell short. The teams meet again at 7 p.m. Monday in the Air Canada Centre.
Here's what the Bruins had to say about Rask getting the hook:
Tuukka Rask
Probably could've stopped more pucks with my eyes closed. That's about it. It's on me, but moving on to the next one and we'll finish it out in Toronto.

Sometimes you track pucks better than other days. Today, as you can probably tell, I wasn't tracking the puck very well and it happens sometimes. Too bad it happened today, but like I said, moving on to next game on Monday.

I don't think we were bad. Obviously when they scored the first goal, then the second goal, that gave them some life. That's something we wanted to do; didn't accomplish that, but that's where your goalie has to step up and make one of those saves or both of those saves and weather the storm a little bit. Today I didn't and we were playing catch up the whole night.

That's the way it is. You play good, you kind of put it behind you; you play bad, you put it behind you. You just stay even no matter what happens. That's hockey. Sometimes you're awesome, sometimes you're not.
On Bruce Cassidy's decision to pull him
No, I mean, I think a lot of coaches probably would have made the same decision.
Bruce Cassidy
The stuff that we've done well lately — defend, get saves — that didn't happen early on. We found our legs eventually and fought our way back in, but the start wasn't good enough.

I didn't think he had it tonight, so we went with Anton [Khudobin], who's been very good for us. There's always that part — it gets the rest of the team's attention as well. It's both. I don't want to measure, quantify what percentage of each, but clearly if I thought he was on, then he wouldn't have got pulled. I guess I'll put it that way.
Charlie McAvoy
Definitely not his fault tonight. Whenever he gets pulled, we know that we didn't do our jobs. But he's got our backs and we got his, so we'll go back to the drawing board and we're going to play a lot better in front of him next game. Right from the beginning, not just picking it up and playing good in the second and third once he's already out of there and the damage is done.
Matt Grzelcyk
It was 4-1 at the time, so obviously it's not going well. Tuukka's been amazing for us all year, definitely wasn't his fault the goals there. I took a penalty on their fourth goal, which obviously can't happen down 3-1.
Sean Kuraly
Obviously, a couple of goals early that we would like to have back. We realize that if we keep it out of our net and keep the game close, we think we can come back in a lot of those games. So that was kind of the deal in the end there going into the third and second.