Bruins
3 takeaways from the Bruins' Game 7 win over the Maple Leafs
Jake DeBrusk's coming out party highlighted Boston's thrilling victory.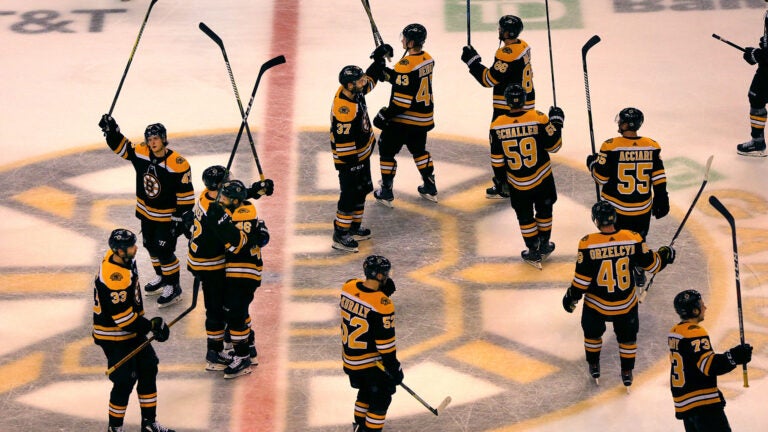 COMMENTARY
Excitement, nervousness, hopefulness, anger, and joy are just a handful of the emotions that come to mind when you think of Game 7 in the Stanley Cup playoffs. All of them were certainly felt during a wild Game 7 between the Boston Bruins and Toronto Maple Leafs at TD Garden Wednesday night.
With both teams' seasons on the line, the Bruins and Leafs skated in one of the most thrilling and chaotic Game 7's anyone has seen in a long time.
A game that started with four goals on the first 11 shots ended with a four-goal third period by the Bruins and a 7-4 victory, sending the Bruins on to Tampa Bay for Game 1 of the second round Saturday afternoon.
Here is what we learned in the Bruins' first series-clinching game since 2014.
The Bruins overcame a sloppy second period.
.@ToreyKrug's blast from the point got us rolling in the third. #NHLBruins pic.twitter.com/RJ7kpE5Sc9

— Boston Bruins (@NHLBruins) April 26, 2018
Boston could not have picked a worse time to play arguably their worst period of the season, but that's exactly what the second period was. The Leafs scored the period's only two goals despite being outshot 13-6. The Bruins were lucky to escape allowing just the pair of Leafs goals, as they entered the third period with a one-goal deficit.
Ultimately, under leadership by a core group of veterans, the Bruins remained calm during the second intermission and recovered to put forth their best period of the series in the closing period. And they needed it to save their season.
"We've done it all year. It was only one goal; we didn't have to cheat to win. We just wanted to continue to play our game," Brad Marchand said. "We were getting opportunities, and we just figured it was a matter of time. And luckily — again — it went our way."
Game 7 pressure wasn't a problem for Jake DeBrusk.
Pressure can be a dangerous thing for a 21-year-old going into his first postseason. Add in a winner-take-all Game 7 and that pressure undoubtedly increases. But pressure was no kryptonite for Jake DeBrusk on Wednesday night.
DeBrusk scored twice, including the game-winner in the third period, to cap off his impressive playoff debut with five goals and two assists in the series.
"It went pretty well. Obviously, with the win, it was special – something I'll never forget. I'll never forget this series just in general," DeBrusk said. "[This is my] first playoffs, and I was really happy to contribute…Obviously tonight with the home crowd here too, and how the game was going, it was back and forth and emotions were pretty crazy. But…it was nice to get on the board and it was nice to help the team win."
The Bruins' first line stepped up to the plate.
Some insurance ?. pic.twitter.com/oWsXPqY80C

— Boston Bruins (@NHLBruins) April 26, 2018
The Maple Leafs' recipe for success was an easy one. Shut down the Bruins' top line of Brad Marchand, Patrice Bergeron and David Pastrnak and good things will happen.
Case in point: Toronto's three wins entering Game 7. In those three victories, the Leafs held the Bruins danger trio to a grand total of zero points.
Through 50 minutes of play, the Maple Leafs did a great job at keeping the trio quiet. Outside of Bergeron's first-period equalizer, Boston's first line was nonexistent through the first half of the final frame.
With the Bruins holding on to a one-goal lead at that point, they needed an additional goal for breathing room — especially with the way things were going up to then. And after a night of repeated frustration, Pastrnak bought the Bruins some insurance to end the top line's silence.
Marchand later sealed the deal with an empty-net goal, and the first line wound up with a combined seven points.
"They're our most important line. They're the best line in the NHL, and when they're going it's hard to stop. So, you know, they did a good job showing up for us tonight," Torey Krug, who tied the game at four apiece just 1:10 into the third period, said of his front line teammates. "We needed them in every which way, and…they were hard on pucks. They played well defensively and they forechecked hard, so we needed them."