Bruins
Why play wasn't stopped for Tuukka Rask's skate
Here's the official NHL rule.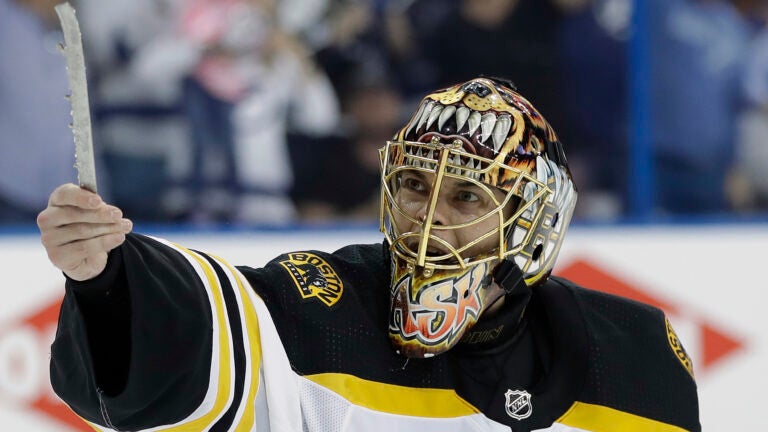 In the second period of the Bruins' Game 1 Stanley Cup Playoff clash with the Lightning, Mikhail Sergachev scored a power-play goal for the Lightning to cut Boston's lead to 3-2.
Bruins goaltender Tuukka Rask took immediate issue with the goal, because the blade on his skate had been knocked off in the moments leading up to score. Rask was visibly upset in the aftermath, but there's a specific NHL rule regarding clothing and equipment which appears to explain why play wasn't stopped.
First, here's the play itself, including Rask's blade being knocked off his skate:
Tuukka has a wardrobe malfunction & the Bolts capitalize ? pic.twitter.com/v88IUwgyP3

— NHL on NBC (@NHLonNBCSports) April 28, 2018
As for NHL rule 14, titled "Adjustment to Clothing or Equipment," here it is:
Adjustment to Clothing or Equipment – Play shall not be stopped nor the game delayed by reasons of adjustments to clothing, equipment, skates or sticks.

The onus of maintaining clothing and equipment in proper condition shall be upon the player. If adjustments are required, the player shall leave the ice and play shall continue with a substitute.

No delay shall be permitted for the repair or adjustment of goalkeeper's equipment. If adjustments are required, the goalkeeper shall leave the ice and his place shall be taken by the substitute goalkeeper immediately.
Update: After the Bruins won Game 1 by a 6-2 margin, Rask had this to say:
Tuukka Rask on the broken skate blade leading to the 2nd Tampa goal: "The refs told me if they'd seen it they would have blown it dead."

— Joe Haggerty (@HackswithHaggs) April 28, 2018
However, a league spokesperson seemed to indicate differently:
https://twitter.com/drosennhl/status/990357459440144384