Bruins
The NHL is putting an end to Brad Marchand's licking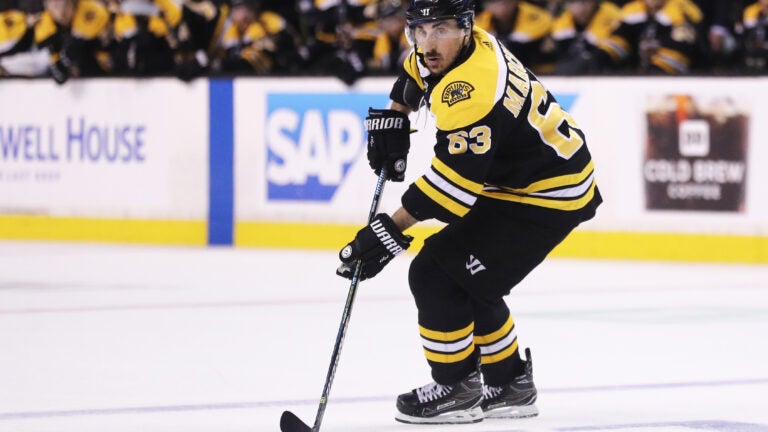 Don't expect Brad Marchand to be dishing out any more licks on the ice.
The NHL said league director of hockey operations Colin Campbell spoke with Marchand and Bruins general manager Don Sweeney Saturday and informed them Marchand's recent licking antics are "unacceptable."
Marchand has been put "on notice" and "similar behavior in the future will be dealt with by way of supplemental discipline," the league said. Deputy commissioner Bill Daly said in an email to ESPN the NHL doesn't expect it to happen again.
NHL's Colin Campbell spoke with Boston's Brad Marchand and GM Don Sweeney today. The League put the player on notice that his actions last night are unacceptable and similar behavior in the future will be dealt with by way of supplemental discipline.

— NHL Public Relations (@PR_NHL) May 5, 2018
The league's swift response comes the day after Marchand licked Lightning wing Ryan Callahan in the second period of Game 4 Friday. Marchand told reporters Callahan had "punched [him] four times in the face."
No penalties were assessed — much to Callahan's chagrin.
"I don't know what the difference between that is and spitting in somebody's face," he said after Tampa Bay's 4-3 overtime win. "If I'm not mistaken, spitting in a game misconduct, if not gross. I just don't know what the difference is there, if not worse. It's unfortunate he goes that low to that."
Lightning head coach Jon Cooper was also displeased with Marchand's actions.
"There is absolutely no place in our game for that," Cooper said. "I don't get it. I don't understand it. I don't. How would you feel if I walked over to your right now and gave you one big lick from the chin up?"
Friday wasn't the first time Marchand has licked an opponent. He also got up close and personal with Maple Leafs center Leo Komarov in Game 1 of Boston's first-round series against Toronto.
Following the initial incident, the league reportedly requested the Bruins tell Marchand to quit it. Both the NHL and Marchand, however, denied the report.
https://twitter.com/NHLonNBCSports/status/984587699918196736