Bruins
What the Bruins had to say after their season-ending loss
"We believed that we had a great team."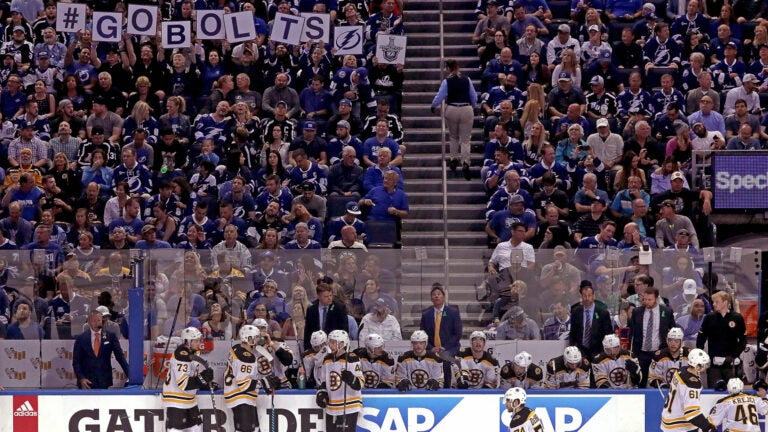 The Bruins' season came to an end Sunday.
Boston struck first against Tampa Bay with a goal from David Krecji in the opening period, but couldn't respond after the Lightning scored two of their own in the second. With the win, Tampa Bay eliminated the Bruins from playoff contention.
"It's very disappointing, with the team that we have and the way we've played all year," center Patrice Bergeron said. "We were finding ways and making things, I guess, easier for ourselves or just winning games. Everybody was contributing, so we believed we had a great group and are disappointed we couldn't do a lot more."
In their first complete season with Bruce Cassidy as their head coach, the Bruins advanced to the Eastern Conference semifinals for the first time since the 2014 Stanley Cup playoffs. Cassidy took over in February 2017 when former head coach Claude Julien was fired from his post last year.
The team also improved their regular-season record, finishing with 50 wins. After a rocky 15-15 start, the Bruins ended up fighting for first place in the Atlantic Division.
"Throughout the whole season, I think there is a lot we can be proud of," Zdeno Chara told reporters. "There is a lot of it, we can take from this and use it as a positive. A lot of people didn't expect us to be a playoff team. A lot of people didn't expect us to be a 50-win team . . . We went through some challenges and obstacles this season and we handled it really well."
"We were not just satisfied with that," he continued. "We kept pushing ourselves. Playing the first round against Toronto was a tough challenge. They have a good team, very much similar as us. It went to the seventh game and it was a battle."
The Bruins had a quick turnaround in between their first- and second-round series. Just three days after they topped the Maple Leafs in a hard-fought series, the team was in Tampa Bay to take on the Lightning. Despite winning Game 1, 6-2, Boston couldn't seem to find a rhythm the rest of the way.
"You got to give them credit," Cassidy said. "We're a team that's scored all year with different players in and out of the lineup. We scored against Toronto, so it's not like after 89 games we forgot how to score or not play the right way."
Brad Marchand — who had a goal and seven assists in the series — credited the Lightning's tenacity, speed, and competitiveness.
"They were better than we were in a lot of areas — one of them being in their puck battles and pursuit,"They played a very good system, five-on-five, they were better than we were. You can't rely on special teams every night to win games. You have to be able to produce five-on-five and obviously we didn't do enough of that."
Despite their regular-season success, the Bruins went three straight games without scoring a full-strength goal against the Lightning. The team was still able to generate offense by converting on five power play opportunities, but Tampa Bay stifled any five-on-five chances.
"I think we played good hockey during the season and then expectations became higher and higher and we realized that we could play with anybody in this league," goaltender Tuukka Rask said. "Considering that, it's disappointing that the run ended so quick, but Tampa's a good team. At the end of the day, they were so much better five-on-five."
"It's not easy," Rask said. "We just couldn't get it done."