Bruins
5 things on Don Sweeney's offseason to-do list
What does the Bruins GM need to do this summer to make the team a bonafide Cup contender?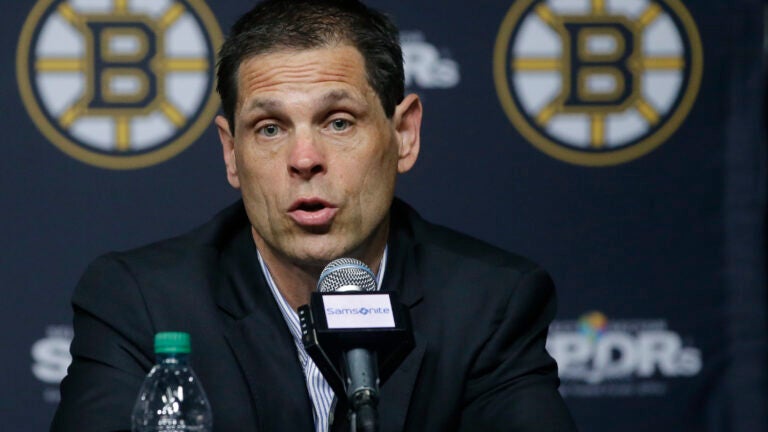 COMMENTARY
Bruins general manager Don Sweeney and coach Bruce Cassidy held their year-end press conference Thursday morning.
"We've always stated that we want to be a deeper team, a deeper organization from top to bottom," Sweeney said seven months ago, before rookie camp began.
Thursday, it was: "You want to take a swing at [a Stanley Cup run], you're excited about it, and all of a sudden, it's gone. And then, you're right back down at the bottom of the hill again starting at the same hill you just tried to climb. That will be the challenge for our group going forward to recognize that through the course of this summer, that the work you just did learn from, benefit from it, but you better be prepared for the next challenge ahead of you."
Sweeney did well with a salary cap of $75 million this past season. That number will likely rise to the $78-80 million range next year, giving him a $15-million-plus cushion to spend in the off-season.
With most of the keys pieces locked up, Sweeney's UFA's (unrestricted free agents) include Riley Nash, Tim Schaller, Anton Khudobin, Nick Holden, Tommy Wingels, Rick Nash and Brian Gionta. His RFA's (restricted free agents) include Sean Kuraly and Matt Grzelcyk.
Likely Gionta retires while Wingels heads elsewhere; ditto for Holden if the Bruins keep Grzelcyk.
Here's a look at five things — in order of priority — Sweeney needs to do in the next three months to make the Bruins more competitive in 2018-19.
Sign a No. 2 or No. 3 defenseman
Sweeney played with fire for two years running by not signing a blue-chip free-agent defenseman; he's been burned twice. The complement on defense can best described as regular-season good, but not Cup caliber. Sweeney was forced to burn Year 1 of Charlie McAvoy's three-year entry-level deal last year given a depleted D-corps against Ottawa in Round 1. Against Tampa Bay this year, the Bruins were dead in the water when Torey Krug went down in Game 4. Regardless, Zdeno Chara was plagued by nagging injuries and gassed in Game 5, while the Lightning got under McAvoy's skin. The Bruins' captain will be 42 in March.
The team can't go much deeper than the last two years without adding a major piece on defense. Washington's John Carlson, 28, leads the list with a hefty price tag of $6-7 million per year.
Sign Charlie McAvoy to a long-term deal, among other D decisions.
Sweeney will need to empty one of Jeremy Jacobs's saddlebags for his stellar defenseman, preferably during training camp. The McAvoy price tag will approach David Pastrnak dollars – six years in the $35-million range. Grzelcyk can be had for $6 million over three years.
In the end, the B's return a blue line of Chara, McAvoy, Krug, Adam McQuaid, Kevan Miller, Brandon Carlo, and Grzelcyk — and hopefully that new free-agent signee.
Make a major decision in goal with the current pieces.
The Black and Gold also can't go much deeper without better goaltending. When the Bruins won the Stanley Cup, most puck pundits said that Tim Thomas won the Cup. Tuukka Rask has never come close to Thomas's post-season legacy with three years left on an 8-year, $56-million deal. As former B's netminder Gilles Gilbert would bellow when hawking Dodge products on Channel 38 way back: "When you are on, you are really on; when you are not, you are not."
That's Rask's label — inconsistent, especially in big games — and like it or not he's not going anywhere for at least two more seasons with no heir apparent. Re-sign Khudobin to another 2-year deal at $3 million (he made 2.4 over the last two seasons) and rotate the two all year and in the playoffs. Khudobin had no career experience in postseason play until Game 5 against Toronto, but he won key games back in March of 2017 to get his team into the playoffs. He played in 31 this season while posting a GAA and save percentage close to Rask. Both Rask and Khudobin are in their playing primes at 31 and 32, respectively.
Find cash for one Nash; make the other one-and-done.
"Ideally, you'd like to bring everybody back and think you take another run at it," Sweeney said about his UFA's. "I don't think that's realistic in a cap environment. We can afford the salaries they're currently at, but some of the guys had very good years, and you expect that to change."
That begins with Riley Nash. His 41 points and a plus-16 warrant a three-year deal in the $8-9 million range; he made about $900,000 each of these past two seasons on one-year deals, making significant contributions in both. This keeps the important third-line center position intact, not to mention filling in for Patrice Bergeron when needed.
Look for Rick Nash to move on. Hard to figure throwing $6-7 million at the 33-year-old (he made 7.8 this season) for any number of years after one of Sweeney's worst moves, a three-month stop on Causeway Street. Assuming Anders Bjork returns and bulks up to survive the 82-game NHL life, the first and second lines remain intact as Ryan Donato becomes one swing factor across the first three lines.
Re-signing Kuraly and Tim Schaller in the $1 million-per range keeps the fourth line intact with Noel Acciari. Those two are big ifs given cap space.
Add a grizzled gamer
The Bruins need a "gamer" with June experience. One reason for that Cup in 2011 was the play but even more just the presence of a Mark Recchi. Nashville has Scott Hartnell and it's a major reason why they once again advanced to Round 2; Washington has Tom Wilson. Guys who bury checks, score key goals and lift a bench are not common but teams playing in June have at least one grizzled veteran with that fire in the belly who produces in money games in a variety of ways.
Sweeney needs to tailor one into a Black-and-Gold uniform and let him evolve into that x-factor. Surely, Cam Neely has whispered often to Sweeney about such a need.