Bruins
10 Bruins prospects who could make the leap next season
An array of young talent could be poised to break through next season.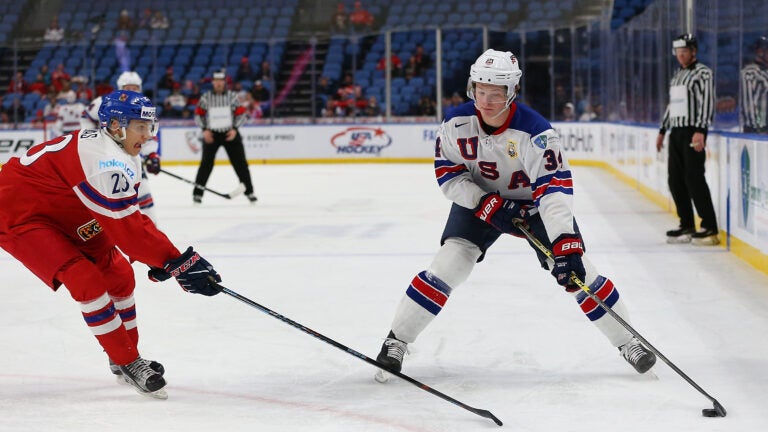 Despite the harsh finality of a season-ending playoff defeat, Bruins fans can look to a promising future. Even with a quadragenarian captain, Boston has plenty of reasons to be excited for a youth movement.
The most tangible aspect of the Bruins' future is found in the young players already in the lineup. And not only are the likes of Brandon Carlo, Jake Debrusk, Charlie McAvoy, and David Pastrnak involved, but each proved themselves vital at various points in the past season.
Behind that quartet is a deep group full of potential. A few faces have already made their NHL debuts. Predicting future success is nearly impossible, but Boston general manager Don Sweeney is hoping that sheer numbers dictate at least a few of the prospects will break through to contribute for the Bruins.
Here's a look at a few of the possible faces of the Bruins' future:
Ryan Donato, 22 years old, center
The first player on this list is the one Bruins fans are already familiar with. Given his prominence earlier in 2018 both at the college level for Harvard and the Olympic level for the United States (where he scored five goals in five games), Donato's potential is clear.
Injuries forced him into an exciting NHL debut in March, where he scored a goal and recorded two assists in a 5-4 loss to the Blue Jackets. In 12 regular season games, he notched nine points, and is clearly a player to watch in the future.
Anders Bjork, 21 years old, left wing
Bjork began the year with the Bruins on the top line with Patrice Bergeron and Brad Marchand, tallying 12 points in 30 games. He was eventually sent back to Providence before having to undergo season-ending shoulder surgery.
The 2014 fifth-round pick proved at the college level that his production could grow with more experience (his goal tally tripled from his first to third seasons at Notre Dame). That's no guarantee of a repeat in the NHL, but Bjork showed promise in year one.
Jakob Forsbacka Karlsson, 21 years old, center
Drafted in the second round in 2015, the Swedish center skated alongside McAvoy at Boston University. For the entirety of this past season, he was with the Providence Bruins. In 58 games, Forsbacka Karlsson totaled 32 points.
He's seen as a versatile two-way center who could replace Riley Nash in the event of the latter's departure in free agency.
Ryan Fitzgerald, 23 years old, center
Tagged as a "forgotten prospect" earlier in 2018, the 23-year-old center is another player who can contribute in a variety of ways. At 5'9″ 172 pounds, his size is an often discussed attribute, though he's been productive at every level he's played at.
Recording 21 goals and 16 assists with Providence in 2017-2018, Fitzgerald could eventually make his Bruins debut with more experience.
Trent Frederic, 20 years old, center
Frederic was initially greeted with skepticism when the Bruins drafted him in the first round of the 2016 draft, but the Wisconsin center has done all he can to justify the pick. In helping the Badgers turn their program around, Frederic established a reputation for all-around play.
He can score and create goals (65 career points in 66 games at Wisconsin) while also possessing the kind of toughness and ability to play through injuries that Bruins fans adore. In the 2018 World Junior Championship bronze medal game against the Czech Republic, Frederic netted four goals in  9-3 USA rout:
Jeremy Lauzon, 21 years old, defenseman
Had he been a member of other draft classes, the 2015 second-rounder would've received more attention. Yet with the three first-round picks Boston had that year (plus Forsbacka Karlsson also being taken in the second) ensured that Lauzon has gotten less billing.
Given that he was selected as a puck moving defenseman, he would appear to have many of the elements that the Bruins need on their roster right now. The reality has been slower to develop. In 52 games with Providence last season, Lauzon managed only one goal and six assists. That will need to improve before he can contribute in Boston.
Zachary Senyshyn, 21 years old, right wing
The last of the Bruins' three first round picks in 2015, Senyshyn remains behind the development curve of players taken after him (Mathew Barzal and Kyle Connor, among others). To make a final ruling on him as a 21-year-old would be unfair, considering his potential.
Considering his goal scoring ability (back-to-back seasons of over 40 goals with Sault Ste. Marie Greyhounds) and physical size and speed, Senyshyn's first season with Providence might seem a disappointment, as he notched only 26 points in 66 games. Yet as has been pointed out, Providence coach Jay Leach stressed his development on lower lines. Once he fills out the defensive aspects of his game, Senyshyn could finally show the full game that Bruins fans have been waiting for.
Jack Studnicka, 19 years old, center
Studnicka is thought to project as a potential top line center, having captained the Oshawa Generals in his last season of OHL hockey. He led the team in scoring (22 goals) and points (72).
After joining Providence for the end of the season, Studnicka notched five points in five games, projecting promisingly into next season. He still has to develop physically (possessing a "light frame"), but focuses his play across "all three zones" befitting the Bruins' style.
Urho Vaakanainen, 19 years old, defenseman
Another in a line of recent Bruins left-shot defensemen (Torey Krug and Matt Grzelcyk among others), Vaakanainen was taken in the first round of the 2017 draft. He's been labeled a "stay-at-home defenseman," given his solid contributions in the Finnish league despite not amassing flashy stats (11 points in 43 games).
His skating ability was loftily compared to Scott Niedermayer by Bruins player development coordinator Jamie Langenbrunner last July, and he recently made his senior debut for the Finnish national team at the 2018 World Championships.
Jakub Zboril, 21 years old, defenseman
Another of the 2015 first-round picks, Zboril has faced scrutiny since initially failing his conditioning test with the Bruins along side his fellow first rounders DeBrusk and Senyshyn.
A two-way defenseman, Zboril began to show increasing flashes of offense in his first season with Providence (19 points in 68 games). Still, he will have to continue to develop next season before he can be expected to contribute at an NHL level.
https://twitter.com/AHLBruins/status/957059788038459392