Bruins
Bruins on short list of contenders to bring Ilya Kovalchuk back to NHL
Boston is among the top contenders to land the 35-year-old marksman, along with the Rangers, Kings and Sharks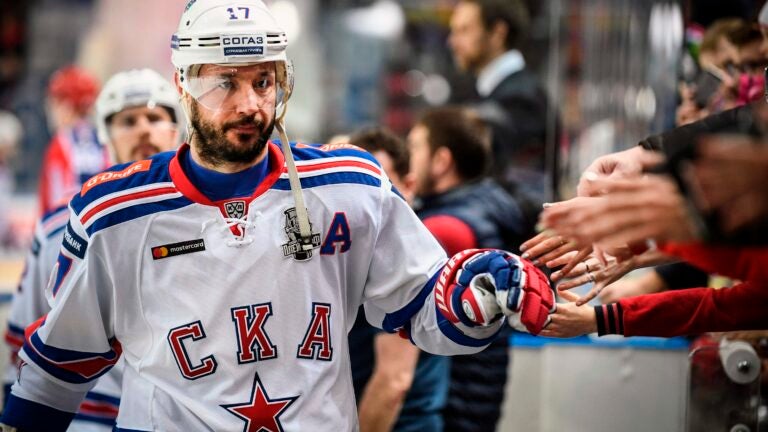 The NHL hasn't seen Ilya Kovalchuk in five years, but from what he showed abroad, he's still a world-class player.
Reached by phone Tuesday afternoon, Bruins general manager Don Sweeney confirmed his interest in signing the Russian scoring star. The Bruins aren't alone in this regard, but they could use him.
"I've been in contact with his group,'' Sweeney said, noting he was intrigued "for obvious reasons…about 230 pounds and still scores goals. He is 35, so you have to factor that in, but he brings a lot to the table.''
TSN's Darren Dreger and The Athletic's Pierre LeBrun on Tuesday named Boston among the top contenders to land the 35-year-old marksman, along with the Rangers, Kings and Sharks. The latter two teams have met with him, according to LeBrun.
The Red Wings, Blues, Stars, Ducks and Islanders are considered outside contenders for Kovalchuk, last seen dominating in the Olympics (5-2–7 in six games) in PyeongChang. The Bruins appear to be the only Atlantic Division team in the mix.
Kovalchuk's agent, J.P. Barry of CAA Sports, did not immediately return an email from the Globe. His client can sign a deal on July 1.
Kovalchuk, who scored precisely one point per game (816) in 11 NHL seasons, has been sniping as steadily in the KHL the last five: 138 goals, 189 assists and 327 points in 299 games with SKA St. Petersburg. Last year he led the league with a 31-32–63 line in 53 games, averaging 18:54 per night.
He last wore an NHL sweater in 2012-13, when he scored 31 points (10-21) in 37 games for the Devils. There have been no major injuries overseas, according to published reports, aside from a three-week knee ailment in 2015.
Sweeney said he hopes Kovalchuk looks at the Bruins as a club "in position to win games'', something that should factor prominently in the decision-making process for the one-time Atlanta Thrashers draft pick (first overall in 2001).
"I hope he looks at [the Bruins] and says, "That's a team I'd be interested in,''' said Sweeney. "He indicated that, but you know, until I get a chance to sit with him, I won't know that exactly.''
Kovalchuk owns Olympic gold (2018), bronze (2002) and eight medals at the IIHF World Championships, but has three appearances in the NHL's postseason — the deepest of which was a Cup final run with New Jersey in 2012.
A Cup chase in Boston would give Bruce Cassidy enticing options. A righthanded shot who can play both wings, he could replace Rick Nash on David Krejci's wing. Nash, the UFA, is a lefthanded shot who can play either side.
If Kovalchuk signs here, it will mean parting ways with Nash, 33, whose effectiveness was minimized when he suffered a concussion some three weeks after arriving from the Rangers.
"It would have to be an either/or,'' said Sweeney, dismissing the idea that the Bruins could accommodate both of the storied wingers, who have a combined 854 regular-season goals. "It can't be both.''
Should Cassidy break up his top line and pair David Pastrnak with Krejci, his Czech countryman, Patrice Bergeron probably wouldn't mind a winger with Kovalchuk's size (6-2, 230) and skill. The former Thrashers and Team Russia captain would no doubt teach the B's underclassmen — Jake DeBrusk, Danton Heinen, Ryan Donato and Anders Bjork — a thing or two.
The Sharks, especially if they land UFA prize John Tavares, would be appealing. The Kings (desperate for a winger to replace deadline departee Marian Gaborik) and Rangers (lots of cap space) appear to be further from contention.
The Bruins could lead that pack, especially if they get the top-four, left-shot defenseman they desire. Don Sweeney must also address his backup goaltender and third-line center spots, deal with restricted free agents Matt Grzelcyk and Sean Kuraly, and be mindful of those next in line for raises (Donato, Heinen, Charlie McAvoy and Brandon Carlo, all RFAs after next year). He can't break the bank, no matter how much Kovalchuk has left in the tank.
While the 15-year, $100-million sheet the Devils gave him in 2010 is a faded memory — and no longer allowed by the CBA — perhaps he and the Bruins could settle on a $4.5-5.5 million tag, give or take performance bonuses.
If he stays healthy and productive, Kovalchuk would come at a more palatable cost than Nash. Sweeney surrendered a first-rounder, Ryan Spooner, Matt Beleskey's contract, prospect Ryan Lindgren and a 2019 seventh-rounder for the former Blueshirt, whose expiring deal was worth $7.8 million.
The two players are similar in style and pedigree. Nash went first overall (to the Columbus Blue Jackets in 2003), two years after the Thrashers took Kovalchuk. That duo, along with Jarome Iginla, tied for the goal-scoring lead (41) in 2004. Kovalchuk has reached the 40-goal mark six times, Nash three.
The Bruins hope Kovalchuk, if he comes to Boston, is the fix Nash was not.