Bruins
Bruins rumor roundup: The latest on the team's plans for NHL free agency
The Maple Leafs have agreed to terms with John Tavares.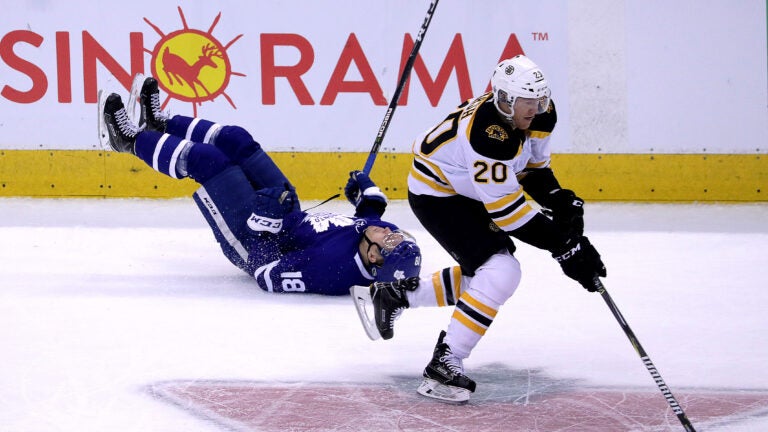 NHL free agency started at noon on Sunday, July 1. The Bruins could potentially make several offseason moves in the coming weeks.
Aside from having a plethora of prospects on the horizon, Boston could add free agents (and possibly make a trade or two) to reshape the roster.
Here's a look at the latest Bruins rumors and news:
July 1
Riley Nash is reportedly heading to Columbus:
Darren Dreger of TSN reported the former Bruins center is heading to the Blue Jackets on a three-year, $2.75 million per year deal.
Nash played in 76 games for the Bruins this past season, racking up 15 goals and 26 assists.
John Moore is joining the Bruins:
Defenseman John Moore is reportedly coming to Boston on a five-year deal, with an average annual value of $2.75 million.
The 27-year-old has played for four teams, including the Devils from 2015-16 to 2017-18. He saw action in 81 games this past year and registered 18 points.
Big deal for John Moore. He is going to the #Bruins on a 5-year deal at $2.75 million AAV. #TSN

— Frank Seravalli (@frank_seravalli) July 1, 2018
Maple Leafs announce they have agreed to terms with John Tavares:
John Tavares will sign a seven-year contract with Toronto, the Maple Leafs announced Sunday at 1:07 p.m. The annual average value of the contract is $11 million.
The @MapleLeafs have agreed to terms with free agent forward John Tavares on a seven-year contract. The annual average value of the contract is $11 million. #TMLtalk

— Leafs PR (@LeafsPR) July 1, 2018
Not everyday you can live a childhood dream pic.twitter.com/YUTKdfMALl

— John Tavares (@91Tavares) July 1, 2018
Austin Czarnik is joining the Flames:
Three years after the Bruins signed him as an undrafted free agent March 31, 2015, Czarnik is reportedly heading to Calgary. He played in 49 games for the Bruins in 2016-17 and 10 in 2017-18, scoring a total of five goals and registering 12 assists.
Thank you Boston for a great 3 years! Excited for a new beginning with the Calgary Flames organization!

— Austin Czarnik (@ACzarnik7) July 1, 2018
The Islanders are reportedly out of the running for John Tavares:
Arthur Staple of The Athletic reported that Tavares on Sunday informed his former team that he will be heading elsewhere. The Sharks, Stars, Lightning, Maple Leafs, Islanders, and Bruins all met with the center this past week.
Tavares later confirmed the report.
— John Tavares (@91Tavares) July 1, 2018
The Bruins have reportedly agreed to a two-year deal with Joakim Nordstrom:
Boston, according to Darren Dreger, will sign Nordstrom for $1 million per year. Nordstrom is a 26-year-old Swedish center/wing who won a Stanley Cup with the Blackhawks in 2015 and most recently played with the Hurricanes.
Vegas is reportedly the frontrunner for Nick Holden:
The unrestricted free agent may end up with the Golden Knights — who are fresh off a trip to the Stanley Cup Finals in their first season as a franchise — according to Pierre LeBrun. Holden played 73 games for the Bruins this past year, dishing out 13 assists and scoring four goals.
Star center John Tavares did not sign with the New York Islanders prior to midnight:
That takes an eight-year deal out of the equation and eliminates his old team's biggest advantage, according to the AP. As of 10:30 Sunday morning, he still hasn't made a decision about where he'll play.
Bruins reportedly will sign Jaroslav Halak, part ways with Anton Khudobin:
The Bruins reportedly will sign goaltender Jaroslav Halak to replace former backup goalie Anton Khudobin, after Khudobin reportedly agreed to a two-year, $2.5 million deal with the Stars.
Halak, who hails from Slovakia, is heading to Boston on a two-year deal to back up Tuukka Rask. In 54 games with the Islanders last year, Halak posted a 20-26-6 record, a 3.19 goals against average, and a .908 save percentage. The Bruins will be his fifth team, and he's played with Zdeno Chara on the Slovakian national team.
Tim Schaller won't be returning to the Bruins:
The Merrimack, New Hampshire, native and Providence College graduate is reportedly signing a two-year deal with the Vancouver Canucks.
Tim Schaller won't be returning to #NHLBruins

— Mark Divver (@MarkDivver) July 1, 2018
Schaller, a 27-year-old center, appeared in all 82 games for the Bruins last year, chipping in 12 goals and 10 assists.
The Bruins have reportedly agreed to a deal with forward Chris Wagner:
It looks like the Bruins have a new piece on the fourth line. Chris Wagner agreed to a two-year deal — worth $1.25 million per year — with the Bruins, according to multiple reports. Twelve teams were reportedly interested, but Boston won out.
Chris Wagner deal with #NHLBruins is for $1.25 million per year for 2 years. A dozen teams, including NYI, were interested. Brings compete & bottom six versatility at center & wing. 3rd in NHL with 253 hits last season

— Mark Divver (@MarkDivver) July 1, 2018
Wagner, who is from Massachusetts, was third in the NHL with 253 hits last season, so he should bring toughness and physicality to the team.
June 30
The Bruins still have a chance to sign John Tavares:
Bruins general manager Don Sweeney, speaking at Warrior Ice Arena on Friday, didn't give any clues about whether or not John Tavares could come to Boston.
However, as of 2:45 p.m. Saturday, it's clear the Bruins are still in the mix, according to a report from Sportsnet's John Shannon.
As of 2:45 ET….None of the 6 teams vying for John Tavares have been told they are out of the bidding.

— John Shannon (@JSportsnet) June 30, 2018
The Sharks, Stars, Lightning, Maple Leafs, Islanders, and Bruins all met with the center this past week. Though the Bruins don't appear to be frontrunners, they're not out of the hunt quite yet.
The Islanders captain could sign a deal worth more than $80 million for at least seven years, according to The Boston Globe.
June 29
Backup goaltender Anton Khudobin is not likely to return, per Bruins GM Don Sweeney:
Bruins likely NOT to extend Khudobin. Could ask Lehtonen (UFA/DAL) to be backup to fellow Finn Rask.

— Kevin Paul Dupont (@GlobeKPD) June 29, 2018
Patrice Bergeron reportedly reached out to John Tavares:
#Bruins Patrice Bergeron phoned #Tavares during team's push to sign him. Says it was "to answer any question on the city, the organization and our teammates"

— L.A. Lariviere (@L_A_theRiver) June 29, 2018
June 28
Pierre LeBrun reported that John Tavares could begin trimming his free agent list on Friday:
The John Tavares camp could start informing a few teams as early as Friday morning that they're no longer in the running… beyond that hard to say when the UFA centre for sure will be ready to pick his team. Obviously if it's the Isles that call is no later than Saturday…

— Pierre LeBrun (@PierreVLeBrun) June 28, 2018
James van Riemsdyk linked with Bruins: During a discussion of John Tavares' free agency, TSN's Bob McKenzie noted that it was affecting the strategy of some teams (like the Sharks and Bruins) who are also pursuing both Tavares and winger James van Riemsdyk. [TSN]
Looking beyond Bergeron and Krejci: The Athletic's Fluto Shinzawa examined how the Bruins arrived at their current setup with Patrice Bergeron and David Krejci as central figures. And he also discussed how the team is aware of the need to eventually replace them, whether by signing John Tavares or otherwise. [The Athletic]
Finding another goaltender: Steve Conroy of the Boston Herald reported that the Bruins have been "linked" with goaltender Jonathan Bernier. [Boston Herald]
June 27
Galipeau leaves Montreal for Boston: WEEI's Sarah Civian noted that Olivier Galipeau of the AHL "defected" from the Canadiens to sign with the Bruins. He notched 25 goals and 49 assists in the Quebec Major Junior Hockey League last season. [WEEI]
As a result of a report from the Edmonton Journal's Jim Matheson, Torey Krug's name has been included in a few trade rumors, like this list from Sportsnet's Rory Boylen:
The most popular link in rumours is to Klefbom via Edmonton, but he has never recorded as many points as Krug has totalled each of the past four seasons. The Bruins would have to explore getting a left-hand shot back for Krug, which Klefbom is, because without Krug Boston is left with only two left-shot defencemen: Zdeno Chara and Matt Grzelcyk.
Sportsnet's Chris Johnston weighed in on who the remaining contenders are for John Tavares:
John Tavares and his reps no longer plan to bring any additional teams into their free-agent process after meeting with Dallas and Tampa today.

The field is down to six: Leafs, Islanders, Sharks, Bruins, Stars and Lightning. #TavaresWatch

— Chris Johnston (@reporterchris) June 27, 2018
Kevin Paul Dupont of the Boston Globe on clearing salary cap space: If the Bruins land John Tavares, it would be helped by moving a player or two. Given the current cap situation – and the Bruins' need to sign a backup goaltender as well as few other roster spots, Boston general manager Don Sweeney could look to alleviate salary problems via a trade. [Boston Globe]
June 26
TSN's John Lu reported that the Bruins meeting with John Tavares has ended:
#Bruins delegation has finished its pitch in #TavaresWatch. Presentation was a little under 2 hours, seemingly the briefest of the 4 teams thus far. #TSN #NHL pic.twitter.com/LBMobSLSKN

— John Lu (@JohnLuTSNMtl) June 26, 2018
The Bruins tendered qualifying offers to three players:
#NHLBruins tender qualifying offers to Sean Kuraly, Colby Cave and Anton Blidh: https://t.co/YWNwE1auH8

— Boston Bruins (@NHLBruins) June 26, 2018
June 25
Bruins reporter Jimmy Murphy believes that David Krejci's time in Boston could be coming to an end:
https://twitter.com/MurphysLaw74/status/1011274871626764289