Bruins
5 things to know about new Bruins backup goalie Jaroslav Halak
He has twice finished in the top 10 in Vezina Trophy voting.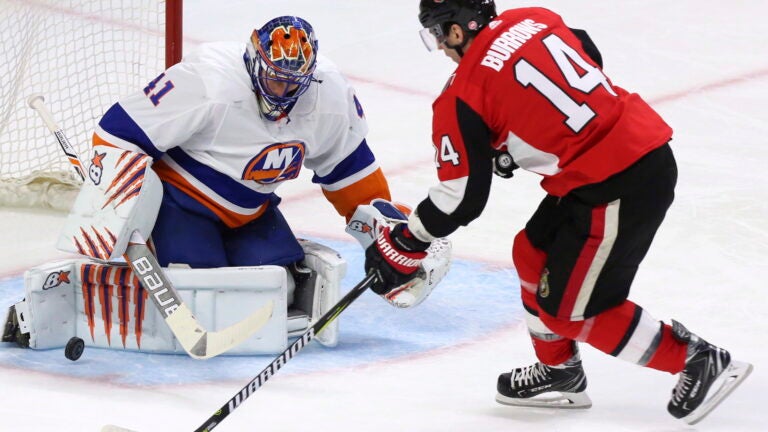 The Bruins have agreed to terms on a two-year contract with journeyman Jaroslav Halak.
Here's what you need to know about the goaltender Halak, who will likely assume Anton Khudobin's former role as Tuukka Rask's backup.
He's an Islanders record holder.
Halak set a franchise record with 38 wins in 2014-15.
That came in just 59 games, as he racked up 1,529 saves in his first year with the team. The tally was a career high until this past year, when he amassed 1,583 saves in 54 games.
He's found a way to win.
Halak has had more wins than losses in 12 of his 13 seasons.
The lone losing record was this past year, but his overall mark of 232-150 is highlighted by that 38-win 2014-15 season and a 24-9 campaign in 2013-14.
He's been around awhile.
The 33-year-old Slovakia native was originally a ninth-round pick by the Canadiens in 2003. He ranks in the top 10 among active goaltenders in goals-against average and shutouts.
Halak's been in and out of the league, but he's managed to find yet another home 15 years later. The longtime goalie has actually spent some time in New England, as he played for the Lewiston Maineiacs in 2004-05.
He's also suited up for the Long Beach Ice Dogs, Hamilton Bulldogs, and, most recently, the Bridgeport Sound Tigers for 27 games in 2016-17.
He has twice finished in the top 10 in Vezina Trophy voting.
Halak has also been named to two All-Star teams, and he's accumulated a career save percentage of .916.
This isn't his first time as Zdeno Chara's teammate.
The Slovakians played alongside each other at the 2010 and 2014 Winter Olympics. In 2010, Slovakia finished in fourth place, just missing out on a medal.