Bruins
Meet the Bruins' free agent additions
The Bruins ushered in free agency with four signings Sunday.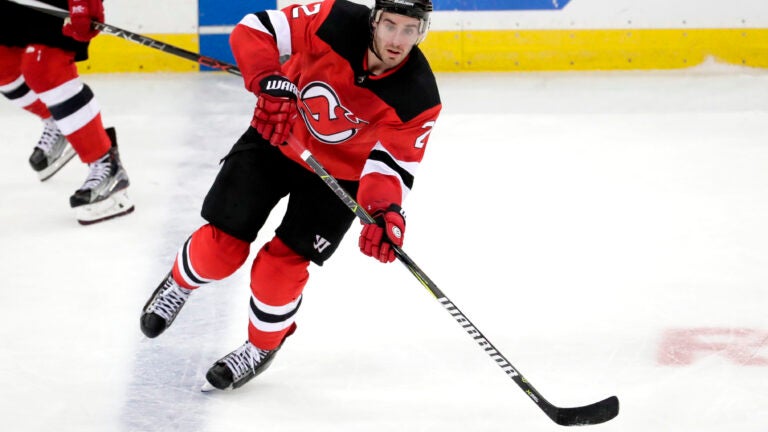 The Bruins ushered in free agency with four signings Sunday. Get to know the team's newest members through some numbers, career highlights, and more.
John Moore
The basics: Born in Winnetka, Ill., Moore was signed for five years at $13.75 million. The 27-year old defenseman is 6 feet 2 inches and 210 pounds. He was drafted 21st overall by Columbus in 2009, and signed a three-year contract with New Jersey in 2015. Moore shoots lefthanded.
The stats: Moore logged his best season in 2016-17, tallying 12 goals and 10 assists in 63 games. Though his production waned in 2017-18 with just seven goals and 11 assists in 81 contests, Moore did set career highs in shots (141), hits (135), and ice time (20:01 average). He also set a personal high with 48 giveaways. Boston will be Moore's fifth NHL franchise (also Rangers and Coyotes).
The bigger picture: Moore didn't grow up in a town obsessed with hockey and never planned on playing the sport professionally. But his raw talent emerged and soon became too electrifying to ignore. Six years after he was drafted, Moore represented the United States in the 2015 World Championship in the Czech Republic. Moore is known as a strong skater capable of doing damage on the power play. Despite growing up in Blackhawks territory, Moore claims lifelong Bruins fandom due to his grandfather being from Dorchester.
Jaroslav Halak
The basics: Boston signed Halak for two years at 5.5 million to be its backup goalie. The 33-year-old was selected in the ninth round in 2003 by Montreal, where he stayed through 2010. Halak stands 5-11 and 183 pounds and is from Bratislava, Czechoslovakia.
The stats: Halak set an Islanders record with 38 wins in 2014-15, his first season with New York. He saw the ice in 59 games and posted a .914 save percentage. Halak was a busy beaver last season for the Islanders, recording a career high 1,583 saves while logging a career-worst 3.19 goals-against average. He lost all three starts against the Bruins last season (3.39 GAA).
The bigger picture: Halak, who replaces Anton Khudobin as the Bruins' No. 2 netminder, has twice finished in the top 10 of Vezina Trophy voting. Halak played alongside Bruins defenseman Zdeno Chara in the 2010 and 2014 Winter Olympics. In 2004-05, Halak occupied the crease for the Lewiston MAINEiacs of the Quebec Major Junior Hockey League.
Chris Wagner
The basics: The Walpole native signed a two-year deal worth $2.5 million. Standing 6-1 and 195 pounds, Wagner plays both center and wing. The 27-year-old attended Colgate University and was drafted in the fifth round in 2010 by Anaheim.
The stats: Splitting time between the Ducks and Islanders last season, Wagner finished third in the NHL with 253 hits. He also notched seven goals and nine assists in 79 games, all career highs. Wagner also has three goals in 21 career playoff games. He projects as a fourth-liner in Boston and should see time on the penalty kill.
The bigger picture: Wagner played for Xaverian High from 2006-09. During his freshman season in Westwood, Wagner was cross-checked from behind, careening into the boards and suffering a cracked vertebra. He returned nine months later for his sophomore campaign after intense physical therapy.
Joakim Nordstrom
The basics: A forward who can play on both wings, Nordstrom was signed to a two-year deal worth $2 million. The 26-year old was drafted by Chicago in the third round in 2010. Nordstrom was born in Stockholm and shoots from the left side.
The stats: Only once has Nordstrom reached double digits in goals and assists, tallying 10 and 14, respectively, in 2015-16 with Carolina. Though his numbers waned in 2016-17 (7-5—12), Nordstrom set a career high by playing in all 82 games. Last season, Nordstrom averaged 10:34 of ice time in 75 games, his lowest TOI since 2014-15 with Chicago.
The bigger picture: The defining stretch of Nordstrom's career came when the Blackhawks won the Stanley Cup in 2015, with Nordstrom playing in three games that postseason. He competed for gold-medal winner Sweden in the 2017 World Championship, collecting three points in nine games. Nordstrom projects as a versatile defensive forward who will see time on Boston's penalty kill.