Bruins
3 takeaways from the Bruins' 7-0 opening night loss to the Capitals
"You never know what the result is going to be, but I did not expect this effort."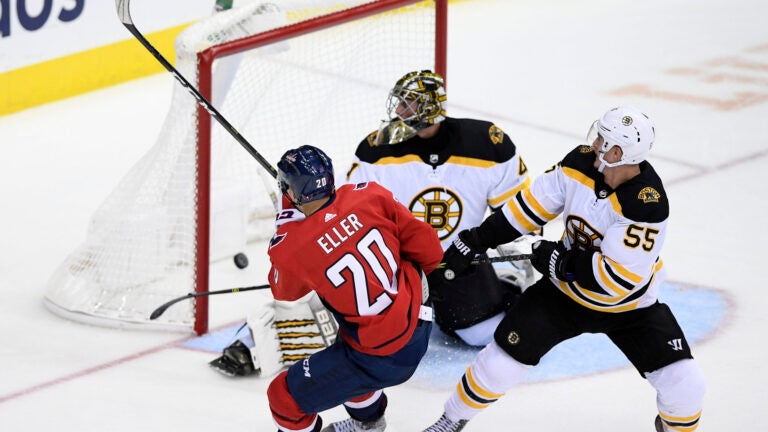 COMMENTARY
WASHINGTON — One team avoided an initial Stanley Cup hangover diagnosis. The other is still mired in a long head-to-head losing streak.
From the get-go, the defending champion Washington Capitals took advantage of a raucous banner night crowd and extended their win streak to 13 over the Boston Bruins to begin their quest of repeating as champs.
"You guys have seen the game and we've seen the game," Patrice Bergeron said following the B's 7-0 loss. "Bottom line, there aren't many good things that we did tonight, and we need to be a lot better."
Here is what we learned as the Black and Gold lacked competitiveness in their largest opening night setback since 1926.
The B's have to get off to a better start.
So much for the Caps' well-documented parties with Lord Stanley throughout the summer.
Twenty-four seconds. That's all it took for T.J. Oshie to put the Caps on the board after firing a patented one-timer past Tuukka Rask. Just 1:23 later, Evgeni Kuznetsov scored his first of two to make it 2-0 off a faceoff win just two seconds into Washington's first power play opportunity.
It didn't get much better after that.
"Did I expect this? No. I did not expect this effort. I expected a much better effort," a blunt Bruce Cassidy said. "You never know what the result is going to be, but I did not expect this effort."
Tuukka Rask needs to be better.
Not even the staunchest Rask defender will defend his season-opening performance.
Sure, the Bruins defense didn't help as the Caps gained easy zone entries and transitioned easily into their offensive setup. Their zone time entries, quality scoring chances, power play opportunities and puck possession time piled up as things progressed. That isn't easy for any goaltender to overcome, but Rask didn't help himself.
His last goal, a short side tally from Kuznetsov, highlighted Rask's performance, or lack thereof. The Finn ended the night allowing five goals on 19 shots — resulting in a .731 save percentage and a whopping 10.80 goals against average — in 27:28 of action.
"I don't know if it would've mattered to be honest with you," Cassidy said about his polarizing goaltender. "There's some nights where your goalie doesn't have it and players say 'oh well, he'll get 'em tomorrow' but I don't think that was the case tonight."
"I don't want to talk about the whole performance. It was what it was," an accountable Rask said. "I'm out there to give us a chance. Didn't happen today. Place three soft goals and you have to look in the mirror and go fix it. So that's deflating."
Jaroslav Halak fared a little better in relief, allowing two goals on 18 shots in 32:32. His pad stop on Nathan Walker in the third period was the Bruins' lone highlight in this one. Cue the goaltender controversy talk on sports radio.
The Bruins' top line was uncharacteristically off.
Bergeron's recovery from off-season ankle surgery left Marchand and David Pastrnak without their No. 1 center for most of training camp. Though the four-time Selke winner extensively trained and rehabbed throughout training camp, he still found himself behind the proverbial 8-ball in his first opening night appearance since 2015.
Pastrnak and Marchand were right there with him. The trio each posted a minus-3 rating while combining for just seven shots on net.
Bergeron was also on the ice for five of the Caps' seven goals, three while killing a penalty. Marchand appeared in for four of Washington's seven tallies.  The former also served a two-minute minor for slashing, eventually leading to Alex Ovechkin's first of the season at 4:17 of the second.
As the trio's frustration mounted, Marchand ended his night pummeling Lars Eller just moments after the Washington forward extensively celebrated his first of the year to give the Caps the seven-goal advantage. Marchand received an extra two minutes for roughing and a 10-minute misconduct during his third-period bout.
"His celebration was unnecessary," Marchand said about the events leading up to the Eller bout. "He took an angle in front of our bench and celebrated in a 7-0 game. So I just let him know."
No one knows if Marchand will hear from the league, again, about the third period fight. One thing is for certain, his bout with Eller was a rare instance where a Bruin showed competitiveness.
"He's a proud guy," Cassidy said about Marchand. "I think Eller celebrated a little on the 7-0 goal, and I think that's his prerogative to say that's not acceptable. So that was that and we move on."
Moving on means a trip to Buffalo for their second game of a season-opening back-to-back.
"It's [expletive] one game; it's nothing," Marchand said. "We'll let it go and worry about tomorrow, tomorrow."