Bruins
3 takeaways from the Bruins' 2-1 OT loss to the Canucks
The Bruins faltered in overtime for the second straight game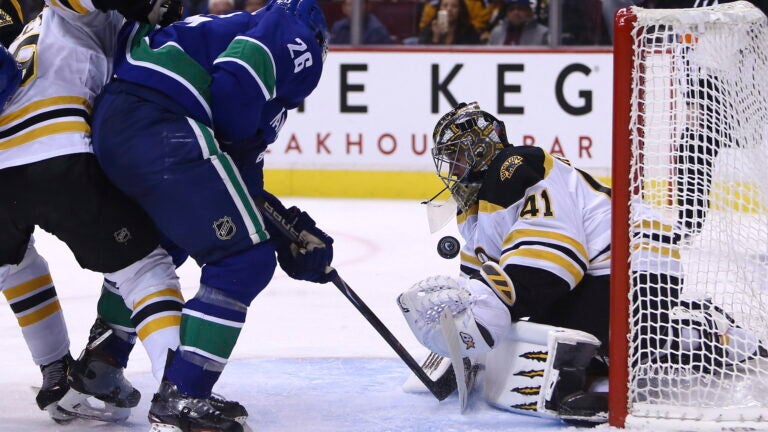 COMMENTARY
All that was missing was the finish.
Despite a trio of regulars being out of the lineup with injuries — Charlie McAvoy, Kevan Miller and David Backes — the Boston Bruins overcame a slow start and found a way to get a point over the Vancouver Canucks Saturday. Yet they only had one goal to show for it when Joakim Nordstrom fired his second of the season to tie things up at 1-1 at 7:45 of the third period.
The Black and Gold outshot the Canucks 31-22 — including 26-14 in the final two periods — and had their skating legs going after a rough 20 minutes. But a costly turnover by Brad Marchand left Brandon Carlo in no man's land and Jaroslav Halak out to dry leading to Bo Horvat's OT winner.
Here is what we learned as the Bruins leave Western Canada carrying an 0-1-2 mark in their last three games.
Rough ending for Brandon Carlo the lone sore spot on a solid performance
Next man up. It's a cliche used any time a team deals with injuries. Veteran Steven Kampfer (in his second tenure with the Bruins) and Urho Vaakanainen (playing in his first NHL) game were two players filling roles for McAvoy and Miller. Ditto for Ryan Donato, in for David Backes at the last minute.
The phrase is also appropriate for Carlo, who partnered with Zdeno Chara on the top defensive pair in McAvoy's absence. The third-year defenseman played like a top-two blue-liner Saturday night in Vancouver.
Carlo's fine defensive positioning and physicality kept the Canucks from prime scoring areas. But Carlo did even more in his 23:43 of ice time — most among Bruins defensemen — as he jumped in on some solid scoring chances and made good and timely pinches in the attacking end.
His overtime blemish led to a minus-1 rating, but the Colorado Springs native took the good with the bad in a durable performance.
"I felt like I played really well," Carlo told reporters postgame. "It was a fun game, I was up on the rush quite a bit and got some good opportunities. It didn't end the way I wanted it to. But overall, I'm not going to keep my head down on that one and I'm just going to stay positive, and learn from that mistake."
Bruce Cassidy was active with his lineup changes
Cassidy is never shy in juggling his lines at any point of a hockey game. Even with his three of injuries, the third-year Bruins coach didn't hesitate to switch things up following a slow start.
This meant breaking up the top line of Brad Marchand, Patrice Bergeron and David Pastrnak late in the first period. The latter of the trio skated with David Krejci and Jake DeBrusk through the midway mark of the second period. Danton Heinen, who started with Krejci and DeBrusk, moved up with Marchand and Bergeron.
Cassidy's third and fourth lines weren't safe either. Nordstrom, who filled in Backes's third-line center spot, skated with Ryan Donato, Anders Bjork, and Chris Wagner in bottom-six duty on Saturday. That left Sean Kuraly skating with Wagner, Noel Acciari and Donato upon the lineup changes.
Pastrnak and Heinen moved back to their regular spots near the end of the second period. The moves didn't pay immediate dividends, but the Bruins finally found their legs and developed quality scoring chances.
"We were a little stagnant," Cassidy said about the team's performance prior to the changes. "We needed to get their attention, and I thought we were better in the last 40 minutes. I don't know if it had anything to do with the lines, but I thought we just wanted to play harder and win a hockey game."
The Bruins need to ride Jaroslav Halak
Even the Tuukka Rask sympathizers will rightfully acknowledge that Halak is playing better through the first three weeks of the regular season.
The veteran Halak made his second straight start Saturday night. Despite a blunder on Brandon Sutter's first-period tally, the Slovak made timely and quality saves — 20 in all — including a couple during the Canucks' late third-period push to force overtime.
Halak's stability and calmness between the pipes gives the Bruins another quality goaltender. The journeyman netminder is finding a home in Boston following his rough swan song with the Islanders a year ago.
The Bruins are in a similar situation from last year where Cassidy gave Anton Khudobin four straight starts as Rask searched for consistency. Halak (2-0-2, 1.74 GAA, .933 SV% hasn't lost in regulation yet in his first four starts. Like last year, Rask (2-2, 4.08 GAA, .875%) is looking to overcome a bumpy start.
There's a good chance Rask will come around and bounce back. But Halak has the hot hand that the Bruins should use until he cools off.