Bruins
Why Jaroslav Halak is the better option for the Bruins than Tuukka Rask
It's time to ride Halak's hot hand.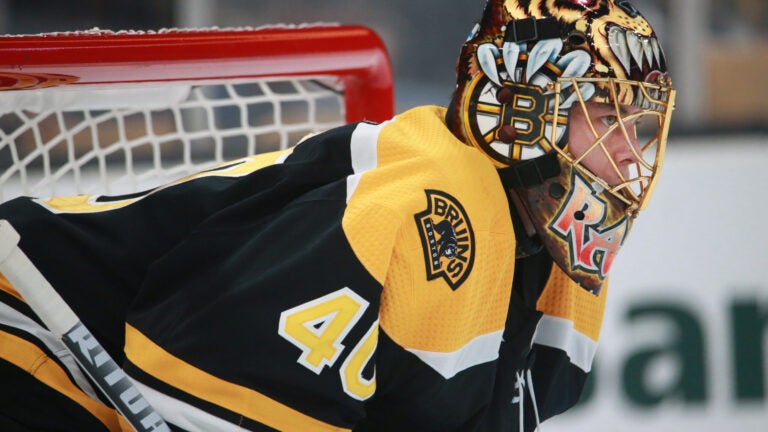 COMMENTARY
Tuesday's game in Carolina marks the Bruins' final October contest in 2018. Jaroslav Halak (3-0-2, .945 save percentage, 1.43 goals against average, 2 shutouts), who is outperforming perennial stalwart Tuukka Rask (3-3-0, .902 save percentage, 3.15  goals against average), will get the nod to close out Boston's first month of the season.
There's a lot of hockey left, of course, and things can change quickly. We saw that last season when Rask returned to form after Anton Khudobin gave the Bruins a lift during a four-game run in late November.
Khudobin provided much-needed stability behind Rask, yet the journeyman Halak is proving to be an upgrade over his predecessor.
And here we are just days before the calendar turns to November where Halak may even be an upgrade over the polarizing Rask.
The last two games showcased the disparity between Boston's two goaltenders. Halak earned his second shutout of the season in the 3-0 win over the Flyers on Thursday, while Rask — who tallied 38 saves in his best start of the season against the Senators on Oct. 23 — allowed a pair of soft goals leading to a 3-0 loss to the rival Canadiens two nights later.
Whether or not this led to Bruins coach Bruce Cassidy tabbing Halak as the starter in Carolina is anyone's guess. But it's clear that Rask's early season inconsistencies aren't doing him any favors.
One thing is for certain: Cassidy isn't afraid to make a necessary switch between the pipes. He did it with Khudobin last year before Rask strung together some solid outings and solidified his standing as the team's workhorse in December.
The difference this year is this: Halak has more experience as a starting goaltender during his stints with the Canadiens, Blues and Islanders, as well as his two very brief tenures with the Sabres and Capitals.
"I said before the season, I just want to help the guys whenever I get a chance," Halak said, "and I'm glad coach has the confidence in me."
Halak's experience as either a 1A or 1B netminder will benefit Boston. It should also benefit Rask in the long term. But the October slate is proving that his position as the No. 1 goaltender in Boston is more at risk than ever — at least since he took over the full-time reins in 2013.
Cassidy's comments following Halak's recent performance is proof of that.
"It could, absolutely…We've done it here for years and just to work Tuukka's starts in because he's been the number one. But if Jaro is able to push him and if and eventually take the job if and when that happens then we'll look at that," the third-year Bruins coach said.
"We're going to try to keep it as balanced as possible early on, and then like we said if one separates himself from the other like every other position here then we'll allow that to evolve."
This is a small sample size of course. The Bruins need both goaltenders to be on top of their game for any hopes of following the Red Sox and giving Boston another professional sports championship. After all, if David Price can overcome his struggles in Boston and quiet the hot take police, so too can Tuukka Rask.
But the early verdict is clear: Jaroslav Halak gave the Bruins a chance to win in each of his first five starts.  This type of success won't last forever, but Halak has earned the right to carry the Bruins for the time being.