Bruins
3 takeaways from the Bruins' 1-0 loss to the Predators
The Bruins had a frustrating night in the Music City.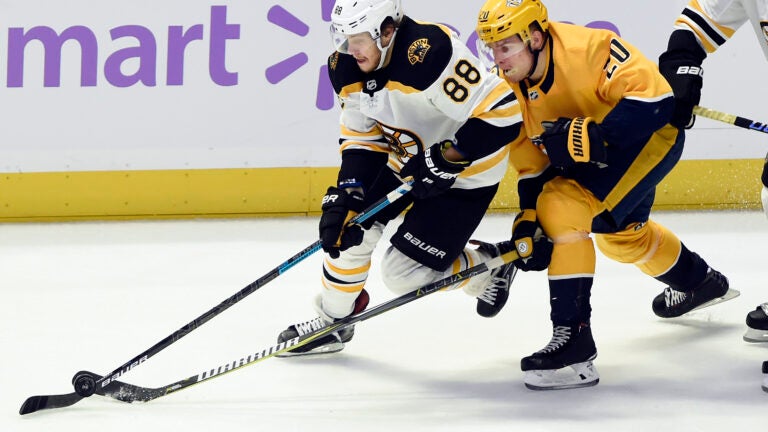 The Boston Bruins had one thing going for them Saturday night: Jaroslav Halak.
Aside from the fantastic 39-save outing from the journeyman goaltender, the Bruins had a frustrating night against the league-leading Nashville Predators.
Questionable officiating? Check. A powerless man advantage? Check. Making Pekka Rinne's 36th birthday an eventful one? Check. More passengers than leaders? Check.
This all contributed to Boston's 1-0 loss, with Roman Josi's tally — his 300th career NHL point — being the difference maker. Here is what we learned from the Bruins' setback in the Music City.
Brad Marchand still not getting the benefit of the doubt
Brad Marchand gets called for high-sticking on Colton Sissons and recreates Sissons' reaction pic.twitter.com/5HyeXCdiHE

— Brady Trettenero (@BradyTrett) November 4, 2018
Marchand's reputation gets him in hot water. Most hockey fans — casual or diehard — won't argue about a call that goes against him in any game, nor will they show support whenever he hears from the Department of Player Safety over a questionable hit.
His 14 penalty minutes against the Predators were a defection from the norm.
It all came down late in the first period when Colton Sissons gave an Academy Award-winning performance after selling a high-sticking minor on Marchand. Another minor for unsportsmanlike conduct and a 10-minute misconduct at the end of the first period followed.
"He bit on the embellishment and it's a tough penalty to call with seconds left in the period in a game like that," Marchand said about the events. "So yeah, it's frustrating."
That frustration showed when Marchand mimicked Sissons' actions after the whistle. It continued when he yapped at official Marc Joannette for making the call.
Marchand's frustration ended with the Bruins' loss and a parting shot for Joannette.
"He's being a little bit of a hero. He had a tough game out there, so I'm hoping he's just a little pissed off at himself," Marchand added. "Obviously, I yelled at him. It's a bull[expletive] call so it is what it is."
Halak's effort goes for naught as he suffers first regulation loss
It seems like a broken record talking about the Bruins' goaltending after each game. Not mentioning Halak's hot start is a disservice to the veteran goalie, especially after the last two games.
The Slovakian netminder picked up right where he left off from his 42-save effort against the Hurricanes and kept a potent Predators attack in check. From making the positional stops to bailing his defense out with spectacular saves, Halak stayed sharp and once again gave his team a chance to steal two points in a hostile road environment.
"He kept us in the game," head coach Bruce Cassidy told reporters about Halak, who has stopped 81 of his last 84 shots against. "We mismanaged pucks on the break out at least five or six times on point-blank chances. Now that's going to happen against a good forechecking team, but that's where we can help ourselves offensively…"
That lack of offense, especially from their secondary scorers, hurt them again on this night. Which begs this question…
Should Cassidy break up his top line?
"The problem I have with that is you're letting people off the hook a little bit. You have to take ownership of your own game at some point," said Cassidy, who saw his team muster just six shots on goal in the third period.
"This is the National Hockey League, and you have to take ownership. I'm not going to put Bergy [Patrice Bergeron], Marshy [Brad Marchand] or Pasta [David Pastrnak] all on separate lines. You can move Pasta around, which we have, but at the end of the day, it's up to the other guys to generate a little bit more."
In short, Cassidy doesn't want to go down this route. He might have to, though, especially after seeing his team get shut out for the second time in three games.
The Bruins have only received nine goals from someone other than Marchand, Bergeron, and Pastrnak. Their last even-strength tally from someone else came on Oct. 25 in their 3-0 win over the Flyers. Jake DeBrusk and Zdeno Chara (twice) — both tied for third on the team with three goals — factored into those three tallies.
Recent injuries to potent puck-moving defenseman like Charlie McAvoy (unknown) and Matt Grzelcyk (lower-body) are far from ideal, too. Torey Krug (ankle) and David Backes (concussions), meanwhile, both returned from their respective injuries this week, but are still trying to regain their footing.
Even with the early-season injury bug, Cassidy thought he could rely on some of his young skilled wingers. He didn't get much production from Ryan Donato as the former Harvard standout is now in Providence. Anders Bjork is still trying to shake off some cobwebs from his season-ending shoulder injury during his rookie campaign. A snakebitten Danton Heinen may need to watch from the press box if he can't produce soon.
The ideal situation — aside from having everyone healthy — is for the younger forwards like Heinen, Bjork and to a lesser degree DeBrusk to snap out of their early-season rut. That won't be easy with their upcoming four-game homestand against the Stars (Monday), Canucks (Thursday), Maple Leafs (Saturday) and defending Western Conference Champion Golden Knights (Sunday).
"Yes, I'd like to tinker," Cassidy added. "But at the same token, I think the guys have to dig in a little bit."